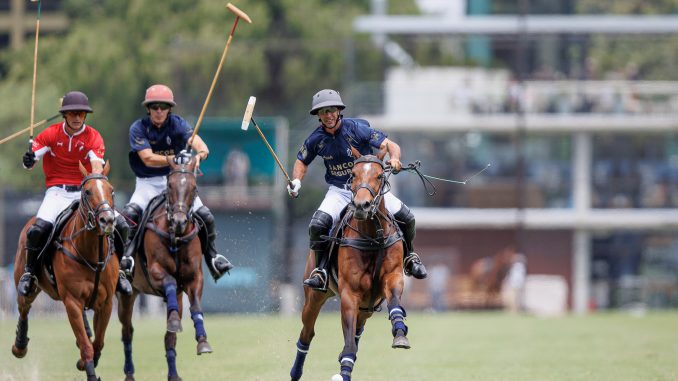 La Dolfina Saudi Polo Team Defeats La Irenita Polo Team to Reach Final
The final day of play in Zone A of the 128th Abierto Argentino de Polo at Palermo began with La Dolfina Saudi Polo Team defeating La Irenita Polo Team 13-11 to move to the top of Zone A. In the final match of the day, a La Ensenada Brubank victory would push them to the final, but Ellerstina Johor claimed the 15-13 victory, sending La Dolfina Saudi Polo Team into the finals where they will try to claim their ninth consecutive title.
Missing both David Stirling and Diego Cavanagh, La Dolfina Saudi Polo Team entered the game against La Irenita Polo Team with a 34-goal team consisting of Adolfo Cambiaso, Francisco Elizalde, Alejandro Muzzio and Gringo Colombres, making his Argentine Open debut. Using an eight-goal run in the middle of the game to build a large lead, La Dolfina Saudi Polo Team showcased an organized defense that limited the opportunities for La Irenita Polo Team. With his team shorthanded, Adolfo Cambiaso stepped up to lead all players with 10 goals, shooting an impressive 73% from the field. A late charge from La Irenita Polo Team that was led by Ignacio Toccalino and Santiago Loza ultimately fell two goals short in the 13-11 defeat.

Scoring just 30 seconds into the game, Cambiaso gave his team an early 1-0 lead, but La Irenita Polo Team's Segundo Bocchino provided a quick response, producing back-to-back goals to give his team the lead. The remainder of the first half was dominated by La Dolfina Saudi Polo Team as they controlled possession and left few opportunities for their opponents. Beginning at the end of the first chukka and carrying into the middle of the third chukka, La Dolfina Saudi Polo Team scored eight consecutive goals, six of which came from Cambiaso in one of his strongest performances of the season. A scoreless fourth chukka left La Dolfina Saudi Polo Team holding the 9-3 lead at halftime.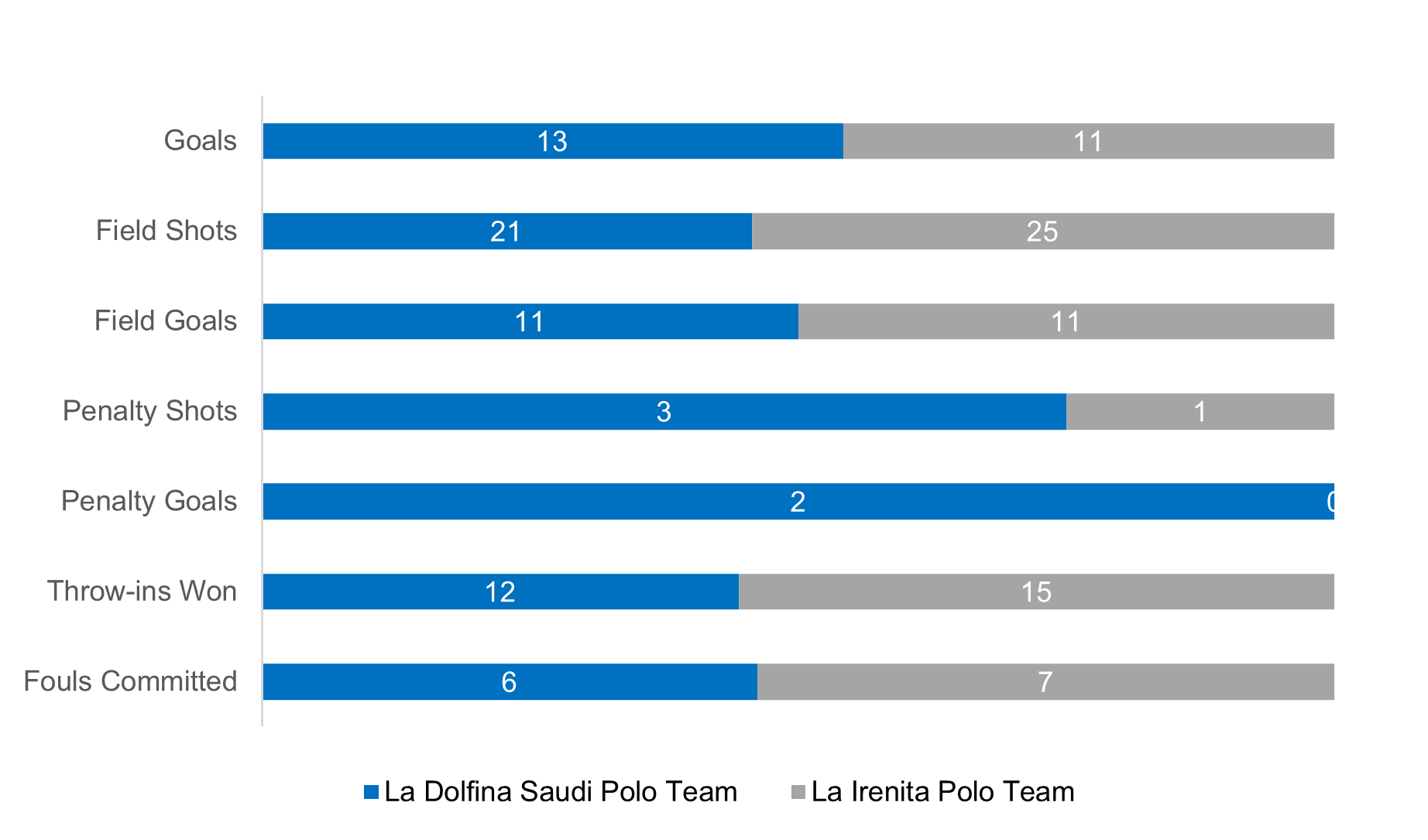 The defensive game continued into the second half with both teams failing to record a goal for the second consecutive chukka as 18 minutes of play passed before a goal from Loza ignited La Irenita Polo Team. Scoring on the following play, Loza pushed his team forward by assisting on a Toccalino field goal in the third consecutive play to quickly change a six-goal deficit to just three. Turning his focus back to the offensive end, Cambiaso singlehandedly extended La Dolfina Saudi Polo Team's lead, accounting for their next three goals and ensuring they held a comfortable five-goal advantage entering the final chukka. La Irenita Polo Team frantically tried to close the gap, shooting at goal seven times, but their four-goal eighth chukka left them two goals short, as La Dolfina Saudi Polo Team claimed the 13-11 win.
Their rival for so many years, La Dolfina Saudi Polo Team was cheering for an Ellerstina Johor victory to secure their place in the final, while a La Ensenada Brubank victory would mean the improbably result of both Ellerstina Johor and La Dolfina Saudi Polo Team missing the final. However, Ellerstina Johor controlled play over the first five chukkas to hold off multiple charges from La Ensenada Brubank in their comeback attempt. A foul-ridden game resulted in three yellow cards and two technical awarded, but the difference in the game came down to shooting accuracy from the field. Ellerstina Johor shot 45% compared to just 26% for La Ensenada Brubank, to complete their tournament with the 15-13 triumph.

A rare scoreless first chukka left the scoreboard unchanged, but a foul carried into the second chukka, leading Facundo Pieres to convert the Penalty 2 and open the scoring. Momentum swung in Ellerstina Johor's favour, outscoring La Ensenada Brubank 3-0 in the second chukka, receiving two field goals from Ulloa, while Alfredo Cappella contributed a goal on the first play of the third chukka. Determined to provide a response, La Ensenada Brubank's Juan Britos utilized the opportunities from two Ellerstina Johor fouls to convert consecutive Penalty 2 attempts. Scoring just inside the final horn of the chukka, Juan Martin Zubia brought La Ensenada Brubank back within one as they proved they were worthy of another upset victory. Never allowing La Ensenada Brubank to pull even, Ellerstina Johor dominated the fourth chukka thanks to the play of Gonzalito Pieres, who scored three goals in three minutes to end the half ahead 8-4.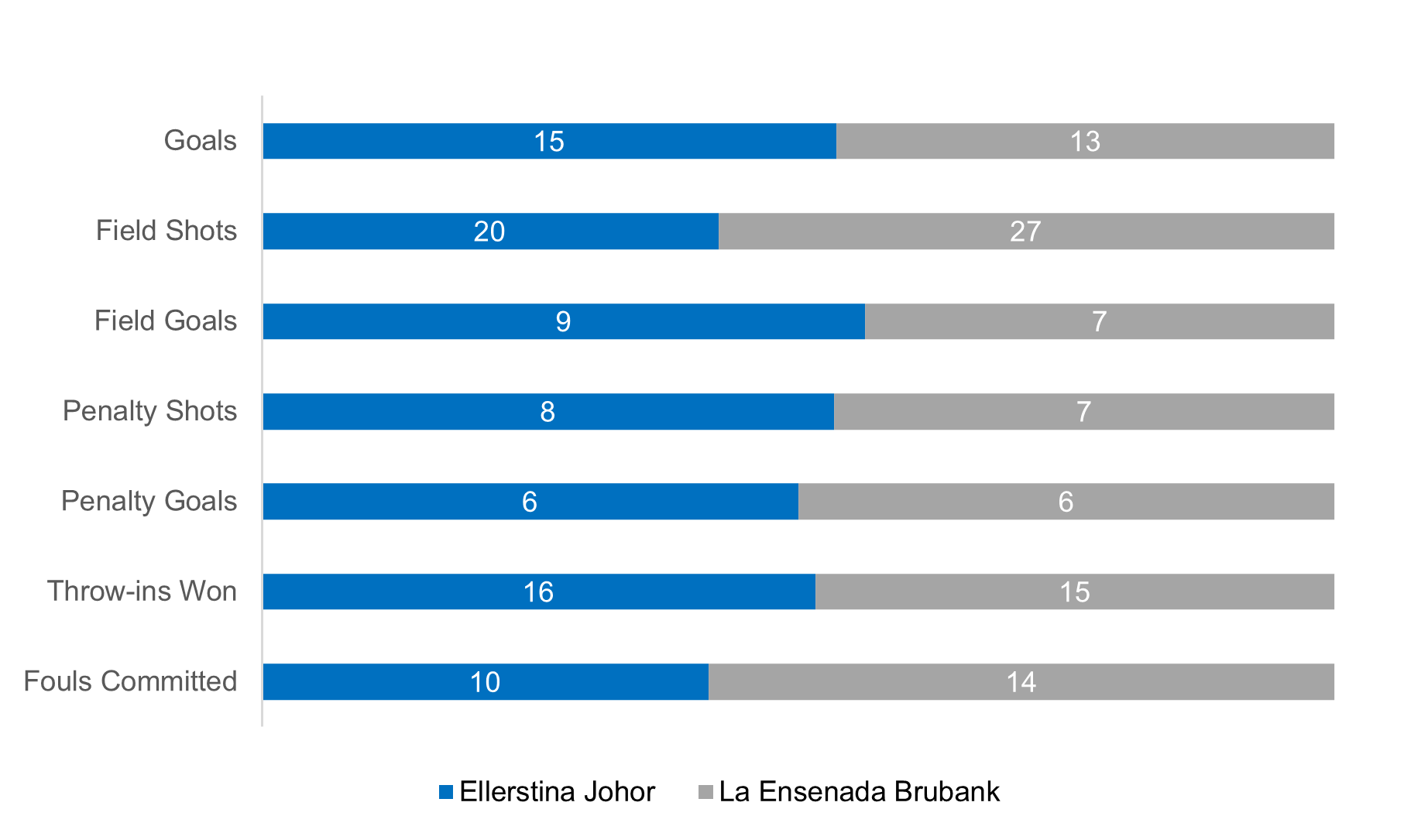 Fouls began to pile up in the second half, beginning with a fifth chukka that featured three yellow cards and two technical. After the flurry of whistles, the result was three penalty goals for Facundo Pieres and one for Juan Britos, allowing Ellerstina Johor to pull further ahead and increase their lead to seven. In urgent need of offense, La Ensenada Brubank kept Ellerstina Johor off the scoreboard in the sixth chukka, inching closer on field goals from Alfredo Bigatti and Britos, and then the umpire's whistle slowed play once again. Five of the next six goals came via the penalty line with La Ensenada Brubank benefiting from the accuracy of Britos, but they were unable to get any closer than two goals as Ellerstina Johor hung on for the 15-13 victory and therefore sending La Dolfina Saudi Polo Team into the final where they await the winner of Sunday's game between RS Murus Sanctus and La Natividad.
Photo Credit: ©Matias Callejo