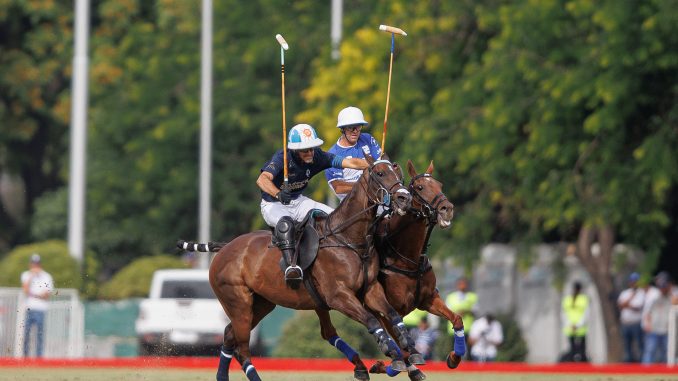 La Dolfina Saudi Polo Team Keep Title Hopes Alive with Victory Against Ellerstina Johor
The seventh day of the 128th Abierto Argentino de Polo featured a high-profile match-up with La Dolfina Saudi Polo Team keeping their title hopes alive with the 16-14 victory against Ellerstina Johor on Field 1 at Palermo. Earlier in the day, La Irenita Polo Team defeated Alegria Fish Creek 14-11 in a game with large implications for 2022 qualifying.
With a victory, Ellerstina Johor could eliminate La Dolfina Saudi Polo Team from contention for the final but ran into a determined team that was led by the performance of Adolfo Cambiaso. Shooting a perfect 7 for 7 from the penalty line, Cambiaso finished with 11 goals to lead all players and overcome the accurate shooting from the field by Ellerstina Johor. Despite converting 58% of their shots from the field compared to just 35% for La Dolfina Saudi Polo Team, Ellerstina Johor's foul trouble allowed their opponents to generate consistent offense and hold the extra possessions needed to claim the two-goal victory.

Scoring just seconds into the game, Gonzalito Pieres gave Ellerstina Johor the early lead, but the remainder of the first chukka produced even play that resulted in the two teams trading Penalty 2 conversions. Taking their first lead in the second chukka, La Dolfina Saudi Polo Team took advantage of Ellerstina Johor foul trouble as Cambiaso hit a Penalty 3 and 4 inside the goal posts for the 3-2 lead. In the remainder of the first half, Facundo Pieres tried to restore Ellerstina Johor's lead with two goals, but three more goals from Cambiaso provided a response for La Dolfina Saudi Polo Team. A strong end to the half saw La Dolfina Saudi Polo Team generate seven shots at goal that led to field goals from Cambiaso and Francisco Elizalde and an 8-5 advantage.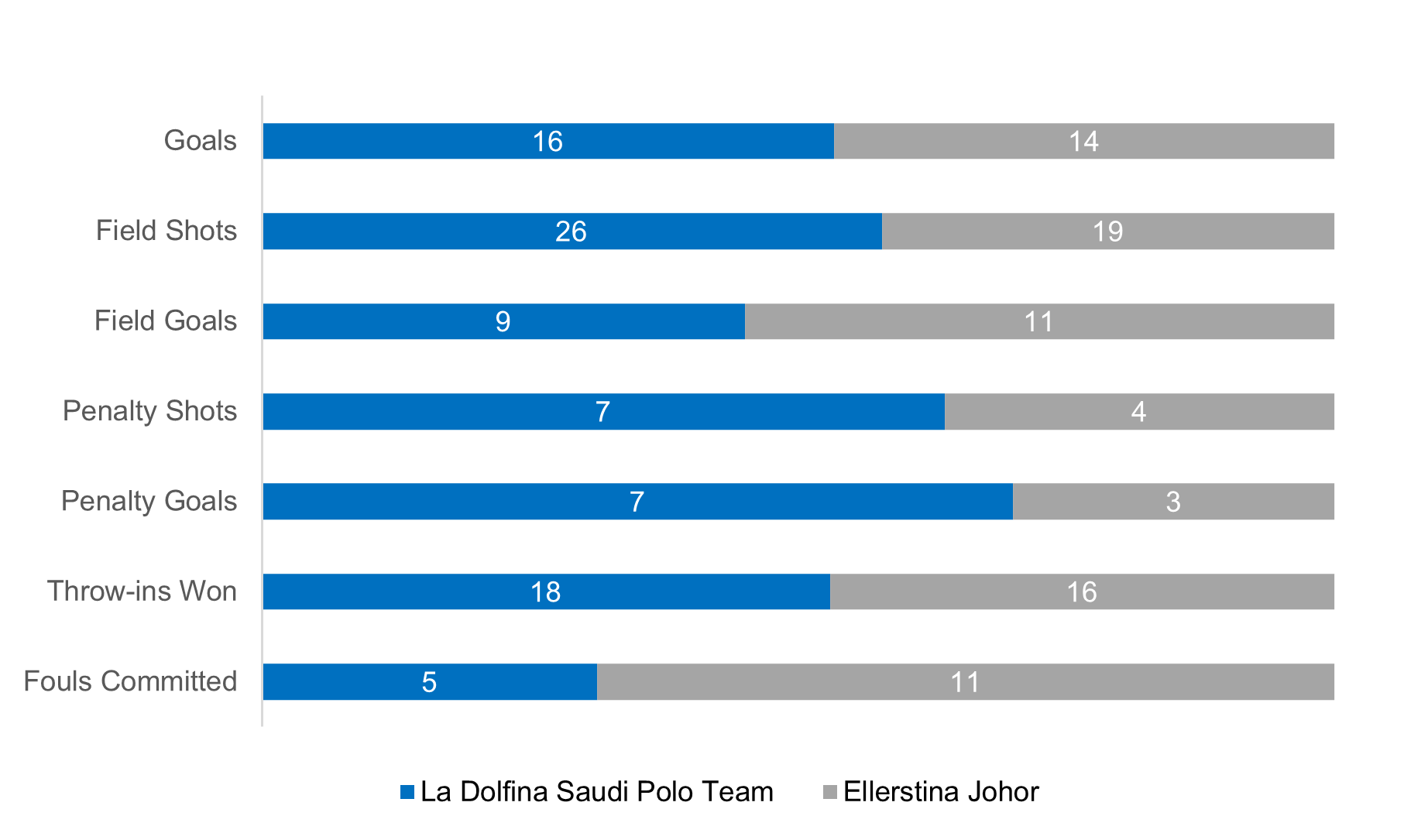 The match instantly changed in a decisive fifth chukka as La Dolfina Saudi Polo Team raced out of the halftime break with one of the most impressive chukkas of the tournament thus far. Outscoring Ellerstina Johor 5-0, they quickly extended their lead to eight with a well-rounded attack that received two goals each from Cambiaso and Elizade, as well as one goal from Alejandro Muzzio who played effectively in place of Diego Cavanagh. Carrying their momentum into the start of the sixth chukka, La Dolfina Saudi Polo Team completed an astounding 11-1 run that began in the third chukka, stunning Ellerstina Johor and resulting in a nine-goal lead. Alfredo Cappella finally ended the run with his first goal of the game, but a seven-goal deficit remained as Ellerstina Johor faced a difficult task with two chukkas remaining. Turning to Facundo Pieres, Ellerstina Johor produced a valiant effort, scoring the final seven goals of the game, six coming from Pieres, but ultimately ran out of time in their comeback attempt as La Dolfina Saudi Polo Team claimed the important 16-14 victory.
The first match of the day featured La Irenita Polo Team and Alegria Fish Creek fighting for a spot in the 2022 Triple Crown and avoiding the bottom place in Zone A. In search of their first victory, La Irenita Polo Team produced a spirited effort to lead from start to finish with accurate shooting from the field and the penalty line. Isidro Strada converted seven of his 10 penalty attempts, while Alegria Fish Creek struggled to keep pace despite producing nine more shots due to inaccurate 29% shooting from the field. With an organized defense, La Irenita Polo Team maintained their lead and captured their first win with the 14-11 victory.

With each team generating one attempt each from the field and penalty line in the first chukka, it was the accuracy of La Irenita Polo Team's Strada that gave his team the early 2-0 lead. Alegria Fish Creek pushed forward in the second chukka, generating momentum after a Penalty 4 conversion from Bautista Bayugar and field goal from Clemente Zavaleta. However, play swung back in La Irenita Polo Team's favour in a 3-0 third chukka that allowed them to extend the lead to four. Receiving one goal each from Strada, Ignacio Toccalino and Segundo Bocchino, La Irenita Polo Team's balanced attack led them into halftime ahead 9-4.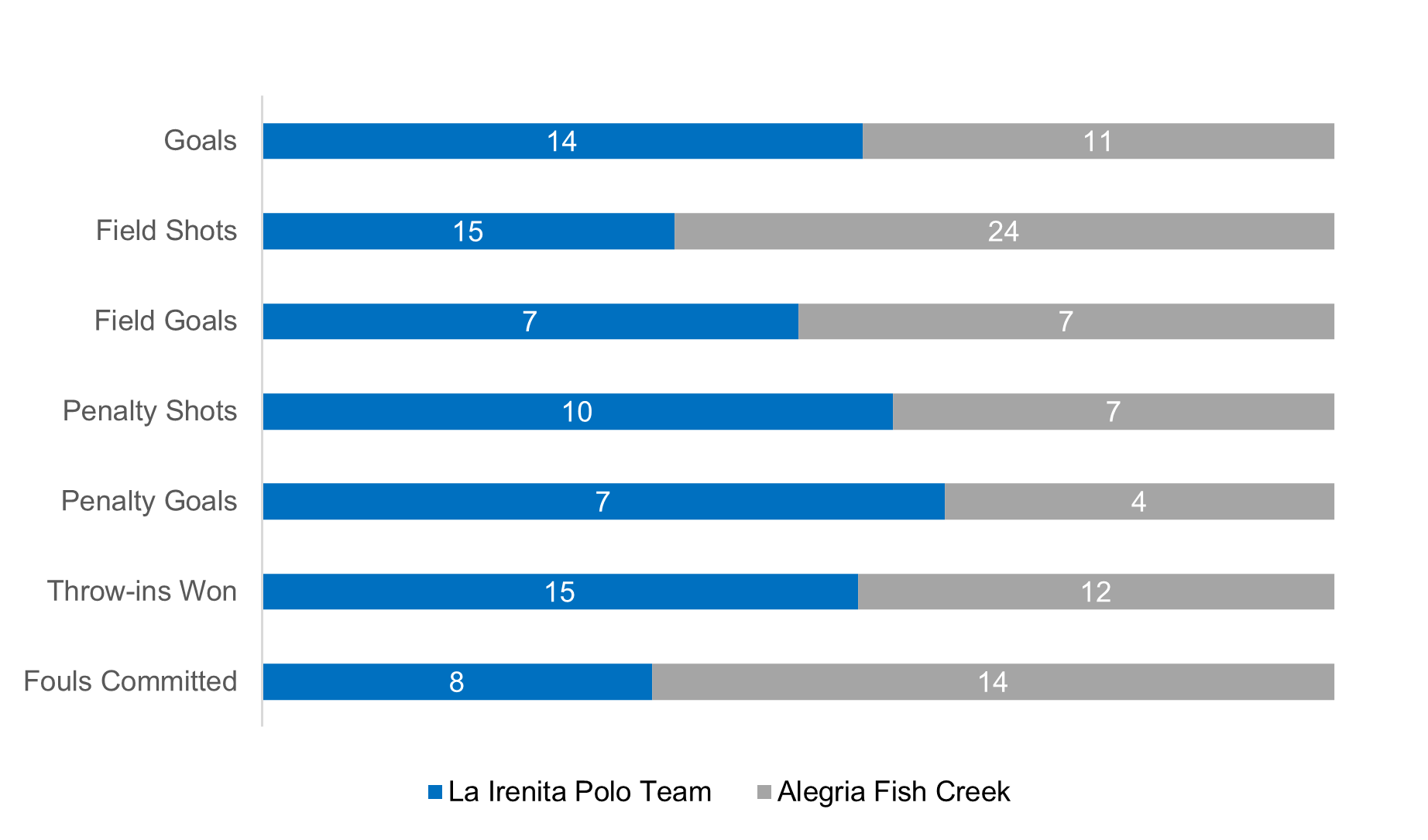 Maintaining a consistent defensive strategy, La Irenita Polo Team kept Alegria Fish Creek off the scoreboard from the field in the fifth and sixth chukka, helping them hold on to the five-goal lead. Two penalty conversions from Bayugar were met by goals from Strada and Toccalino leaving just two chukkas remaining between La Irenita Polo Team and their first win. Still facing the five-goal difference entering the final chukka, Alegria Fish Creek made a final push, receiving one goal each from Bayugar, Joaquin Pittaluga and Santiago Cernadas, but it was too late to make a comeback in the 14-11 defeat.
Photo Credit: ©Matias Callejo