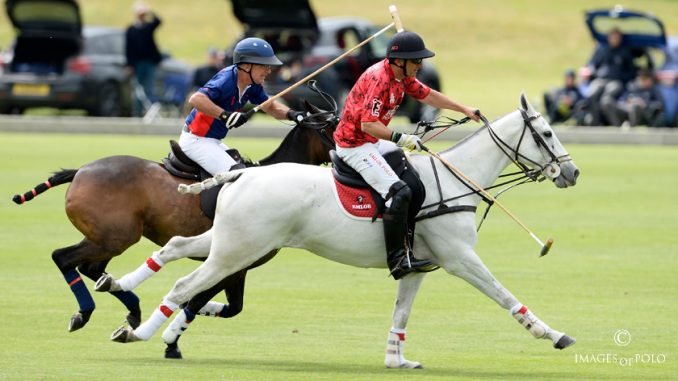 Scone Captures First Win in Cartier Queen's Cup
The third round of play in the 2019 Cartier Queen's Cup resumed on Friday at Coworth Park with Scone narrowly defeating Emlor 11-10 to capture their first win of the tournament, keeping their hopes a spot in the quarter-finals alive.
Coming down to a penalty shot as time expired, Scone produced a second half comeback behind the efforts of James Beim, who finished with a game high six field goals on a variety of offside and nearside neck shots. Emlor controlled possession in the first half, winning the open play battle to build a lead, but Scone fought back with an efficient 73% from the field and three penalty goals from Nico Pieres to claim the narrow victory. Alfredo Bigatti gave Emlor the early two-goal lead after scoring the opening goal and assisting on a Spencer McCarthy goal. Scone responded with three answered goals, two on penalty conversions from Pieres, as they took advantage of Emlor foul trouble to regain the lead. Agustin Merlos and Fred Mannix provided Emlor with a dominant duo to end the half, combining for five consecutive goals and two assists, taking control of the game.
Holding a two-goal advantage, Emlor entered the second half looking to extend their lead, using their defence to keep Scone off the scoreboard. With Mannix and Merlos slowing the Scone counter-attack, Bigatti scored his second goal of the game, leaving Scone with just two chukkas to erase the three-goal deficit. The game shifted in the fifth chukka behind two impressive goals from Beim, the first on a neckshot from distance, while Harper found Beim on a long pass to bring the game into an 8-8 tie. A thrilling final chukka produced five goals, with Bigatti scoring two for Emlor and the duo of Beim and Pieres scoring a goal each to continue generating the offense for Scone. With time expiring, Scone kept Emlor pinned in their own half due to James Harper causing numerous turnovers. The relentless pressure paid off in the final seconds with Scone receiving a foul in front of the Emlor goal, with the Penalty 2 converted by Pieres resulting in the 11-10 victory for Scone.