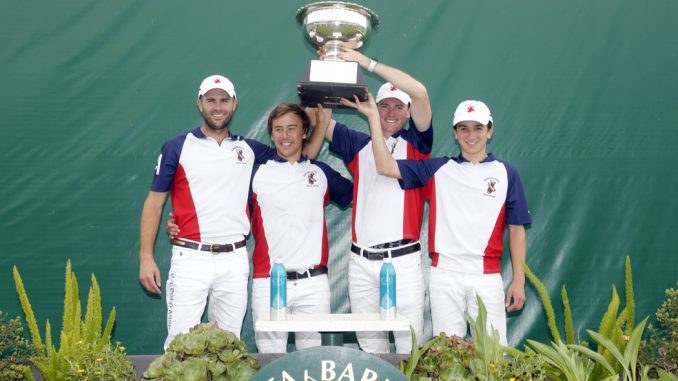 The 2019 Kopu Sparkling Water Lisle Nixon Memorial
at
Santa Barbara Polo & Racquet Club
On a sunny Sunday morning, we saw the finals of the Kopu Sparkling Water Lisle Nixon Memorial. It was a showdown between Antelope Jr. and FMB Too! Antelope Jr. coasted into the finals still boasting an undefeated record for the season. FMB Too! finished with one win and one loss in the tournament along with three other teams causing a four-way tie to play the Sunday finals. Juan Monteverde, with deadly accuracy, shot for FMB Too! to best out three other teams to earn their spot in the finals.
As the finals began, FMB Too! started a little flat footed, allowing Antelope Jr. to put 4 points on the board while FMB Too! went scoreless.
However, FMB Too! began to fight back, racking up goals from the penalty line to finish the first half all tied up at five. Santi Wulff scored three from the penalty line and one from the field. Juan Monteverde put one in from the field.
An injury in the 4th chukker on an FMB Too!, Omar Mangalji, caused for a substitution. Henry Walker's son, Charlie Walker, then took the field when his team was down by two.
Antelope Jr. continued with strong and consistent play to gain a three goal lead in the 4th chukker which they held through the rest of the match. A goal by substitute Charlie Walker closed the gap by two in the final chukker.
The game finished with a score of 11-9, resulting in Antelope Jr. maintaining their perfect record in the season. Most Valuable Player was awarded to Felipe Vercellino for his 7 goals in the game and 100% accuracy from the penalty line. Pipe commented on the game, "It was a really tough game against a great team. I think we played really well as a team and we are lucky to have Santi Trotz as our coach. It is a big advantage that we have played together before as we can stay focused for all six chukkers. It was a great tournament." Best playing pony was awarded to Juan Monteverde's, Minima, who he played in the 4th chukker.
May 2019 SBPRC 12 Goal Rosters
Antelope 12
Geoff Palmer A
Santi Trotz 5
Hilario Figueras 3
Maco Llambias 4
Antelope Junior 12
Grant Palmer A
Jim Wright 3
Felipe Vercellino 6
Herndon Radcliff 3
Dundas Polo 12
Sarah Magness A
Jake Klentner 1
Jason Crowder 6
Mariano Fassetta 5
Farmer & Merchants Bank 12
Lucitas Criado 1
Danny Walker 2
Lucas Criado 7
Matt Walker 2
FMB Too! 12
Omar Mangalji A
Juan Monteverde 5
Santiago Wulff 5
Henry Walker 2
Klentner Ranch 12
Luke Klentner 1
Patrick Uretz 4
Jesse Bray 6
Justin Klentner 1