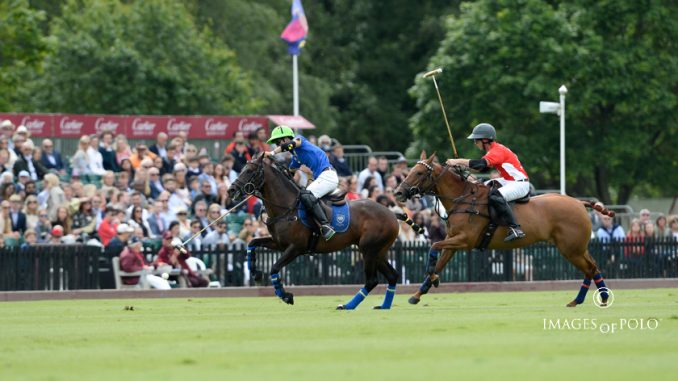 Scone Captures 2019 Cartier Queen's Cup
The thrilling conclusion to the 2019 Cartier Queen's Cup featured an enticing match-up between Scone Polo and Park Place in front of packed grandstand on the Queen's Ground at the Guards Polo Club. After 29 tournament games consisting of 12 teams, Scone Polo was awarded the prestigious Cartier Queen's Cup by Her Majesty The Queen after the 9-5 victory over Park Place.
Evenly matched during open play, Scone and Park Place produced a competitive match with numerous opportunities from both teams. With Scone holding the slight two-goal advantage on field goals in the game, the difference in the game proved to be Park Place's inability to convert from the penalty line. Receiving eight penalty attempts, Park Place converted just one of their eight attempts, allowing Scone to pull away in the game due to their perfect 100% shooting on their three penalty attempts. A balanced attack for Scone resulted in three goals each for James Beim, James Harper and Nico Pieres, who along with patron David Paradice claimed the victory.
Park Place dominated the opening chukka behind the efforts of 10-goaler Hilario Ulloa, who scored both goals for his team, while contributing to an organized defence that kept Scone off the scoreboard. Two missed penalty attempts kept the lead from extending to four, as Scone took the opening by responding with a three goal second chukka to restore the tie. Striving to join his brothers and cousins with his first Cartier Queen's Cup title, Nico Pieres added two field goals during the second chukka to pace the Scone offense. Continuing their momentum, James Harper scored his first goal of the game to end the first half, giving Scone the narrow 4-3 lead.
With just three chukkas remaining to crown a new champion, spectators continued to be treated to a closely fought game, with Park Place dominating possession throughout the fourth chukka and limiting Scone to zero goals on just one shot. Despite pressuring the Scone defence to generate four shots and receive two penalty attempts, inaccuracy from Park Place prevented them from capturing the lead. An Andrey Borodin field goal was the lone goal of the chukka, with Scone fortunate to be tied at 5-5. The game switched in the fifth chukka after two more missed penalty attempts for Park Place opened the door for Scone to take control of the game. James Beim ignited the Scone attack with consecutive field goals, including a shot from nearly 60 yards out, that led to a dominant chukka, ultimately completed by a run from James Harper as he swung his mallet with excitement with Scone holding the four goal lead with just one chukka remaining. A defensively minded final chukka kept Park Place from stringing together multiple goals, while a goal from Scone's Nico Pieres sealed the exciting 9-5 victory.