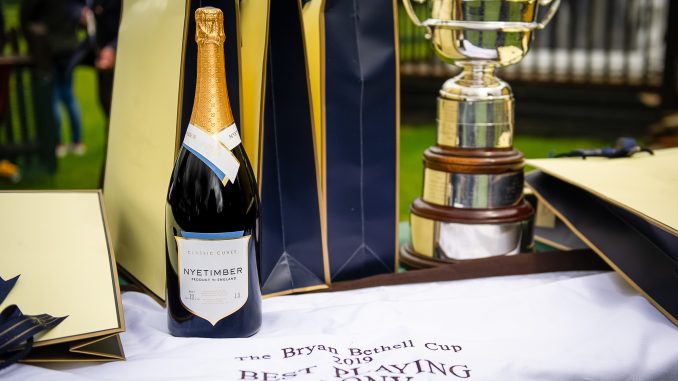 Cowdray Park Polo Club announce Nyetimber as Official English Sparkling Wine Partner
Cowdray Park Polo Club is delighted to announce Nyetimber as their first ever English wine partner and Official Sparkling Wine Partner for 2019. Nyetimber's Sparkling Wines will be served to social members, visitors to the club and presented to victorious teams throughout the polo season.
Polo, the Game of Kings, has brought these two luxury brands together in partnership; the brand synergy extends further since both are products of the Sussex countryside, with vineyard and polo fields just three miles apart. Cowdray Park Polo Club, 'The Home of British Polo' achieved 'Best Visitor Attraction' at the 2018 Celebration of Sussex Life Awards, whilst Nyetimber's Head Winemaker Cherie Spriggs was awarded Sparkling Winemaker of the Year at the International Wine Challenge 2018, the first woman and the first person outside Champagne to win. The brand collaboration is further strengthened by Cowdray Estate's agreement to provide Nyetimber at their premium accommodation, Cowdray House, as well as stocking the wines at Cowdray Farm Shop, awarded 'Sussex Food Shop of the Year' in May 2019.
Eric Heerema, Owner & CEO of Nyetimber, commented; "I am delighted that Nyetimber is becoming the first ever Official English Sparkling Wine Partner of both Cowdray Park Polo Club and Cowdray Estate, one of the most historic properties in our home county of West Sussex. We look forward to working closely with Cowdray Park Polo Club during the world-famous summer season, as well as throughout the year to showcase the perfectly British nature of both Nyetimber and Cowdray Estate."
Jonathan Russell, Cowdray Estate CEO, commented: "The events business at Cowdray, specifically Cowdray Park Polo Club, is more glamorous and exciting than ever before. We are therefore thrilled to welcome such a fitting partner, Nyetimber, to Cowdray for the 2019 season and look forward to celebrating the strength of two great British brands."