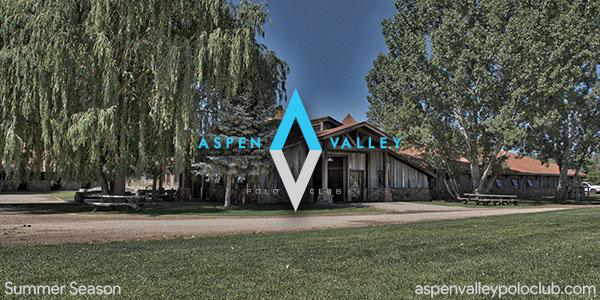 Piocho Ranch Plays Los Amigos Red Sunday In Craig Sakin Memorial Final At Aspen Valley Polo Club
The stage is set for another showdown between Piocho Ranch and Los Amigos Red Sunday in the final of the sixth annual Craig Sakin Memorial.
By Sharon Robb
Grant Ganzi of Piocho Ranch stretches to hook Alejandro Novillo Astrada of Flexjet.
In a rematch of last year's championship, Piocho Ranch (Grant Ganzi, Salvador Ulloa, Nacho Figueras, Tom Barrack) will play Los Amigos Red (Paul Foster, Marc Ganzi/Hilario Figueras, Lucas Lalor, Nacho Novillo Astrada) Sunday at 1 p.m. at Aspen Valley Polo Club.
In Friday's qualifying games at Sopris Mountain Ranch, Piocho Ranch defeated Flexjet (Melissa Ganzi, Alejandra Foster, Alejandro Novillo Astrada, Juan Bollini), 10-9, in overtime when Figueras converted a 60-yard penalty.
Alejandra Foster of Flexjet defends Salvador Ulloa of Piocho Ranch.
In Friday's round robin play, Los Amigos Red defeated Mountain Chevrolet (Michael Payne, Pablo Spinacci, Kris Kampsen, Gussie Busch), 5-3, and La Karina (Brian Boyd, Lauren Sherry, Sebastian Merlos, Carlitos Gracida), 6-5. In the other game, La Karina defeated Mountain Chevrolet, 4-2.
In the opening game, Figueras scored a game-high five goals, Ulloa had three and Ganzi added two goals for Piocho Ranch. Melissa Ganzi led Flexjet with four goals, Foster had three goals and Astrada scored two goals.
Juan Bollini of Flexjet defends Nacho Figueras of Piocho Ranch as he works the near side shot.
Flexjet dominated the first half jumping out to 2-1 lead in the opening chukker and pulling away 5-3 in the second and 7-3 at the half.
Piocho Ranch reeled in Flexjet in the second half. Piocho Ranch scored five consecutive goals in the fourth and fifth chukkers to tie the game at 8-8. Ulloa's goal early in the sixth chukker gave Piocho Ranch its first lead of the game, 9-8, but Melissa Ganzi scored with 1:50 left in the game to tie, 9-9. Both teams had scoring opportunities in the closing minute before the game went into overtime.
Salvador Ulloa of Piocho Ranch hits a near side shot with Alejandro Novillo Astrada of Flexjet defending.
In the three-team round robin, Brian Boyd led all scorers with five goals and Paul Foster had four goals. Marc Ganzi, coming off playing in the King Power Gold Cup for La Indiana (subbing for Michael Bickford) at Cowdray Park Polo Club, was third leading scorer with three goals in three chukkers in the first game for Los Amigos Red. Hilario Figueras played for Ganzi in the third and deciding game against La Karina.
In the opening game, Los Amigos Red defeated Mountain Chevrolet, 5-3. Los Amigos Red led from start-to-finish jumping out to a 3-0 lead early in the opening chukker with two goals from Ganzi and impressive penalty-six conversion by Astrada. Another Ganzi goal through two defenders early in the third chukker gave Los Amigos a 5-2 advantage.
Tom Barrack of Piocho Ranch leads the chase pack.
La Karina defeated Mountain Chevrolet, 4-2, behind Boyd's three goals, including two goals in the third chukker.
In the third and final game, the lead changed hands ten times, before Paul Foster picked up a loose ball and scored with a minute left to clinch the victory. Figueras and Astrada took turns with the ball to run out the clock.
Hilario Figueras of Los Amigos Red and Brian Boyd of La Karina race for the ball.
Piocho Ranch is looking for its second consecutive summer tournament victory. On Wednesday, Piocho Ranch (Gabriel Gracida, Salvador Ulloa, Nacho Figueras, Tom Barrack) won the season-opening Independence Cup.
Last year Piocho Ranch (Grant Ganzi, Juancito Bollini, Nacho Figueras, Tom Barrack) won the Craig Sakin Memorial with a thrilling 11-10 victory over Los Amigos Red (Jonathan Gracida/Alejandra Foster, Pablo Dorignac, Nacho Novillo Astrada, Paul Foster). Figueras, who scored five goals including the game-winner, was Pro MVP and Alejandra Foster was the Amateur MVP.
Pablo Spinacci of Mountain Chevrolet attempts to hook Brian Boyd of La Karina.
In Sunday's opening game at 11 a.m., Flexjet, La Karina and Mountain Chevrolet will play the Just For The Fun Of It subsidiary round robin.
On Saturday, also at Sopris Mountain Ranch, two games are set for the "Polo Dreaming" Tournament at 11 a.m. and noon.
The Craig Sakin Memorial is the second of eleven grass tournaments and three arena tournaments being staged at AVPC in what is expected to be its most successful season.
Kris Kampsen of Mountain Chevrolet reaches for the ball with Sebastian Merlos defending.
The tournament is named in honor of Sakin, who passed away on Feb. 11, 2014 at age 52. The former president of the Homeowners' Association of Sopris Mountain Ranch, was instrumental in helping Marc and Melissa Ganzi secure their first polo field. In 2015, some of Sakin's ashes were released over the polo field. His wife Sally Beneman Sakin is expected to present the tournament awards on Sunday.
Sakin was a private equity investor and turnaround specialist. His personal interests included horses and the outdoors. Sakin owned Sugar Frosted Cat, a mare ranked by the National Reined Cow Horse Association, and Idocus, a Dutch Warm Blood stallion that competed in the 2004 Summer Olympic Games for dressage and represented the U.S. in the World Cup. He was an avid and skilled hunter and skier, pursuing his passions around the world.
Lauren Sherry of La Karina is double teamed by Gussie Busch and Kris Kampsen of Mountain Chevrolet as she hits downfield.
Other 2018 AVPC grass tournament winners were: Piocho Ranch, Independence Cup; Los Amigos Blue, ChukkerTV Challenge; La Karina, Basalt Handicap, Emma Challenge Cup and Rocky Mountain Cup; Los Amigos Red, High Alpine Cup; Tonkawa, Mount Sopris Cup and Mandarina, Triple Crown of Polo.
Among the 2019 summer highlights is the 119th USPA Silver Cup. The Aug. 11 final, set for one of the club's two newest fields at McClure Ranch, will be coupled with the annual Chukkers, Champagne & Caviar fundraiser.
Carlitos Gracida of La Karina tries to get past defender Michael Payne.
The club's summer marquis charity event, hosted by club owners Marc and Melissa Ganzi and Aspen Valley Hospital Foundation, has raised $1 million dollars in the last two years to benefit Aspen Valley Hospital.
Ticket packages range from $250 (Early Bird general admission single ticket if purchased before July 11) to $25,000 Luxury VIP Gold (table for 12) and $100,000 Luxury VIP Diamond package (30 guests). The $50,000 Luxury VIP Platinum (20 guests) has already sold out. For more information call 970-544-1302.
Michael Payne of Mountain Chevrolet and Brian Boyd of La Karina cross mallets.
With the majestic 12,965-foot summit of Mount Sopris as a backdrop, Aspen Valley Polo Club is one of the busiest and fastest growing USPA-sanctioned clubs in the nation with a membership increase of 75 percent over four seasons.
Since Marc and Melissa Ganzi founded the club in 2014, polo has increased in popularity in Aspen and surrounding cities with the club's offerings of various weekly grass and arena tournaments, Gladiator Tuesdays and Asado, Kids Polo, The Polo School headed by former 8-goaler Juan Bollini, and Polo On Demand. In addition, the club offers practice sessions for teams competing in the weekend tournaments.
Kris Kampsen of Mountain Chevrolet and Lucas Lalor of Los Amigos Red follow the ball.
Aspen Valley Polo Club has had a positive impact in the area hosting kids polo camps, teaching lessons and several charitable events at the club that have benefitted local charities.
The Ganzis are avid players and patrons and "have created a polo paradise" according to Piocho Ranch padron Tom Barrack. "You can go all over the world but you can't have these kind of people, players and horses in this setting. It's really a gift." Players, sponsors, community leaders and fans share Barrack's sentiments.
Nacho Novillo Astrada of Los Amigos Red hits downfield with Kris Kampsen of Mountain Chevrolet in pursuit.
Photos by Aspen Valley Polo Club
All ages are welcome to enjoy polo at Aspen Valley Polo Club, the summer destination for polo. Admission, food and refreshments are free for fans in a relaxed, laidback atmosphere. An added feature is the club's Jumbotron which made its debut last summer for the fans' enjoyment, Aspen Valley Polo Club Boutique and new electronic scoreboard.
2019 Aspen Valley Polo Club Summer Polo Series
July
Craig Sakin Memorial
Saturday 7/6 Polo Dreaming Tournament
11 a.m. and 11:30 a.m. at Sopris Mountain Ranch
Sunday 7/7 Just for The Fun of It Subsidiary Final 11 a.m.
Craig Sakin Memorial Final 1 p.m.
at Aspen Valley Polo Club
USPA North American Cup Draw 7/12
ChukkerTV Challenge Cup 7/12 – 7/14
USPA North American Cup 7/14 – 7/20
Basalt Handicap 7/19 – 7/21
USPA Silver Cup Draw 7/20
USPA National Arena Handicap July 23 – August 6
USPA Silver Cup July 24-August 11
Emma Challenge Cup July 26-28
ChukkerTV Arena Challenge July 30
August
High Alpine Cup 8/2 – 8/4
Arena World Cup 8/7 – 8/14
Rocky Mountain Open 8/9 – 8/17
Mount Sopris Cup 8/16 – 8/18
Carbondale Classic 8/23 – 8/25
2019 PoloFest Denver 8/31
September
The Triple Crown of Polo Trophy 9/1 – 9/8
All game time are MST