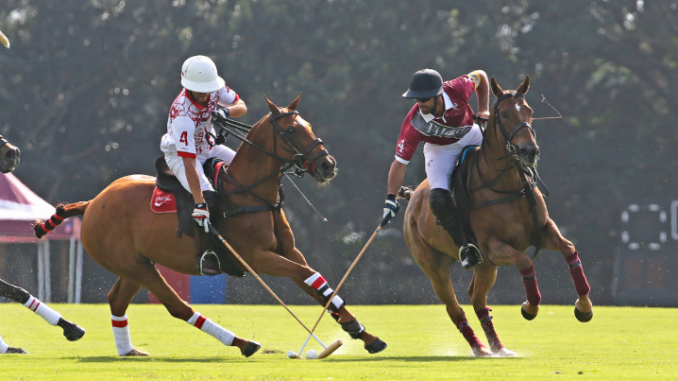 2021 Gauntlet of Polo® Begins with Overtime Classic Between Coca-Cola and Pilot
Wellington, FL – February 17, 2021 – The much-anticipated debut to the 2021 Gauntlet of Polo® and C.V. Whitney Cup® did not disappoint in an overtime classic between Coca-Cola and Pilot at the International Polo Club Palm Beach (IPC). Facing a two-goal deficit inside the final minutes of the game, Pilot scored back-to-back goals to force overtime and then used a steady, determined attack in the extra chukker to capture the thrilling 13-12 victory.
Facundo and Gonzalito Pieres combined for 12 of their team's 13 goals. ©Alex Pacheco
Tied after four of the six chukkers in regulation, little separated Coca-Cola and Pilot on the opening day of the C.V. Whitney Cup® with Facundo and Gonzalito Pieres battling against brother Nico Pieres. Newcomer Mackenzie Weisz worked tirelessly for Coca-Cola in an effort to slow down the elite 10-goal duo from Pilot, but Facundo and Gonzalito combined for 12 of their team's 13 goals, including the overtime winning goal from Gonzalito just one minute and 25 seconds in. A high level of play was seen on both sides of the ball, including 56% shooting from the field by Pilot, setting the tone for an exciting season of 22-goal polo at IPC.
Utilizing their front two players in Gillian Johnston and Weisz early, Coca-Cola found open runs to goal in the first chukker, receiving one goal each from Johnston and Julian de Lusarreta to hold the 2-1 lead. Resorting to their two-man game, Facundo and Gonzalito brought Pilot back even while an organized defense kept Coca-Cola scoreless from the field for the remainder of the half. Outscoring Coca-Cola 4-0 from the field over the second and third chukkers, three coming from Gonzalito, Pilot had their opportunities to take the lead, but could not keep Coca-Cola off the penalty line. Three fouls resulted in three penalty goals for Coca-Cola's Pieres and de Lusarreta, leaving the score tied at 5-5 entering halftime.
A fast-paced start to the second half saw both teams produce four shots at goal in the fourth chukker, but it was Pilot that held the edge, adding a Penalty 2 conversion from Facundo, placing Coca-Cola one off the pace of the 2019 C.V. Whitney Cup® champions. Applying pressure to the Coca-Cola defense, Facundo received two penalty attempts, converting both as Pilot looked to extend their lead, but Coca-Cola returned to the pass at the end of the fifth chukker as de Lusarreta set up Pieres, while being awarded a Penalty 1, bringing the game even at 10-10 entering the sixth chukker. De Lusarreta continued his strong play at the end of the game, involved in all goals during a four-goal unanswered stretch that left Coca-Cola ahead by two with just minutes remaining. Relying on their vast experience, Pilot fought back to even on goals from Facundo and Keko Magrini, who found an impactful moment to score his only goal of the match and send the game into overtime.
Starting overtime on a knock-in, Facundo and Gonzalito slowly worked the ball down the field for Pilot. After conceding possession on a blocked shot, Gonzalito recovered and, from a distance, was able to find the goal and secure the exciting 13-12 victory for Pilot to begin the C.V. Whitney Cup®.
Play will resume on Thursday with two games as Cessna takes on Santa Clara at 11am EST, while La Indiana, fresh off their 2020 USPA Gold Cup® victory, will face Park Place at 3pm EST.