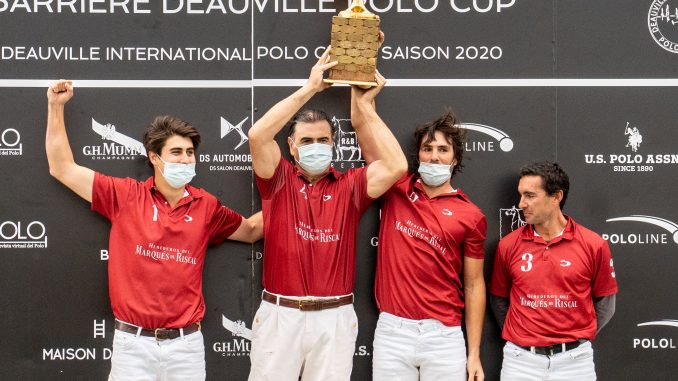 Polo: Martha & Lucien Barrière Gold Cup Final
Alejandro Aznar wins forty years after his father!
Sunday 20 August 2020
After a second half of August a little complicated on the weather side, the final of the 70th Martha & Lucien Barrière Gold Cup was played in ideal conditions: sunshine for the public and freshness for the horses. It opposed the Spanish team of Marqués de Riscal to the Swiss team of Tommy Rinderknecht who played under the Barrière colors in front of almost full stands, 2,000 spectators. A hot, hot, hot match! The Spaniard Alejandro Aznar finally wins his first Gold Cup… 40 years after his father.
In spite of an open and spectacular game from the beginning of the match, it will have been necessary to wait 6'25" to see the first "golaso" registered of more than 60 yards by the handicap 8 of Marqués de Riscal, Alejandro Muzzio. Nacho Kennedy replied immediately a few seconds from the bell. The tone was set: the battle was going to be tough. From one end of the game to the other, the teams did not give up with a difficult fourth period, full of fouls and the temporary exclusion of the "hot" Spanish captain, Alejandro Aznar who, a few seconds before, had made a very nice action: a long ball concluded by a goal that had brought both teams back to equality. Cernadas then gave the advantage to his team on a new penalty.
The last period was like the match: a perfect equality, after a goal by Martin Aguerre, Alejandro Muzzio replied with a new penalty, confirming the Spanish victory, a first success for Alejandro Aznar in Deauville, forty years after his father who had won this Deauville Gold Cup with… Santi Cernadas' uncle. Polo is all about beautiful family stories: "It's an emotional, indeed, it's been five times that I've tried to win this Golden Cup. The match was tense, but I am very happy. I'm especially happy about this goal scored with a mare from my breeding, I'm proud of it. I have ten mares for my breeding and it is a great satisfaction when the products reach this level. Then, after this goal, it's true that I got banished two minutes (laughs), I'm a little bit hot, you know, Spanish blood! To tell the truth, I was hit by a player in the leg and it hurt and I shouted at him, but the referee took it for him and sent me to the sidelines. But that didn't affect the result, they didn't score during that time". Tomorrow, the thirty horses of Marqués de Riscal will embark for Chantilly and try to win the third round of the French Triple Crown, the French Open that the Spanish team won last year.
An Open that the Spaniard will have to defend against seven teams rather well "furnished" with no less than eleven players of the level of the Argentinean Open: Barto Castagnola (h8) and Camilo Castagnola (h7) who have just won the Queen's Cup, Guillermo Terrera, (h8, semi-finalist Argentine Open with La Dolfina Polo Ranch), Fran Elizalde (h8), Santiago Chavane (h7), which was 9), Martin Aguerre Jr., Juan-Gris Zavaleta, Clemente Zavaleta and Tito Guinazu (h7) and the brand new winners of this Gold Cup Martha & Lucien Barrière de Deauville, Alejandro Muzzio (h8) and Santiago Cernadas (h7).
Marqués de Riscal: Luis Aznar (ESP, h1), Santiago Cernadas (ARG, h7, 2 penalties), Alejandro Muzzio (ARG, h8, 5 goals including 2 penalties and 1 corner) and Alejandro Aznar (ESP, h0, 1 goal)
Barrière: Ignacio Kennedy (ARG, h4, 2 goals), Jota Chavanne (ARG, 5), Martin Aguerre Jr. (ARG h7, 5 goals including 2 penalties), Tommy Rinderknecht (SUI, h0)
Progression Marqués de Riscal : 1/1 – 1/3 – 4/5 – 6/5 – 8/
Best player of the final: Alejandro Muzzio (Marqués de Riscal)