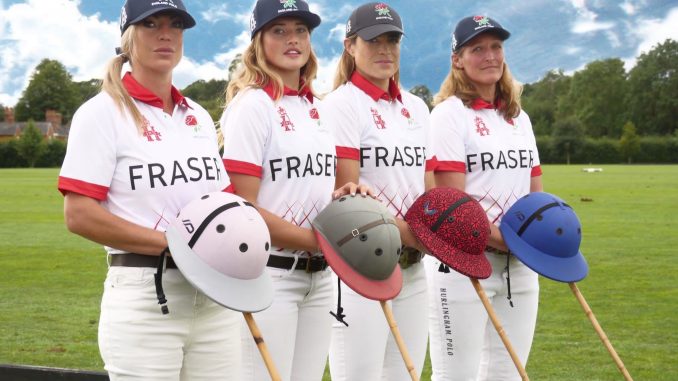 The Hurlingham Polo Association is very pleased to announce the team to represent England in the 3rd FIP Ladies' European Championship to be played at La Mimosa Polo Club, near Milan.
Featuring teams from Ireland, Germany and Italy as well as England the tournament will run from 22nd September culminating in finals on 26th.
The Frasers England team will be:
Fran Townsend 1
Millie Hughes 3
Emma Wood 6
Heloise Wilson-Smith 6
The HPA would like to thank all the players and the England sponsors for their generous support of the team:
Frasers – longstanding supporter of British Polo in general and England teams in particular
Moorgate Capital – corporate finance and Mergers and Acquisitions advisory firm.
Style for Soldiers – Style for Soldiers is a charity founded by Emma Willis MBE in response to the numerous casualties incurred in Iraq and Afghanistan.
Emma Willis – Emma Willis is a boutique bespoke shirtmaker located on the famous Jermyn St, London. Emma Willis opened her store in 1999. All shirts are made in England.
Hurlingham Polo – The official lifestyle brand of the Hurlingham Polo Association. Authentically British, Absolutely International.
The last women's European Championships took place in Chantilly in 2018 at Villa a Sesta. Played on women's handicaps it is a 16-goal tournament with players mounting themselves. The English horses will be leaving the UK on 17th September to arrive on the 19th in time for the first game on the 24th. Tamara Fox and Nina Clarkin will be travelling to Milan to coach and support the team along with Jess Andrews as the reserve. The team will be playing the Associates Cup at Cirencester as a warm-up tournament.