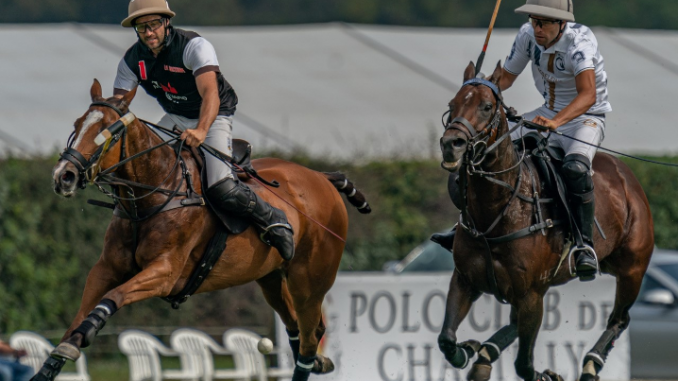 Champagne polo
Chantilly Tuesday 14 September 2021
The Magdeleine was saved by a golden goal from Facundo Llorrente (white No.3, to the right of Nacho Kennedy).
The 2021 edition of the Open de France Engel & Völkers has so far been one of the most exciting ones of the last twenty-one years. At least as far as the qualifying phase is concerned. The four semi-finalists for next Friday are now known. Each team will have taken a different route to end up in the remaining four. All possible scenarios have been played out: a team that clearly dominated its zone (Kazak), another one that qualified after an improbable turn of events (Talandracas), a third one thanks to penalty shoot-outs (Los Dragones against Mungo and Le Pommeray HM) and finally, the last one, La Magdeleine, went through the anguish of overtime.
Kazak had already qualified since last Sunday after a faultless run that the team from the west of Paris confirmed today against Clinova Noa Capital. The Argentine stars, Jero del Carril and Santiago Irastorza as well as the French 5-goaler Patrick Paillol therefore opted to offer as many goal opportunities as they could to their excellent captain Sébastien Aguettant, author of 8 goals this afternoon. A good warm-up before the semi-final against Los Dragones on Friday.
Dominated during four of the five periods by Sainte-Mesme, Talandracas snatched the qualification yesterday thanks to a 3-0 in the fifth chukker with incredible moves from the duo Jeta Castagnola – Tommy Beresford.
Following this game, three teams from this zone were tied for victory and it was the penalty shoot-out that allowed the winners of the Coupe d'Or de Deauville, Los Dragones, to join Kazak in the semi-finals next Friday.
The last qualified, La Magdeleine, will have been in a cold sweat today. Largely dominated until the fourth chukker (5-8), team Marquard Media playing with three substitutes (notably Tommy Beresford who replaced Martin Aguerre suffering from an adductor injury), carried out an impossible remontada (9-9), to push La Magdeleine into an extra chukker. It was a never-ending period as it took more than three long minutes for Facundo Llorente to save his team's day.
Very nice games indeed and there is no reason this should not continue in the final phase of the tournament for which it is impossible to make a prognosis.
Lia Salvo (Maison Décalé, right), as dominant as ever in women's polo.
Launch of the Women's Open.
Lia Salvo (Maison Décalé) and the Venot sisters (Polo Park Zürich) confirmed their status as favorites for this tenth anniversary edition of the Women's Open de France. DS Automobile St Maximin won the last game. The two teams largely dominated their games: 9-5 for the former and 9-1 for the latter. Six teams are involved in this Women's Open and all of them still have a mathematical chance of reaching the final on Sunday.
In short, very competitive polo, a festive and friendly atmosphere: you should definitely not miss the games of this last week and in particular the semi-finals (Friday) and the finals (Sunday) which are always intense and emotional.
Semi-finals, Friday 17 September
LOS DRAGONES 16 : Sam SZTARKMAN CAP 1, Jota CHAVANNE 5, Martin JOAQUIN 5, Nicolas CORTI MADERNA 5
vs.
KAZAK 16, Sébastien AGUETTANT CAP 0, Patrick PAILLOL 5, Jero DEL CARRIL 7, Santiago IRASTORZA 4
TALANDRACAS 16: Édouard CARMIGNAC CAP 0, Hugues CARMIGNAC 1, Tommy BERESFORD 7, Camilo CASTAGNOLA 8
vs.
LA MAGDELEINE 16: Alexandre GARESE 0, Lucas NOTTIN 2, Facundo F.LLORENTE 7, Tito RUIZ GUIÑAZU 7
TEAMS OPEN DE FRANCE FÉMININ
CASANERA 14
Julie DUVILLIER 1
Adèle RENAULDON 3
Olivia UECHTRITZ 4
Izzie MCGREGOR 6
COSMO POLO LOS FLOREALES 14
Anne GROßMANN 0
Maike HÖLTY 4
Fatima BALZANO 6
Svenja HÖLTY 4
MAISON DÉCALÉ 16
Lavinia FABRE 3
Bianca VERNEUIL 1
Agathe MOBIAN 3
Lia SALVO 9
POLO PARK ZÜRICH 16
Morgan VAN OVERBROEK 2
Pearl VENOT 4
Lucie VENOT 4
Elena VENOT 6
DOROTHEE SCHUMACHER 13
Clarissa MARGGRAF 3
Marie HAUPT 3
Philippa LUSERKE 3
Naomi SCHROEDER 4
DS AUTOMOBILE – DS STORE SAINT MAXIMIN 13
Romane JAMET 3
Ambre PLOIX 3
Sandrine DUBOIS 3
Anna MARA 4
FINALS PROGRAMME SUNDAY 19 SEPTEMBER 2019
11H00 : Opening of the village
12H00 : Final of the Ladies French Open
12H00 : Finals cocktail
13H30 : Finals lunch
14H00 : Potrillos Cup
15H00: Parade of the French Open Engel & Völkers
15H30: Final of the Open de France Engel & Völkers
17H00: Kastel Trophy (8 goals) final
PRESS CONTACT
Pascal Renauldon
06 08 75 94 07
p.renauldon@rbpresse.com