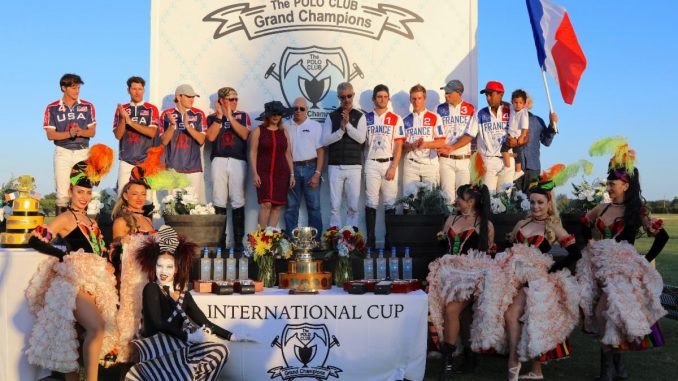 GCPC-USA Captures Eighth International Cup In Thriller Over France; Nic Roldan Named MVP
In a wild finish, GCPC-USA won an unprecedented eighth consecutive International Cup Saturday at Grand Champions Polo Club.
Winning GCPC-USA teammates Juancito Bollini, Nic Roldan, Grant Ganzi and Marc Ganzi hoist the International Cup trophy.
By: Sharon Robb
GCPC-USA (Marc Ganzi, 2, Grant Ganzi, 3, Nic Roldan, 8, Juancito Bollini, 4) held off the upset-minded France (Louis Jarrige,3, Julien Reynes, 4, Edouard Pan, 4, Pierre Henri Ngoumou), 9-8, despite being outscored, 6-2, in the final two chukkers.
Grant Ganzi of GCPC-USA rides off Pierre Henri Ngoumou of France.
Roldan, America's top-rated player at eight goals, was selected Most Valuable Player and ended one of his most successful fall seasons at Grand Champions. It is the fourth time Roldan was selected MVP for the International Cup.
"That was probably one of the toughest International Cups we've had," said Roldan, who scored a game-high five goals. "I thought they played great and gave us everything we could handle. This was a hardfought win."
Nic Roldan of GCPC-USA battles Louis Jarrige of France for the ball next to the sideboards.
France caught GCPC-USA off guard coming out aggressively and winning the throw-ins in the opening chukker, jumping out to a quick 2-1 lead.
"They started out quick and strong," Roldan said. "We fixed it up in the middle a little and then I don't know, maybe we got a little overconfident."
GCPC-USA teammates Grant Ganzi and Juancito Bollini double team Pierre Henri Ngoumou of France.
GCPC-USA regained its composure in the second and third chukkers to take a 7-2 halftime lead, shutting France out, 3-0 in each chukker.
France rallied to outscore GCPC-USA, 3-1, in the fourth and fifth chukkers but defensive plays by Roldan and Grant Ganzi ended scoring drives in the final seconds.
Father and son Marc and Grant Ganzi of GCPC-USA double team Edouard Pan of France.
It was the fourth consecutive International Cup Grant Ganzi won. He wears an American flag on his helmet.
"In the beginning we just started out flat," Ganzi said. "There's no other way to put it. We lost the throw-ins, we were losing the man, we were floating and watching, they just got the jump on us.
Juancito Bollini of GCPC-USA and Pierre Henri Ngoumou of France battle for the ball.
"We came back strong in the second and third chukkers, our best chukkers," Ganzi said. "After halftime, it took us a while to get back into the rhythm of man, man, man, hold the ball and not allow them to do what they wanted to do in the game and it worked. I don't think we did that badly in the fifth."
For Bollini, it was his first International Cup victory as a U.S. citizen.
Nic Roldan of GCPC-USA works the ball away from Louis Jarrige of France.
"It was a tough game," Bollini said. "After the first half things went south for us, but we managed to pull it off in the end. It's different to play for your country. It's an honor. I'm glad we could win."
In addition to Roldan's five goals, Marc Ganzi had three goals including two penalty conversions and Grant Ganzi added one goal. For France, Reynes led with three goals, Pan had two and Jarrige and Ngoumou each had one. They also were awarded a penalty one.
Marc Ganzi of GCPC-USA defends Louis Jarrige of France.
It was one of the closest margins of victory in a regulation five-chukker international game. The GCPC-USA team was coached by Argentine Open six-time winner and former 10-goaler Horacio Heguy.
Since 2012 GCPC-USA has defeated England, Chile, Mexico, South Africa, Uruguay, Brazil and Azerbaijan for the coveted cup.
Grant Ganzi of GCPC-USA reaches for the ball with France's
Pierre Henri Ngoumou defending.
Other past GCPC-USA team victories and rosters featuring a Who's Who of polo players are: 2018, U.S. 9, Azerbaijan 7.5, Marc Ganzi, Grant Ganzi, Jeff Blake, Juan Bollini; 2017, U.S. 9, Brazil 7, Grant Ganzi, Carlitos Gracida, Julio Arellano, Mike Azzaro; 2016, U.S. 6, Uruguay, 3, Marc Ganzi, Grant Ganzi, Julio Arellano, Nic Roldan; 2015, U.S. 12, South Africa 7, Marc Ganzi, Jeff Hall, Nic Roldan, Julio Arellano; 2014, U.S. 3, Mexico 2.5 and USA 2, Team USPA 1.5, Marc Ganzi, Wes Finlayson, Nic Roldan, Mason Wroe; 2013, U.S. 13, Chile 8, Marc Ganzi, Nic Roldan, Jeff Hall, Carlitos Gracida; and 2012, U.S. 8.5, England 6, Marc Ganzi, Carlitos Gracida, Jeff Hall, Nic Roldan.
Grand Champions International Cup Best Playing Pony TortaNegra, played by Juancito Bollini.
The Grand Champions Best Playing Pony was TortaNegra, an 11-year-old Dark bay mare played by Juancito Bollini.
The American Polo Horse Association Best Playing Pony was Darling, a 15-year-old thoroughbred mare trained by Joey Casey, a third generation polo player and Palm City Polo Club owner.
American Polo Horse Association Best Playing Pony Darling played by French captain Pierre Henri Ngoumou.
The American Polo Horse Association was created in 2006 by legendary Hall of Famer Sunny Hale to recognize polo ponies in America and encourages events that showcase them and hard-working dedication of grooms.
The day-long event took on a French theme with Lake Worth-based Doug Verga Entertainment Company can-can girls, mime and French music played throughout the day. Seminole Casino Coconut Creek made its debut at Grand Champions providing the well-stocked bar and West Palm Beach-based Ken Rose Catering served finger food and desserts for the VIP tent. Popular singer Tom Blake sang his soulful rendition of the National Anthem.
Ooh La La, the gang is all here to celebrate the season-ending International Cup.
Catena Watches and Gracida Wine were presented to umpires Gaston Dorignac and Roddy Matthews, two of the sport's best who ended a successful season of officiating the medium and high goal tournaments and Saturday's doubleheader.
Proceeds from the doubleheader benefit The Museum of Polo and Hall of Fame, a non-profit educational organization, dedicated to fostering an appreciation of the development, history and tradition of the sport of polo by collecting, preserving, exhibiting and interpreting its collections as well as honoring those who have made outstanding contributions to the sport.
MVP Nic Roldan of GCPC-USA receives his award from the legendary six-time Argentine Open winner and former 10-goaler Horacio Heguy.
Grand Champions ended another successful fall season.
Newport (Gene Goldstein, Grant Ganzi, Juancito Bollini, Nic Roldan) made club history winning the first-ever Wellington Open high goal tournament of the season.
The Can Can girls from the Doug Verga Entertainment Company entertain the crowd.
The winners of the first five medium goal tournaments at Grand Champions were: Casablanca (Grant Ganzi, Nic Roldan, Pierre Henri Ngoumou), Pedro Morrison Memorial; Newport (Gene Goldstein, Jason Crowder, Kris Kampsen, Juan Bollini), Fall Plates Tournament; Sebucan (Santos Bollini, Pablo Pulido, Nic Roldan, Kris Kampsen), Fall Classic; Flexjet (Melissa Ganzi, Kris Kampsen, Pablo Spinacci, Juan Bollini), Tackeria Invitational; and Casablanca (Grant Ganzi, Juancito Bollini, Brandon Phillips, Jason Crowder), US Trust Cup. The Polo Gear Challenge final was postponed by rain.
A good crowd enjoys the International Cup.
During the 2019 fall season, the nation's largest with 18 polo fields and busiest polo club, hosted both medium and high goal polo tournaments.

The well-organized fall tournaments attract players from all over the United States and world including Argentina, Brazil, Canada, Chile, Ecuador, England, France, India, Mexico, New Zealand, Nigeria, Uruguay, Switzerland, Nigeria and South Africa.
The entertaining mime serves Carmen Marin with a drink.
The fall season served as a tuneup for the winter season for players and green horses. The winter season will feature the second season of the highly-successful 26-goal World Polo League at Grand Champions and Valiente Polo Farm with the best polo players in the world.
| | |
| --- | --- |
| | |
| | VIP guests, fans and players enjoyed the International Cup cake. |
The club takes pride in teaching and sharing the exciting sport of polo with anyone interested in
learning. Grand Champions' sister club Aspen Valley Polo Club is coming off its most
successfuland historical summer season.
Grand Champions Polo Club and Santa Rita Polo Farm cater to men, women and youth polo players at all levels. Its' expert staff can customize a complete playing experience including horses, pros and certified umpires in addition to lessons and practice sessions as part of its' Polo On Demand program at the turnkey facility.
The Polo School, a 501c3 organization and stand-alone USPA club, is dedicated to teaching polo to all ages, particularly grass roots youth. Its' mission is to provide individuals opportunities in polo at every economic and ability level. Scholarships are available. The Polo School, a stand-alone USPA club, operates in Wellington January through May and September through November. For more information on the Fall Leagues or Polo School contact Juan Bollini at 561-346-1099.