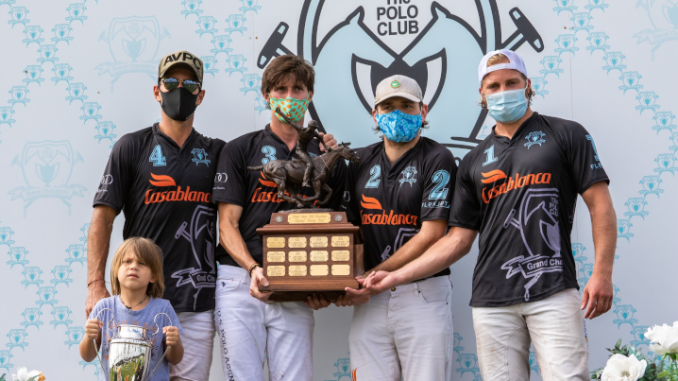 Casablanca Takes USPA National Twenty Goal Title
WELLINGTON, FL, November 23, 2020— Casablanca defeated La Indiana by 10-8 to take the USPA National Twenty Goal title.
By: Rebecca Baldridge
Photos by: Agustina Fonda
La Indiana (Matthew Gonzalez, Jeff Hall, Kris Kampsen, and Nick Manifold) met Casablanca (Gussie Busch, Grant Ganzi, Juancito Bollini, and Nic Roldan) at La Indiana Polo Farm on Sunday to battle for the USPA National Twenty Goal title. Both teams were playing off a 17-goal handicap.
Grant Ganzi put the first goal on the board for Casablanca. An answer from La Indiana's Jeff Hall and a penalty three conversion by Michael Bickford ended the first chukker 2-1 for La Indiana. In the second chukker, Kris Kampsen took control of the ball following a penalty and put goal number three through the posts for La Indiana. Nic Roldan won the throw-in and scored for Casablanca, then Juancito snuck by Michael Bickford to end the chukker in a 3-all tie.
La Indiana dominated the third chukker, fielding a defense strong enough to keep Casablanca away from the goal while Jeff Hall took a successful shot on goal for La Indiana. At 4:37, Casablanca challenged a foul on Grant Ganzi for riding into a backshot, but the officials declined the challenge. Kris Kampsen took a penalty 4 shot that was completed by Nick Manifold, and the half ended with La Indiana leading 5-3.
Casablanca returned after the half intent on putting a stop to La Indiana's momentum. Barely 40 seconds into the play, Nic Roldan shot to score, following up less than a minute later with another goal to tie the score up at 5-all. In the last 35 seconds of the chukker, Juancito Bollini made a fantastic breakaway, thundering downfield to end the chukker by putting Casablanca into the lead at 6-5.
Both teams played a strong defense in the fifth chukker, which ended tied at 6-all with an unanswered goal by Jeff Hall. The final chukker started with right of way violation that gave Kris Kampsen an opportunity to put his team up by one on a penalty four. Roldan, realizing it was time to put the match in the bag for Casablanca, showed why he's likely to be on his way to a ten-goal handicap, dominating the field and putting three consecutive goals on the board for Casablanca, and then converting on a penalty six.
Kampsen had one last opportunity to score for La Indiana on a penalty 4, but the match ended in a 10-8 victory for Casablanca. Juancito Bollini was named MVP for the match, with Narval, owned by Michael Bickford, named the Best Playing Pony. With Casablanca's win, Nic Roldan's fifth, he becomes the individual player with the most National Twenty Goal wins.
The Wellington Open, played at Grand Champion's Santa Rita Polo Farm, saw Newport (Nico Harriet, Sugar Erskine, Michel Dorignac, and Juan Bollini) take the field against Sebucan (Pablo Pulido, Brandon Phillips, Horacio Heguy, and Pablo Spinacci). Both teams were playing off a 17-goal handicap.
The first chukker saw more than two minutes of back-and-forth play before Pablo Pulido sent the ball toward the goal and gave it a final tap over the line. Neither team was able to make further progress and the chukker ended 1-0 for Sebucan. Early in the second chukker, Horacio Heguy sent a pass toward Pablo Spinacci, who picked it up and broke far out in front to score for Sebucan. Less than 90 seconds later, he caught the ball on the bounce and put it through the posts to bring the score up to 3-0. A final goal by Brandon Phillips ended the chukker 4-0 for Sebucan.
Things didn't get much better for Newport in the third chukker, but a strong defense kept Sebucan from scoring until the final 15 seconds of the half, when Pablo Spinacci made a spectacular shot on goal to end the half at 5-0 for Sebucan.
Michel Dorignac put the first goal of the match for Newport on the board in the fifth chukker, but a penalty two conversion by Brandon Phillips and yet another goal by Spinacci saw Sebucan leading by 7-1. With just under two minutes left, Sugar Erskine score with an impressive nearside shot on goal and the chukker ended 7-2. Newport still couldn't gain much traction in the fifth chukker, but Michel Dorignac converted on a penalty three while Phillips scored another goal for Sebucan, bringing the score up to 8-3 going into the final chukker. A goal by Phillips put the total on the board for Sebucan up to 9.
Despite a valiant effort by Newport and goals from Erskine and Dorignac, the match ended with a 9-5 victory for Sebucan. Pablo Pulido was named MVP, while Flip Flop, owned and played by Sugar Erskine, was named Best Playing Pony.