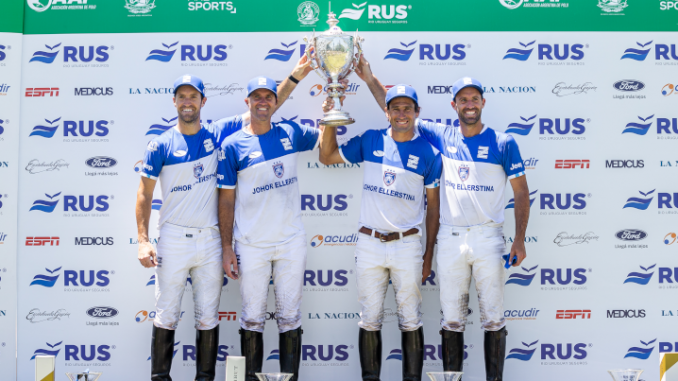 Ellerstina Captures Hurlingham Open Title to Remain Undefeated
Facing the next challenge in their quest for the 2020 Triple Crown, Ellerstina remain undefeated on the season, capturing the Hurlingham Open title with the 16-11 victory over RS Murus Sanctus.
Displaying an accurate passing attack, Ellerstina assisted on 9 of their 13 field goals to excel in open play against RS Murus Sanctus. Leading his team at the front of the game, Facundo Pieres finished with 10 goals, while a combined team effort on the defensive end limited Sapo Caset's impact to two field goals. Receiving eight opportunities from the penalty line, RS Murus Sanctus had their chances to match Ellerstina, but converted just 25% of their attempts which proved to be the difference in the 16-11 defeat.
Caset led RS Murus Sanctus in the opening stages of the game, scoring a field goal and adding a Penalty 2 conversion to build a 2-1 lead. Ellerstina responded in the high-scoring first chukka, scoring three straight goals, including a penalty conversion for Facundo Pieres, pushing the momentum into the second chukka. Foul trouble prevented RS Murus Sanctus from closing the deficit, conceding three consecutive penalty goals to Facundo Pieres. Francisco Elizalde ended Ellerstina's run but two more goals from Facundo Pieres left RS Murus Sanctus facing a difficult task, trailing the 39-goal Ellerstina team by six goals into the third chukka. The fast pace towards the end of the first half left the ball in open play with the duo of Caset and Facundo Sola scoring one goal each, leaving RS Murus Sanctus facing a 10-6 deficit on the scoreboard.
Placing a clear focus on protecting their lead, Ellerstina effectively used the pass to not overextend themselves throughout the second half. Trading field goals in the fifth chukka, Ellerstina kept their five-goal advantage entering a sixth chukka that ultimately was decisive in the outcome. Scoring three unanswered goals, all off of passes, Ellerstina extended their lead to eight resulting in a significant difference for RS Murus Sanctus to generate a comeback. Behind a balanced team effort of their own, RS Murus Sanctus fought back in the seventh chukka, outscoring Ellerstina 3-0 on goals from Caset, Sola and Elizalde, but they still needed a dominant final chukka to challenge Ellerstina. Utilziing their experience, Ellerstina managed their lead and secured the Hurlingham Open title to capture the second leg of the Triple Crown and enter the Argentine Open with an undefeated 6-0 record.
Photo credit: Matías Callejo / Prensa AAP
To see the best plays of the game, click HERE , where you can download a video from ESPN.