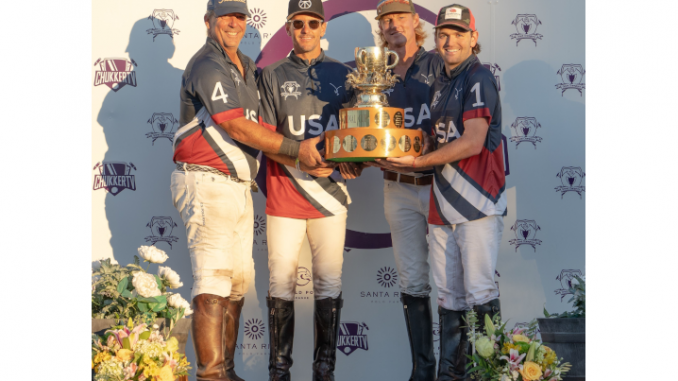 Grand Champions Polo Club Announces 2022 Fall Schedule
September 7, 2022—Grand Champions Polo Club announced its'schedule for the upcoming fall season which gets under way in October.
By Sharon Robb
Photos by Candace Ferreira
One of the nation's busiest and innovative polo clubs will host both medium goal and high goal leagues highlighted by the Legends of Polo Carlos Gracida Memorial, International Cup and two USPA 20-goal tournaments.
The medium goal schedule features five tournaments including the season-opening Oct. 10-16 Pedro Morrison Memorial, now in its 13th year. Morrison was an avid polo player, patron of The Sympatico Polo team and helped develop Wellington into a thriving community.
Among the highlights of the season are the Oct. 18-26 USPA North American Cup and Oct. 24-Nov. 9 USPA National 20-Goal Championship and Nov. 12 doubleheader featuring the Legends of Polo Carlos Gracida Memorial and International Cup. This year the GCPC-USA team will put its 10-year winning streak on the line against Switzerland.
Last year GCPC-USA ( Grant Ganzi, Jason Crowder, Nic Roldan, Tommy Biddle) defeated Argentina, 10-5, for its tenth win in a row since the tournament's inception in 2012. Grant Ganzi, making his sixth appearance and at 23 the youngest member of the GCPC-USA lineup, was Most Valuable Player.
Since 2012, in front of sellout crowds and worldwide ChukkerTV audience, the U.S. has beaten England, Chile, Mexico, South Africa, Uruguay, Brazil, Azerbaijan, France and Argentina (twice) in the annual battle for the coveted cup.
In addition to the Oct. 10-16 Pedro Morrison Memorial, the fall medium goal tournament schedule is: Oct. 17-23 Fall Classic; Oct. 24-30 Fall Plates; Oct. 31-Nov. 6 Tackeria Invitational; and Nov. 14-20 Banyan Final.
The Tackeria Invitational has a special place in club history as the inaugural tournament when the club first opened in 2007.
The fall high goal tournament schedule is: Oct. 18-26, USPA North American Cup; Oct. 24-Nov. 9, USPA National 20-Goal; and Nov. 12 Legends of Polo Carlos Gracida Memorial and International Cup (GCPC-USA vs. Switzerland).
The well-organized fall tournaments attract players from all over the United States and world including Argentina, Brazil, Canada, Chile, Ecuador, England, France, India, Mexico, New Zealand, Nigeria and South Africa.
Grand Champions had its finest fall season in club history last year. Grand Champions was the only club in the nation to stage two USPA-sanctioned 20-goal fall tournaments and again is hosting two 20-goal tournaments this season.
"I think this has been the best polo season at Grand Champions I have ever been involved with," said veteran player Tommy Biddle after the final tournament of the 2021 season. Biddle returned to compete at Grand Champions after a three-year absence.
"I have played here a couple of times before, but I think that the polo has been the best polo," Biddle said. "It's been open, not a lot of crashing and banging. Everybody's just playing proper polo. Everybody showed up with better horses."
Biddle and Nic Roldan led the Most Valuable Player honors with two each followed by Jeff Hall, Brandon Phillips and Grant Ganzi.
Grand Champions attracts most of the nation's top American players for the fall season.
The Grand Champions Fall Invitational League is geared toward improving a player's polo skills at every level. Roster lineups change from tournament to tournament with evenly-matched teams featuring pro and amateur players. It's also a great opportunity for players and sponsors to prepare for the winter season highlighted by the 26-goal World Polo League at Grand Champions.
Club owners Marc and Melissa Ganzi, both accomplished players, take pride in teaching and sharing the exciting sport of polo with anyone interested in learning. The husband and wife team will be coming off a successful summer season at their Aspen Valley Polo Club which concludes Saturday with the Ute Challenge.
The fall league features: stick-and-ball sessions during the week; two medium tournament games every weekend; ambulance and USPA umpires for all tournament games; world-class polo fields; club-sponsored social events every weekend for all players; and top-of-the-line trophies for all teams every weekend.
Grand Champions Polo Club and Santa Rita Polo Farm is the largest and most unique private 100-acre polo facility in Wellington with more than 150 stalls in several self-contained barns, exercise track, five climate-controlled tack rooms, vet room, staff quarters, guest house and polo fields with state-of-the-art underground irrigation and stick-and-ball fields.
Wellington-based ChukkerTV will live stream the entire fall season. ChukkerTV's state-of-the art technology including 4K TV, also features team challenges and instant replay which made their debut at Grand Champions in January, 2014.
Grand Champions and Santa Rita Polo Farm hosts polo tournaments ranging from six to 26-goal in addition to special events at its well-manicured fields during the fall, winter and spring seasons.
Grand Champions Polo Club and Santa Rita Polo Farm cater to men, women and youth polo players at all levels. Its' expert staff can customize a complete playing experience including horses, pros and certified umpires in addition to lessons and practice sessions as part of its' Polo On Demand program at the turnkey facility.
The Polo School, a 501c3 organization and stand-alone USPA club, is dedicated to teaching polo to all ages, particularly grass roots youth. Its mission is to provide individuals opportunities in polo at every economic and ability level. Scholarships are available. The Polo School operates in Wellington January through June and September through November. For more information on the Fall Leagues or Polo School contact Juan Bollini at 561-346-1099 or Cale Newman at 561-876-2930.