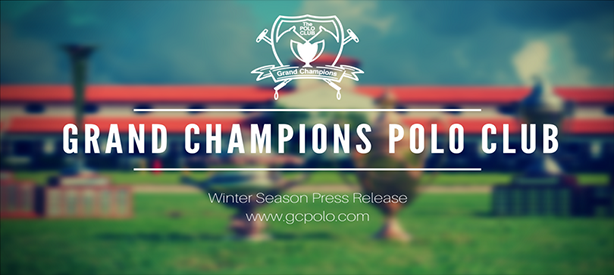 Team Sponsors, Rosters Announced For Inaugural 26-Goal World Polo League
Players and team sponsors have been announced for the highly-anticipated 26-Goal World Polo League inaugural season.
By Sharon Robb
The rosters feature a Who's Who in polo players from around the world.
Heading the list are four of the world's top players: 10-goalers Adolfo Cambiaso, Pablo MacDonough, Juan Martin Nero and Pelon Sterling, teammates on the reigning Argentine Open champion La Dolfina Sancor Seguros.
Pelon Stirling
The powerhouse foursome have accumulated 36 titles (Cambiaso with 14, MacDonough and Nero each with eight and Nero with six). La Dolfina Sancor Seguros won its sixth consecutive Argentine Open with an impressive 17-12 victory over Las Monjitas.
It was La Dolfina's 12th title in 18 finals appearances (14 in a row) in 19 editions of the Argentine Open since the club's inception in 2000. The foursome also won the 2018 Tortugas Open.
Thankfully, the four elite players, are on four different teams–Audi, Casablanca, Scone and Valiente.
The team sponsors and players are:
Alegria, 25: Freddie Mannix, 8, Facundo Obregon, 6, Juan Martin Obregon, 5, Mariano Obregon, 6.
Audi, 26: Marc Ganzi, 2, Nic Roldan, 8, Pablo MacDonough, 10, Kris Kampsen, 6.
Casablanca, 25: Grant Ganzi, 2, Juancito Bollini, 4, Rodrigo Andrade, 9, Juan Martin Nero, 10.
Colorado, 24: Rob Jornayvaz, 2, Juan Martin Zubia, 7, Diego Cavanagh, 8, Jero del Carril, 7.
Cria Yatay, 26: Nacho Figueras, 6, Juan Cruz Merlos, 6, Pite Merlos, 8, Tommy Biddle, 6.
Flexjet, 22: Melissa Ganzi, A, Pablo Spinacci, 6, Alfredo Bigatti, 8, Alejandro Novillo Astrada, 8.
Patagones, 23: Gonzalo Avendano, 2, Santi Wulff, 5, Tomas Garcia del Rio, 8, Santiago Toccalino, 8.
Scone, 24: David Paradise, 0, Agustin Nero, 6, Alejandro Taranco, 8, Pelon Stirling, 10.
Valiente, 26: Santi Torres, 6, Guillermo Terrera, 8, Adolfo Cambiaso, 10, Bob Jornayvaz, 2.
Juan Martin Nero
Co-founded by Grand Champions owners Melissa and Marc Ganzi and Valiente Polo Farm owner Bob Jornayvaz, the World Polo League is the only 26-goal league in not only Wellington, but the United States.
The exciting new league, that will offer major prize money starting in the semifinals, will run from Feb. 6 through April 15 and will not only fill the void but preserve the highest level of polo and its rich, hallowed tradition in the U.S.
The void was created when the U.S. Polo Association, the sport's governing body, announced it was lowering high goal polo to 18-22 goals at International Polo Club Palm Beach for at least three years and would not have 26-goal polo, but instead will feature the Gauntlet of Polo Series with the C.V. Whitney Cup, USPA Gold Cup and U.S. Open.
"This World Polo League will be about team owners all working for the good of the sport," said WPL Commissioner Dale Smicklas said. "The team owners and players will play a tremendous role in how we operate.
Pablo MacDonough
"We want to listen to the team owners. Throughout history they have always provided the teams that played the sport. These are the people who have financially provided the teams that allowed us to watch the highest goal polo in America. They have always been responsible for high goal polo but never really had a voice in how polo is run. The time has come."
The WPL, with 14 tournament-quality fields to play on, opens with the Feb. 6-17 All-Star Challenge. A first-of-its-kind draw party on Feb. 5 will feature team owners drawing out of a hat for all-star players. The first games are expected to be played Feb. 8, 9 and 10. The unique format will allow team owners a chance to play with a 10-goal player that they otherwise would not have been able to play with. The final will be on Feb. 17 at 4 p.m. at Grand Champions.
The remaining WPL tournaments are the Feb. 20-March 3 Founders Cup, March 6-24 Palm Beach Open and March 27-April 14 Triple Crown of Polo.
The WPL game finals will be held Sundays on Field Two at Grand Champions at 4 p.m. and semifinal games at Valiente Polo Farm, Fields One and Two. Several games will also be held throughout the week at various times. Admission is free along with food and refreshments.
The World Polo League is open to other teams who wish to compete in one or more of the tournaments. Entries are still open and everyone is welcome to play. Games are offered on the flat (Open) and on Handicap.
Adolfo Cambiaso. Photos by Gabrielle Stodd/ChukkerTV
Smicklas has been working with the WPL's exclusive professional umpires during January. Several Grand Champions league games have been serving as a dress rehearsal for the umpire crew.
Smicklas said the WPL rules will help speed up game and improve the flow of the game. The WPL is not using yellow cards. The game will be simple to follow from a spectator aspect and easy to officiate. There will be no fouls called in throw-ins unless absolutely necessary since no speed is involved at that point. Dangerous use of mallet or horse will be called at all times. The "no blocking" rule will not be enforced on knock-ins, but otherwise will be.
The WPL hopes to resurrect some of the traditions that went on during polo's heyday including weekly team asados promoting camaraderie among teams.
During the winter polo season, Grand Champions, the nation's largest and innovative USPA-sanctioned polo club nestled in the heart of the world's winter equestrian capital, is hosting 22 tournaments: 6, 8, 12, 20, and 0 to 40 goals, WCT Finals and women's weekly league play and 26-goal World Polo League tournaments at both Grand Champions and Valiente Polo Farm.
Grand Champions tournaments attract a large international field of players from all corners of the world  including India, Mexico, New Zealand, Costa Rica, Argentina, Canada, Ecuador, Brazil, Switzerland, France, Germany, Uruguay, Azerbaijan, South Africa, Nigeria, Venezuela and England.
Season highlights for 2019 are the Jan. 26-Feb. 9 Sterling Cup, March 1-31 $50,000 National 12-Goal Tournament, March 1-16 John T. Oxley Memorial and March 3-24 $100,000 World Cup Tournament, a unique 0-40-goal, winner-take-all single-elimination tournament.
Grand Champions and Santa Rita Polo Farm is the largest and most unique polo facility in Wellington with 120 stalls in five self-contained barns, exercise track, five climate-controlled tack rooms, vet room, staff quarters, guest house and three polo fields with state-of-the-art underground irrigation including one field for stick-and-ball with plans to build more polo fields in the future.
Grand Champions Polo Club and Santa Rita Polo Farm caters to men, women and youth polo players at all levels and ages. Its' expert staff can customize a complete playing experience including horses, pros and certified umpires in addition to lessons and practice sessions as part of its' Polo On Demand program, created by Grand Champions President Melissa Ganzi when the club first opened.
The Polo School, a stand-alone USPA-sanctioned polo club, is thriving. It is dedicated to teaching polo to all ages, particularly grass roots youth. Its mission is to provide individuals opportunities in polo at every economic and ability level. Scholarships are available. The Polo School operates in Wellington January through June and September through November. Headed by Director of Operations Juan Bollini, The Polo School has nurtured several men and women polo players now playing in the pro and amateur ranks since its inception.