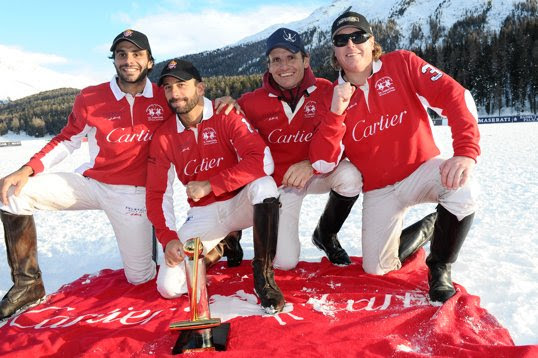 35th Snow Polo World Cup St. Moritz Begins Friday
Against a magnificent backdrop of snow-capped Engadin Valley, four teams will compete for the coveted Cartier Trophy on the frozen lake of St. Moritz in the 35th annual Snow Polo World Cup St. Moritz.
The world's most prestigious polo tournament on snow was the first snow polo tournament in the sport's history created by polo promoter Reto Gaudenzi, founder and CEO of Snow Polo World Cup.
"We are proud to be able to stage another top-rate event, presenting both social and sporting highlights to our guests and spectators," Gaudenzi said.  "We owe this to our loyal sponsors, partners and players, and their continued trust in us."
Four high goal teams with players from the U.S., England, Argentina, Azerbaijian, France, Russia and Switzerland will compete.
Alejandro Novillo Astrada. Photo by Nick Tininenko
The team sponsors and rosters are:
Team Cartier: Marc Ganzi, 2, Grant Ganzi, 3, Juan Martin Nero, 10, Tito Gaudenzi, 2.
Team Azerbaijan Land of Fire: Elcin Jamalli, 2, Isidro Strada, 6, Adrian Laplacette, Jr. 6, Agustin Kronhaus, 3; Reserves, Ali Rzayev, 0, Amil Namazov, 0.
Team Badrutt's Palace Hotel: Melissa Ganzi, 0, Juan Bautista Peluso, 0, Alfredo Bigatti, 8, Alejandro Novillo Astrada, 8.
Team Maserati: Zhanna Bandurko/Valery Mischenko, 0, Robert Strom, 5, Chris Hyde, 5, Max Charlton, 7.
Melissa Ganzi, President of Grand Champions Polo Club and co-founder of the inaugural World Polo League that begins play in February, is making her fourth appearance in the only high goal polo tournament played on snow.
The event attracts fans from all over the world.
Ganzi was the first woman to compete in the St. Moritz Snow Polo Tournament in 2016 and first woman to make the final in 2017. She is also the first woman to win the St. Regis World Snow Polo World Cup in Aspen for Flexjet in 2016 and 2018 Bendura Bank Snow Polo World Cup.
Ganzi will be joined by her husband Marc and son Grant in the tournament. Father and son will compete for defending champion and pre-tournament favorite Cartier.
Grant Ganzi, a member of the winning 2017 U.S. Polo Assn. team in the St. Regis World Snow Cup in Aspen and Team USPA, made his Europe snow polo circuit debut competing for Bernd Gruber in last weekend's Snow Polo World Cup Kitzbuhel.
Marc Ganzi is coming off the St. Regis World Snow Polo Cup in Aspen where he teamed with Martin Pepa and Pablo MacDonough to win the title for the first time for Team Richard Mille. Ganzi was MVP.
Cartier teammate Juan Martin Nero will return to the tournament after winning the tournament in 2004. The 10-goaler is one of the best players in the world and coming off winning the Argentine Open and is preparing for the upcoming World Polo League at Grand Champions.
Grant Ganzi. Photo by Nick Tininenko
Chris Hyde, a member of last year's Cartier team, returns this year to compete with Team Maserati. He has won the title a record seven times.
"We are thrilled to be able to count on so many top players, who, year after year, want to take part in the world's only high goal tournament on snow," Gaudenzi said. "At the same time, we are pleased to report a steady rise in attention and demand from sponsors and guests around the globe."
In last year's St. Moritz event, Cartier (Rommy Gianni, 1, Juan Cruz Greguoli, 4, Dario Musso, 6, Chris Hyde, 5) held off Maserati (Zhanna Bandurko/Raya Sidorenko, Gerardo Mazzini, Hissam Ali Hyder, Robert Strom), 5-4.5, in the final in front of a packed house of 7,000 fans to win for the second consecutive year. Musso was MVP.
In the La Martina Cup subsidiary game, crowd favorite and new team Azerbaijan Land of Fire (Tarlan Gurbanaliyev, 2, Elchin Jamalli, 3, Lala Laplacette, 5, Adrian Laplacette Jr., 6) knocked off Badrutt's Palace Hotel (Melissa Ganzi, 0, Alejandro Novillo Astrada, 8, Juan Bollini, 6, Tito Gaudenzi, 2), 5-4.
Reto Gaudenzi, the Godfather of Snow Polo, enjoying the electrifying atmosphere.
The always-entertaining Jan-Erik Franck, who announces the fall and winter seasons at Grand Champions Polo Club and St. Regis World Snow Polo Cup in Aspen, will announce the action.
On Thursday teams went through training sessions at the lake before the team and sponsor presentations at the Kulm Hotel's Sunny Bar and Fondue Night at Hotel Steffani.
The first two days teams will play qualifying games. On Friday, Cartier plays Azerbaijan at noon for the Royal Salute Trophy and Badrutt's Palace Hotel plays Maserati at 2:15 p.m. On Saturday, Azerbaijan plays Badrutt's Palace Hotel at noon for the Maserti Trophy and Cartier plays Maserati at 2:15 p.m. in the Deutsche Bank Wealther Management Challenge. On Sunday, the La Martina Cup subsidiary is noon followed by the championship for the Cartier Trophy at 2:15 p.m.
The highlight of the weekend is the Snow Polo Night Gala Dinner Baku Moritz Night Saturday at Badrutt's Palace Hotel, located in the center of St. Moritz.
The ponies are ready for the 35th Snow Polo World Cup St. Moritz.
The three-day tournament has a backdrop of the snow-capped Engadin Valley and is the social event of the season. Social events will be held both on the lake and first-class hotels around St. Moritz. Local chefs offer a wide array of culinary delights.
Since the tournament's inception, admission to the event has always been free including access to the grandstand. The lavish VIP tent is expected to be sold out. Last year a record 12,000 spectators attended the three days of the tournament. The tournament will be live streamed on the event's Facebook page. There is also Snowpolo TV 2018 features on the page.
Badrutt's Palace is the birthplace of Alpine winter sports and favorite European destination. The five-star hotel celebrated 120 years since opening its doors. It won the award for Most Renowned Luxury Hotel 2016 at the Hotel Spa Awards.
Marc Ganzi. Photo by Nick Tininenko
During the winter polo season, Grand Champions, the nation's largest and innovative USPA-sanctioned polo club nestled in the heart of the world's winter equestrian capital, is hosting 22 tournaments: 6, 8, 12, 20, and 0 to 40 goals, WCT Finals and women's weekly league play and 26-goal World Polo League tournaments at both Grand Champions and Valiente Polo Farm.
Grand Champions tournaments attract a large international field of players from all corners of the world  including India, Mexico, New Zealand, Costa Rica, Argentina, Canada, Ecuador, Brazil, Switzerland, France, Germany, Uruguay, Azerbaijan, South Africa, Nigeria, Venezuela and England.
Season highlights for 2019 are the Jan. 26-Feb. 9 Sterling Cup, March 1-31 $50,000 National 12-Goal Tournament, March 1-16 John T. Oxley Memorial and March 3-24 $100,000 World Cup Tournament, a unique 0-40-goal, winner-take-all single-elimination tournament.
The biggest highlight of the season is the debut of the World Polo League, the nation's only 26-goal league featuring some of the world's top players and team sponsors at Grand Champions and Valiente. The WPL will fill the void created when the U.S. Polo Association, the sport's governing body, announced it was lowering high goal polo to 18-22 goals at International Polo Club and would not have 26-goal polo and instead feature the Gauntlet Polo Series with the C.V. Whitney Cup, USPA Gold Cup and U.S. Open.
Grand Champions and Santa Rita Polo Farm is the largest and most unique polo facility in Wellington with 120 stalls in five self-contained barns, exercise track, five climate-controlled tack rooms, vet room, staff quarters, guest house and three polo fields with state-of-the-art underground irrigation including one field for stick-and-ball with plans to build more polo fields in the future.
Grand Champions Polo Club and Santa Rita Polo Farm caters to men, women and youth polo players at all levels and ages. Its' expert staff can customize a complete playing experience including horses, pros and certified umpires in addition to lessons and practice sessions as part of its' Polo On Demand program, created by Grand Champions President Melissa Ganzi when the club first opened.
The Polo School, a stand-alone USPA-sanctioned polo club, is thriving. It is dedicated to teaching polo to all ages, particularly grass roots youth. Its mission is to provide individuals opportunities in polo at every economic and ability level. Scholarships are available. The Polo School operates in Wellington January through June and September through November. Headed by Director of Operations Juan Bollini, The Polo School has nurtured several men and women polo players now playing in the pro and amateur ranks since its inception.