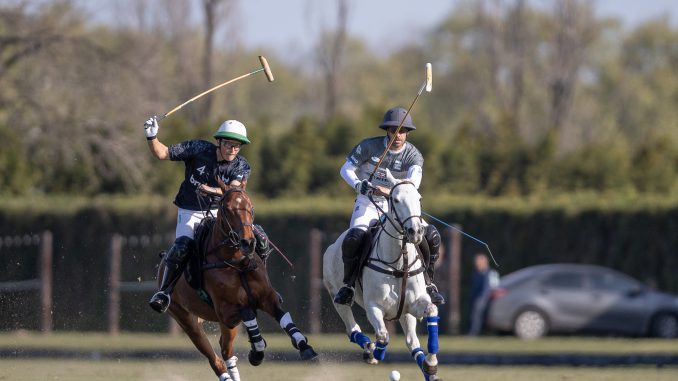 LA ACHE AND ELLERSTINA PILOT, OPENING WINNERS OF THE 56°JOCKEY CLUB THAI POLO CUP.
(San Isidro, 23 of September 2021)
The 56° Jockey Club Thai Polo club started this Thursday 23rd of September, with two matches where La Ache
and Ellerstina Pilot beat La Irenita and La Ensenada, respectively.
Both matches were played at the Jockey Club fields 2 and 1 in San Isidro, which were in excellent conditions to
hold this traditional tournament of the Argentinian spring polo season.
The first match of the day was between La Ache and La Irenita, both looking for a victory in their debut, and the
truth is that they put on a great show. The first goals came from La Ache (Salvador, Carlos María and Hilario
Ulloa), but Irenita rapidly caught up with some amazing goals from Sapo Caset. In any case, the good scoring
presence of Gonzalo Pieres and Hilario Ulloa allowed La Ache to equalize the game. They entered the decisive
chukker tied at 7, and it was then that the goals scored by Hilario, first, and Salvador Ulloa, later, gave victory to
the set the H by 9 to 7.
Next, on field number 1, La Ensenada and Ellerstina Pilot faced each other. The match had a good
rhythm from the beginning, although it could not find a clear dominator. After a first half equalized in 4, Ellerstina
Pilot brought out its best polo from the fourth chukker onwards, when its 4 members managed to smooth out their
game. Such is the case, that the partial 4-0 obtained in that chukker was decisive for the aspirations of his rival.
From that moment on, Ellerstina Pilot felt really comfortable and struck with every attempt proposed by La
Ensenada. Facundo Pieres was the leading scorer with 7 goals, for an Ellerstina Pilot team that won 11 to 8.
The details of the opening day of the 56th Open of the Jockey Club Thai Polo Cup were as follows:
LA ACHE 9-7 LA IRENITA
LA ACHE: Salvador Ulloa 7, Carlos María Ulloa 6, Gonzalo Pieres (Jr) 9, Hilario Ulloa 10. Total: 32.
LA IRENITA: Matías Mac Donough (Jr) 3, Guillermo Caset 10, Pablo Mac Donough 10, Juan Martín Nero 10.
Total: 33.
Judges: Juan José Araya & Guillermo Villanueva. Umire: Juan José Díaz Alberdi.
ELLERSTINA PILOT 11-8 LA ENSENADA
ELLERSTINA PILOT: Facundo Pieres 10, Mackenzie Weisz 4, Matías Torres Zavaleta 8, Nicolás Pieres 10.
Total: 32.
LA ENSENADA: Juan Britos 9, Alfredo Bigatti 8, Juan Martín Zubía 8, Bartolomé Castagnola (Jr) 9.
Total: 34.
Judges: Gonzalo López Vargas & Martín Scortichini. Umpire: Martín Goti