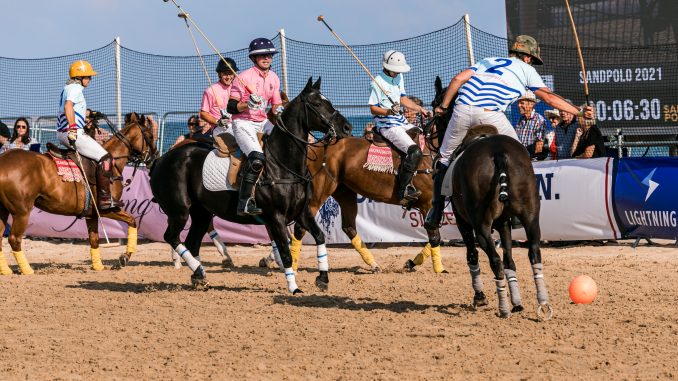 Sandpolo returned to Sandbanks for a September weekend of beach arena polo and after parties
The British Beach Polo Championships 2021 (Sandpolo) adjusted magnificently to the later September date hosting their 14th year event over the weekend (Sept 17-18).
Blessed with an Indian Summer, the Blue Flag Beach with golden sand was drenched in its usual sunshine. Sold out with a capacity of 3,000 people on each day, spectators enjoyed a dynamic display of fast paced beach stadium polo.
This year was the inaugural year for the U.S. Polo Assn. as apparel partner for the event in collaboration with U.K. licensing partner Brand Machine Group.
J. Michael Prince, President and CEO of USPA Global Licensing, which manages the global, multi-billion-dollar U.S. Polo Assn. brand said: "With the U.K. being one of U.S. Polo Assn.'s most loyal and fastest growing markets, we were proud to be part of the glamorous and exciting British Beach Polo Championships. We love that there are opportunities to expose new polo fans and global consumers to the sport in such a unique and fun way as Sandpolo."
The gripping match result was a reflection of the equal strengths of both teams but it was the success of the strong team work from team Whispering Angel (Chris Gregory, Hazel Jackson, Adolfo Casabal) that took the British Beach Championships 2021 title with a 19 -14 victory against Team Lightening Commercial Finance (Garrie Renucci, Ollie Cork, Nick Van Open).
It was the England Ladies Polo player ranked second in the world, Hazel Jackson's first year playing on the Sandbanks beach and she said she hopes to be back in action there next year.
Most Valuable Player went to Adolfo Casabal who also won the spectacular charity race with polo pony racing across the sand against a 4 x 4. The Best Playing Pony came from Team Lightening and awarded to the mare Reggae and groom Gussie Thompson.
Andrew Spate was umpire over the two days whilst Simon Ledger kept spectators captivated with the amazing horseplay with his commentary over both days.
The after parties, always a big highlight at the event, did not disappoint and the celebratory mood was heightened after a year away. Party goers enjoyed the beach backdrop at Friday's Boogie on the beach and there was an electric atmosphere at Saturday's Gold closing party.
Sandpolo Director, Johnny Wheeler said: 'It is nothing short of a miracle that all of the infrastructure supplies event staff, security and players delivered this perfect event given the initial uncertainty we always had but it all came together. A perfect finale to the Summer season'.
The British Beach Polo Championships have confirmed that the event will back to the original July dates next year July 8th – 9th 2022.