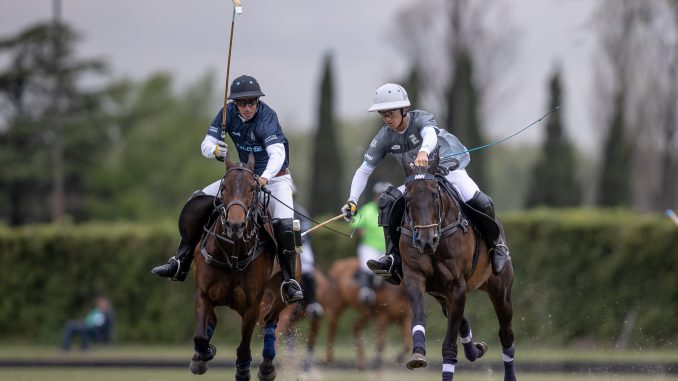 LA HACHE AND LA ENSENADA, INTO THE FINAL OF THE 56TH OPEN OF THE
JOCKEY CLUB THAI POLO CUP
(San Isidro, September 28, 2021)
On Tuesday, September 28, La Hache and La Ensenada qualified for the final of the 56th Open
of the Jockey Club Thai Polo Cup. La Hache beat BP Polo by 10 to 7, which allowed them to
become leaders of their zone by points. While La Ensenada obtained its ticket for the decisive
match by a goal difference.
The first match of the day was between La Hache and BP Polo, on field number 2 of the Jockey
Club, which was again in very good conditions to host the action. The scoreboard showed a
which gave the brothers Hilario, Salvador and Carlos María Ulloa, and naturally Gonzalo Pieres,
the expected pass to the final on Saturday.
Later on, on field number 1, Ellerstina Pilot played against La Dolfina. Ellerstina Pilot had a good
performance at the start, and managed to carry the match favorably until the fourth chukker.
But at the end of the fifth chukker, a good maneuver of anticipation by the Uruguayan player
Alejo Taranco allowed him to convert and put La Dolfina in front, winning 10-9. In the sixth and
last Chukker La Dolfina scored 4 goals sealing the victory 13-9. However a goal difference in
their zone left them outside the final, leaving La Ensenada qualified.
This way, La Hache and La Ensenada will be playing for the title on Saturday, October 2 at
3:00p.m. in the field number 1 of the Jockey Club, in San Isidro.
The details of the third day of the 56th Open of the Jockey Club Thai Polo Cup were as
follows:
LA HACHE 10-7 BP POLO
LA HACHE: Salvador Ulloa 7, Carlos María Ulloa 6, Gonzalo Pieres (Jr) 9, Hilario Ulloa
10.
Total: 32.
BP POLO: Camilo Castagnola 9, Gonzalo Ferrari 5, Francisco Elizalde 9, Adolfo
Cambiaso 10.
Total: 32.
Judges: Gastón Lucero & Rafael Silva. Umpire: Martín Scortichini.
LA DOLFINA 13-9 ELLERSTINA PILOT
LA DOLFINA: Lucas Monteverde (Jr) 5, Adolfo Cambiaso (Jr) 8, Alejo Taranco 8, Diego
Cavanagh 9.
Total: 30.