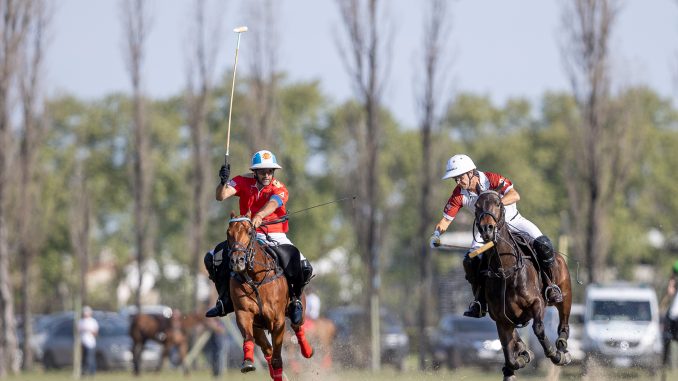 FIRST VICTORIES FOR LA ENSENADA AND LA IRENITA AT THE 56TH OPEN OF
THE JOCKEY CLUB THAI POLO CUP
(San Isidro, September 26, 2021)
This Sunday, September 26, the 56th Open of the Jockey Club Thai Polo Cup continued
in San Isidro with two games, with the debut of the last two participating teams: La
Dolfina and BP Polo. The winning teams were La Ensenada and La Irenita teams, who
still have chances to reach the final, scheduled for next Saturday, October 2.
La Ensenada and La Dolfina played on pitch number 2 of the Jockey Club, with both
teams looking for their first success in the tournament. Although it was La Dolfina´s first
match of the tournament the 4 players had already played the San Jorge Open together
a few days earlier, so the team was already in shape. However La Ensenada played an
excellent match which allowed them to beat La Dolfina 12-8.
Later on, on field number 1, La Irenita played against BP Polo. Unfortunately, one of the
members of the latter team, Facundo Sola from Cordoba, had to be replaced during the
first chukker due to injury; his place was taken by Gonzalo Ferrari, who had a good
performance. It was a really even match, with good scoring chances for both teams, but
very few goals. The match ended 7-5 for La Irenita.
The details of the second day of the 56th Open of the Jockey Club Thai Polo Cup were
as follows:
LA ENSENADA 12-8 LA DOLFINA
LA ENSENADA: Juan Britos 9, Alfredo Bigatti 8, Juan Martín Zubía 8, Bartolomé
Castagnola (h) 9.
Total: 34.
LA DOLFINA: Lucas Monteverde (h) 5, Adolfo Cambiaso (n) 8, Alejo Taranco 8, Diego
Cavanagh 9.
Total: 30.
Judges: Martín Goti & Guillermo Villanueva. Umpire: Juan José Díaz Alberdi.
LA IRENITA 7-5 BP POLO
LA IRENITA: Matías Mac Donough (Jr) 3, Guillermo Caset 10, Pablo Mac Donough 10,
Juan Martín Nero 10.
Total: 33.