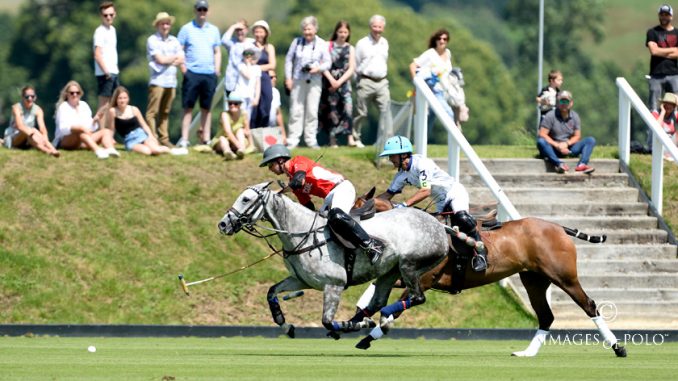 Scone and Emlor Victorious in King Power Gold Cup Debuts
The third day of the 2019 King Power Gold Cup featured the debut of the Cartier Queen's Cup champion Scone, who continued their strong play in a thrilling 11-10 overtime victory over Monterosso, while Emlor, coming off their Warwickshire Cup title defeated VS King Power 8-7 at Cowdray Park Polo Club.
An exciting opening game required overtime, with Scone overcoming losing the throw-in battle 20-5, as Monterosso held the possession advantage throughout the game. Despite being outshot in the game, Scone's efficiency allowed them to keep pace with Monterosso, converting an impressive 73% of their shots from the field. An evenly matched game resulted in six of the eight players on the field scoring at least three goals in what proved to be two balanced offenses battling until the final goal. Winning the first nine throw-ins of the game, Monterosso looked to build an early lead behind two field goals from Juan Gris Zavaleta, but Scone responded with a three-goal second chukka with a goal each from James Beim, James Harper and Nico Pieres. The fast pace slowed before the end of the half in a foul ridden third chukka that produced seven combined fouls, as Monterosso failed to find the scoresheet, while Scone claimed a two-goal lead after field goals from Beim and Pieres.
Monterosso continued to apply pressure to Scone and consistently attack downfield thanks to their dominance from the throw-in line, producing numerous offensive chances to fight their way back into the game. Generating seven shots compared to just two for Scone in the fourth and fifth chukkas, Monterosso's attack was led by Joaquin Pittaluga and Ignacio Toccalino, who contributed two goals each to bring the deficit to just one. Taking advantage of a ball hit out of play by Scone, Pittaluga hit a pass over 100 yards in front of the Scone goal, allowing Toccalino to jump on the ball and send the game into overtime. Shortly into overtime, Pieres intercepted a pass to send Harper on a breakaway run downfield. After picking up the ball on the nearside, Harper converted a near impossible neckshot on the goal line to give Scone their first victory of the tournament.
The second game produced another close match and an impressive comeback from Emlor, who scored the final five goals of the game to defeat VS King Power. Presented with their opportunities to run away with the game, VS King Power shot just 3 for 13 from the field giving Emlor's Agustin Merlos and Alfredo Bigatti the opening they needed to claim victory. The opening half favoured VS King Power, who's offense was paced by a penalty goal in each of the first three chukkas for Polito Pieres. Emlor was kept on the defensive due to their foul troubles, along with losing eight of the first eleven throw-ins, resulting in VS King Power holding a 5-3 lead, thanks to all five goals coming off the mallet of Pieres.
Scoring two more goals to increase VS King Power's lead to three, Pieres scored all seven goals for his team as they looked to be in control of the game with two chukkas remaining. Struggling to generate offense, Emlor was able to create a counter-attack after VS King Power failed to find the goal on three shot attempts. A goal each from Merlos and Bigatti cut the deficit in half as VS King Power focused on maintaining their lead with just seven minutes left. Building on the momentum of the fifth chukka, Emlor overwhelmed VS King Power in the final chukka, outshooting their opponents 5-0 in an effort to complete the comeback. With time expiring, Merlos found Bigatti with a pass to goal, for Bigatti's second goal of the chukka to secure the exciting 8-7 victory for Emlor.