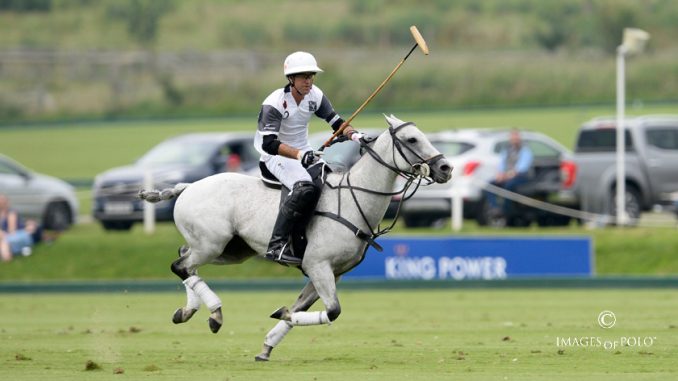 Murus Sanctus Remains Undefeated in King Power Gold Cup
The fourth day in the 2019 King Power Gold Cup produced the first team with two wins after Murus Sanctus defeated Park Place 14-11, while Dubai claimed an exciting 16-13 victory over La Indiana at Cowdray Park Polo Club.
The opening game of the day between Murus Sanctus and Park Place began with a flurry of goals that set the tone for a fast-paced game that generated numerous runs to goal. Despite conceding five goals in the opening chukka, Murus Sanctus fought back with a 12-3 run over the second, third and fourth chukkas with five goals each from Facundo Sola and Gonzalito Pieres. With few fouls in the game, Murus Sanctus won the open play battle, shooting 65% from the field to capture the three-goal victory.
A dominating opening chukka saw Park Place at their best, outscoring Murus Sanctus 5-1 behind the duo of Hilario Ulloa and Juan Britos and an accurate passing attack that left Murus Sanctus stunned over the opening seven minutes. In a quick change of momentum, Murus Sanctus responded with six unanswered goals, five off the mallet of Facundo Sola, whow as on the receiving end of passes from Gonzalito Pieres and Martin Podesta. The high-scoring game continued until the end of the first half, with the teams generating four shots each in the third chukka, but after recovering from the slow start, Murus Sanctus maintained their lead, leaving Park Place trailing by three.
Searching for the brilliance of their opening chukka, Park Place looked to reduce the deficit, but converted just one of their three shot attempts, while struggling to slow the potent Murus Sanctus offense. Gonzalito Pieres added two goals to complete a 12-3 run for Murus Sanctus, leaving Park Place frustrated and trailing by five with just two chukkas remaining. Focused on keeping Park Place out of reach, Murus Sanctus protected their goal, resulting in a scoreless fifth chukka that all but ended Park Place's chances of a comeback. Three late goals were not enough to challenge Murus Sanctus, who captured their second victory of the tournament in the 14-11 win over Park Place.
The second game featured two potent offenses with Dubai and La Indiana scoring at a high rate in a back and forth game. Led by five goals from Rashid Albwardy and six goals from Camilo Castagnola, Dubai overwhelmed La Indiana thanks to an impressive 14 of 17 shooting from the field, including perfect 100% shooting on their final eight shots of the game. La Indiana had their opportunities, with Facundo Pieres finishing 5 for 5 from the penalty line, but their inability to slow the Dubai attack resulted in the 16-13 defeat.
Beginning the game with a relentless attack, Dubai produced a memorable opening chukka, outshooting La Indiana 7-1 to claim the 5-0 lead and place La Indiana in a large deficit that they would try to reduce throughout the rest of the game. Playing a distributor role, Facundo Pieres had two assists on field goals from Jimbo Fewster and Rodrigo Andrade, while adding a safety conversion to bring La Indiana back within three goals. Despite the high-scoring game, Dubai's defence led by Bartolome Castagnola and Ignatius Du Plessis focused on containing the elite duo of Pieres and Andrade, with the strategy allowing Camilo Castagnola and Rashid Albwardy to consistently attack goal with their teammates in support. A goal each from the duo to end the half kept Dubai leading by three goals as La Indiana struggled to contain the fast-paced attack of Dubai.
Foul trouble for Dubai provided La Indiana with the opening they needed to fight back into the game after Pieres converted three more penalty attempts to finish a perfect 5 for 5 in the game. However, despite the performance from Pieres, the Dubai offense continued to produce at a high rate, with Bartolome Castagnola coming forward from the #3 position to score three goals and add an assist to extend Dubai's lead to five. In need of a dominant final chukka, La Indiana shot at goal six times, but managed just three goals as Dubai held off La Indiana to capture the exciting 16-13 victory and their first win of the tournament as both teams moved to a 1-1 record.