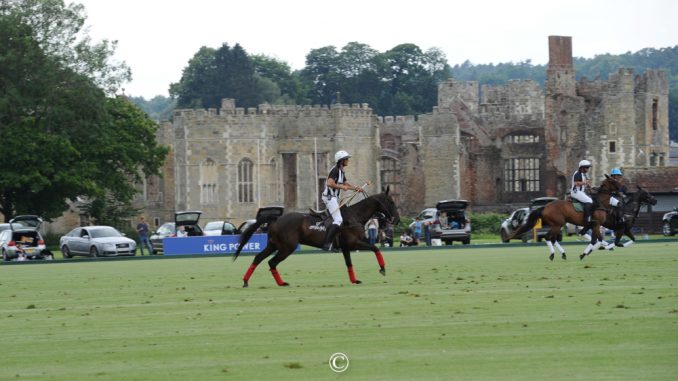 La Indiana and Talandracas Claim Second Victories in King Power Gold Cup
A much-anticipated day of play in the 2019 King Power Gold Cup began with La Indiana handing Scone their first loss of the tournament in an 11-7 victory, while Talandracas remained undefeated after a 12-9 victory over Monterosso at Cowdray Park Polo Club.
A fast-paced opening game between La Indiana and Scone produced just eight fouls, leaving the result to open play where La Indiana excelled, shooting 67% from the field. Facundo Pieres led the way offensively with seven goals, while Jimbo Fewster finished a perfect 3 for 3 from the field to support La Indiana's potent attack. Scone's inaccuracy on their attack kept them from keeping pace with La Indiana, converting just three of their first ten shots in the four-goal defeat.
Controlling possession in the early stages of the game, La Indiana held the advantage from the throw-in line to race out to a 2-0 lead behind two goals from Fewster. With the success of Fewster running to goal, it allowed Facundo Pieres and Rodrigo Andrade to focus defensively on containing Scone, holding them to just one goal over the opening two chukkas. A quick counterattack resulted in Facundo Pieres scoring the next four goals for La Indiana before the end of the half, while Scone looked to respond, but inaccurate 1 for 5 shooting kept them from closing the deficit to trail 6-2 at halftime.
Sticking to their possession-based strategy, La Indiana continued to mount a controlled attack that prevented Scone from mounting a comeback. Utilizing a balanced attack in the fourth chukka, Facundo Pieres and Andrade scored for La Indiana with Marc Ganzi and Fewster contributing with assists. An active La Indiana defence provided difficult shot opportunities for Scone as their shooting percentage fell to 30%, resulting in a six-goal deficit entering the final chukka. The large difference on the scoreboard proved to be insurmountable despite three final goals from Scone, who were ultimately defeated 11-7.
The second game of the day saw a relentless Talandracas attack that generated 19 shots in the game to overwhelm Monterosso in the three-goal victory. Francisco Elizalde led all players with eight goals, including 3 of 4 shooting from the penalty line, with Julian de Lusarreta playing an effective #4 position allowing Elizalde to drive forward. Despite winning 17 of 25 throw-ins, Monterosso was unable to turn the extra possessions into field goals, losing the open play battle as they conceded three more field goals in the game. The first half resulted in end-to-end action with Talandracas holding the slight edge due to a balanced attack that had field goals from Hughes Carmignac, Elizalde and Alejandro Muzzio to take a 5-4 lead. Monterosso kept pace thanks to the duo of Ignacio Toccalino and Joaquin Pittaluga, who played well off each other to accurately finish Monterosso's attacks. Before the end of the half, Elizalde moved forward into the game for Talandracas, scoring two goals to extend Talandracas' lead to three at halftime.
An organized defensive effort and exceptional discipline from Talandracas kept Monterosso from generating an effective attack, unable to break free past the Talandracas back line. Elizalde continued to be an offensive force for Talandracas, scoring six of the final seven goals for his team as the impact player of the game. Facing a five-goal deficit entering the final chukka, Monterosso's Ignacio Toccalino looked to bring his team within reach, helping Monterosso win all five throw-ins in the chukka and scoring his fourth and fifth goals of the match. However, Talandracas' consistent offense throughout the game led to the convincing 12-9 victory to improve to 2-0 in the tournament.