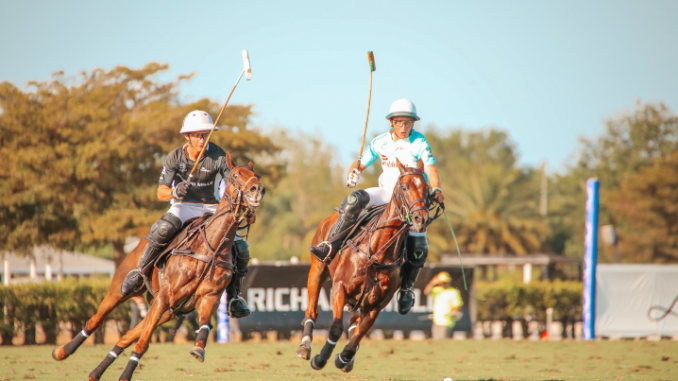 Casablanca Wins World Polo League Palm Beach Open; Barto Castagnola Named MVP
WELLINGTON, FL, March 28, 2021— Casablanca defeated Richard Mille 12-9 to capture the title in the Palm Beach Open.
By Rebecca Baldridge
Photos by ChukkerTV
Richard Mille (Marc Ganzi, Jeta Castagnola, Pablo Mac Donough, and Paco de Narvaez) met Casablanca (Grant Ganzi, Juancito Bollini, Barto Castagnola and Juan Martin Nero) hoping to continue their 2021 WPL season winning streak.
Richard Mille took command of the field in the first chukker, with Paco de Narvaez scoring the first goal of the day just under a minute into play. Barto Castagnola converted a Penalty 2 to even things up, but Pablo Mac Donough put Richard Mille back in the lead. With just over two minutes on the clock, Jeta Castagnola took the ball out in front and ran to the posts, tacking on another goal.
The second chukker began with Richard Mille in the lead by 3-1, but Casablanca came on strong. Juan Martin Nero scored the first goal not even 30 seconds into play, while Barto Castagnola added two goals from the field and a Penalty 4. They worked hard to keep Richard Mille away from the uprights and took a 5-3 lead.
In the third chukker, both teams battled hard to no avail until Juan Martin Nero knocked the ball in at just under the four-minute mark. A nearly immediate foul sent Jeta Castagnola to the penalty line for a successful conversion, keeping Casablanca's lead down to two goals at 6-4. A goal from Juancito Bollini and a Penalty 2 conversion from Richard Mille's Mac Donough ended the half with Casablanca leading 7-5.
In the fourth chukker, a Penalty 5 and a goal from the field by Barto Castagnola put Casablance in the lead 9-5, but Marc Ganzi answered with a goal for Richard Mille. The fifth chukker began with a goal from Jeta, followed by a Penalty 4 conversion from Pablo Mac Donough that put the team in black within striking distance at 9-8.
Leave it to a ten-goaler though, to spoil dreams of glory – at the 30-second horn, Juan Martin Nero put Casablanca back up by two goals. As the last chukker began, Paco de Narvaez passed the ball to Jeta Castagnola to finish, putting Richard Mille in striking distance once again as Casablanca's lead was cut to one goal. Barto Castagnola took control of the ball and ran it downfield, passing it to Grant Ganzi to finish. A final shot by Barto Castagnola ended the match 12-9 for Casablanca to claim victory. Said Juan Martin Nero after the match, "The final was tough, and Richard Mille is a very good team. We got lucky that they missed a couple of goals, and then we played a bit better in the end. We're so happy to win, we worked really hard for this."
Barto Castagnola was named the MVP for the tournament, and his pony Rodesia won the World Polo League Best Playing Pony award. Jeta Castagnola was recognized for the Play of the Day. Juan Martin Nero's Matsu was named the American Polo Horse Association Best Playing Pony. The AAP Best Playing Pony was Pablo MacDonough's Irenita Suspicasia, while Grant Ganzi's Girl Power was chosen as the Best Playing Pony for the entire Palm Beach Open tournament.