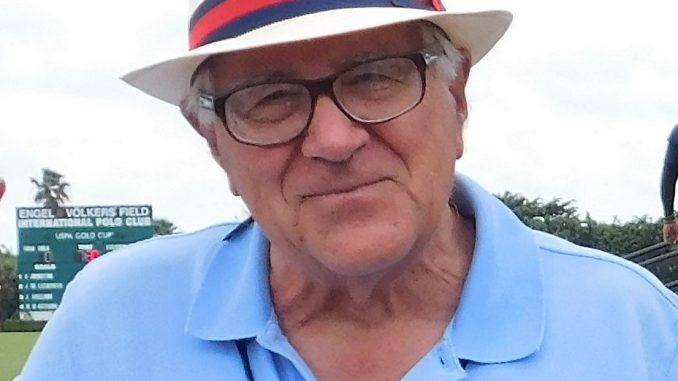 POLO HALL OF FAME ANNOUNCES INDUCTEES TO BE HONORED FOR 2022
The selection of the 2022 Inductees for the Polo Hall of Fame, Iglehart Award and Horses to Remember has been concluded by the Nominating Committee and Board of Directors of the Museum of Polo. For the 33nd year of inductions we have the honor to announce Tommy Biddle, Jr. and the late Cornelius Vanderbilt ("C.V" or "Sonny") Whitney, have been elected to receive Hall of Fame honors; the Iglehart Award Inductees for outstanding lifetime contributions to the sport are Danny Scheraga and to be honored posthumously will be the late Dr. Horace Laffaye; and honorees as "Horses to Remember" are Charles Smith's great mare Cynthia Lola, and a notable pony of yesteryear, Jacobs.
A Hall of Fame Induction Ceremony is scheduled to take place on Friday, February 18th, 2022, if conditions at that time allow for gatherings. Several options are being considered as to what would be the most effective way to celebrate our Inductees, for both 2021 and 2022, in a safe environment with their friends and families. We will make further details known as they become available.
Earlier this year, the inductees selected for 2021 (Julio Arellano, John F. "Jack" Ivory for Hall of Fame; Dr. Paul Wollenman and Bert B. Beveridge for Iglehart Award, and horses, Little Mary and Silverada) were recognized through press and video segments through various types of social media, and those inductees will be celebrated this coming year along with the 2022 Inductees.
Inductees are nominated by the public and selected annually by a committee of eminent and knowledgeable individuals from across the sport of polo, who voted to select this year's winners from a group of worthy candidates.
Tommy Biddle – Born into a polo family, Tommy Biddle grew up in Aiken, South Carolina. At the age of 12 he played his first polo game and became a professional polo player at 18. At 6 ft. 3, with the build of an imposing football player, his presence on the polo field looms large, literally, and figuratively. Once called the "quickest big man" to ever play the sport", Biddle is a rare player who has been able to achieve almost equal greatness in both genres of polo, Outdoor and in the Arena. He became the fourth player in arena history to achieve a 10-goal handicap, while also reaching and maintaining an 8-goal outdoor rating. His list of accolades reflects the best of outdoor and the arena both in the U.S. and internationally and includes the 2002 U.S. Open, 4 Monty Waterbury Cups, 4 Townsend Cups, and a U.S. Open Arena championship. Adding to his accomplishments, Biddle has become a highly rated and well-respected USPA Umpires LLC certified Umpire.
Cornelius Vanderbilt "Sonny" Whitney (1899 – 1992) – A man who "lived his life with a fullness that most men can only dream of," Cornelius V. "Sonny" Whitney left a lasting mark not only in polo, but in most areas of life. Although thoroughly immersed in a business career and philanthropic ventures, he rose to a 6-goal handicap during his playing career that started around 1917 and lasted until the 1940s, a time that spanned the "Golden Era" of polo. Whitney was a formidable factor in all the major tournaments of those eras, winning the U.S. Open three times and the Monty Waterbury Cup once. Whitney carried on the polo legacy of his father, Hall of Famer and member of the infamous Big Four, Harry Payne Whitney. Even with his playing days at an end, Whitney was well-known for raising outstanding racehorses, having 15 horses compete in the Kentucky Derby. The C. V. Whitney Cup was established in his name in 1979, originally played as the handicap side of the US Open Championship and is still played today as part of the USPA's Gauntlet of Polo series.
Danny Scheraga – A guiding figure for the youth of polo, Danny Scheraga is recognized for having spent a good part of his career nurturing polo players and dedicated to improving the quality of the sport. Scheraga began playing at Cornell and went on to be named their head coach in 1975. He established important programs for Intercollegiate Women getting them to the finals 9 years in a row and winning championships 3 times. He then went to work for the USPA focused on instructing clinics, and ever dedicated to I/I development.
Scheraga moved on to spend the next 30 years with the Polo Training Foundation, serving 25 years as its first Executive Director. There, he gave birth to a number of ideas that went into developing programs and improving polo infrastructure by creating clinics, running a polo center at Brushy Creek for over ten years, and pushed for an expanded I/I tournament to improve chances for intercollegiate players. He has done much to bring in and influence a number of players who would go on to have a great impact on the sport.
Dr. Horace Albert Laffaye (1935 – 2021) – Horace Laffaye left an impact on the sport of polo that is hard to match. He grew up in Argentina, playing polo there for a number of years before stopping to become a surgeon. He became enormously prominent and respected in this field, saving many lives with his surgical skills. A coincidental reawakening to the world of polo led Laffaye to pick up the mallet once again and play for another two decades at clubs throughout the Northeast. When his playing days ended, he took his knowledge and passion for the sport and focused it on the avenue that made him such an important part of the sport -as its most eminent polo historian. Dedicated and concise, he painstakingly researched, wrote, and published what are generally considered to be the most important treatises on polo, possibly of all time, and certainly in most recent years. In all, he authored and edited nine books and innumerable articles in both Spanish and English. Laffaye contributed his knowledge and talent to serve on the Board of Directors and Nominating Committee for the Museum of Polo, helping the organization grow immensely with his guidance.
Cynthia Lola (Gold Hunter x Lola M) – Cynthia Lola is just the kind of polo pony you would expect as an equine member of a legendary polo family. Foaled in 1960 in Missouri, the dark bay, thoroughbred mare was sold to Cecil Smith five years later. Both Cecil and his son Charles Smith knew she was destined for an outstanding future. She hit her stride when Charles took the reins, playing with distinction in all the major American tournaments ranging from the 1968 Silver Cup to the 1975 U.S. Open, a year in which she earned the Best Playing Pony of the Silver Cup. Over the course of eight years of outstanding performance, she continued to rack up several more Best Playing Pony awards. Cecil said "I put Lola in polo and not everyone could play her. But Charles was a goal better on that mare than any other he ever had," truly becoming the greatest mount to lead Charles to such success and recognition in the Hall of Fame. Cynthia Lola would die and end her legendary career in 1978.
Jacobs (unknown breeding, Texas-bred) – Jacobs' career spanned ten years playing in all the top tournaments of his era including the famed international matches of 1913 and 1914. A venerable pony who broke polo tradition in its time, Jacobs is one of the first bigger ponies that defined the approaching "modern" era of polo. Breaking the archaic height rule of 14 hands, 2 inches, Jacobs was a bay gelding who, standing at the unheard-of height of 15 h, 3 inches, was big, rawboned, and rangy, yet incredibly speedy and powerful. Bringing fame and notoriety to the Texas cowpony, Jacobs was raised by J.C. Jacobs of San Antonio, before being sold to Whitney who made a habit of loaning his finest ponies to his best friend Dev Milburn to play. The duo of Milburn and Jacobs caught the frequent attention of the press and it was noted that Milburn's best runs were on this mount. It is a well-known story that, along with a few other top horses, Jacobs was gifted to Milburn as a wedding present in 1913, a fitting gesture to honor the extraordinary relationship of a man and horse.