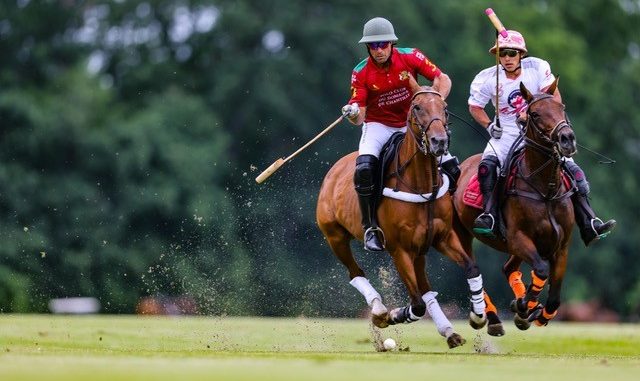 Polo Club Düsseldorf, Dos Lunas Polo Club, Polo Club de Chantilly and La Aguada Polo Club win the subsidiary semifinals of the POLO RIDER CUP
The subsidiary semifinals of the 2021 POLO RIDER CUP took place today with the wins of Polo Club Düsseldorf, Dos Lunas Polo Club, Polo Club de Chantilly and La Aguada Polo Club.
At the first game of the day between Polo Club Düsseldorf and Las Brisas Polo of Chicago, the German team won 9-3. Miguel Amieva scored the opening goal for his team, but Lukas Sdrenka tied the match at the end of the first chukker. Adrian La Placette scored three consecutive goals at the second chukker, but Lucie Venot that replaced Larry Aschebrook, shortened the goal difference. From the third chukker, Polo Club Düsseldorf increased the goal lead with the first goal scored at the tournament by the patron Otto Blank and goals of Adrian La Placette, Miguel Amieva and Jesus Bordoni. Juan Martin Obregon scored the third goal for the American team.
The game between Hamburger Polo Club and Dos Lunas Polo Club ended with a thrilling victory for the Spanish team that scored the winning goal in the last seconds of the fifth chukker. Hamburger Polo Club did a solid performance during the first three chukkers but an impressive comeback from Dos Lunas with one goal from the 16-year old player Emil Grabosh and three goals from his brother, Paul Grabosh at the fifth chukker, brought the victory to Dos Lunas Polo Club.
A very close game between Polo Club de Chantilly and Evviva Polo St. Moritz ended with the victory of the French team by only one goal difference, 8-7. All the chukkers finished with a tie result, but Jota Chavanne scored the winning goal by a penalty fault in the fifth chukker. At the fourth chukker, Piero Dillier was replaced by Come Dubois.
La Aguada Polo Club defeated Moscow Polo Club at the last contest of the day. The Argentinian team beat the Russian team by 8-5 goals.
POLO RIDER CUP – DAY 7:
POLO CLUB DÜSSELDORF 9 – 3 LAS BRISAS POLO CLUB OF CHICAGO
Score progression: 1-1 / 4-2 / 6-2 / 8 -2 / 9-3
Polo Club Düsseldorf: Otto Blank 0 (1 goal), Jesús Bordoni 2 (1 goal), Adrián Laplacette 6 (5 goals), Miguel Amieva 4 (2 goals).
Total HC:12
Las Brisas Polo Club: Lucie Venot 0 (1 goal), Lukas Sdrenka 2 (1 goal), Juan Martin Obregon 6 (1 goal), Matias Obregon 4. Total HC:12
Umpires: Juan José Araya & Juan José Diaz Alberdi
HAMBURGER POLO CLUB 6 – 7 DOS LUNAS POLO CLUB
Score progression: 1-1 / 4-1 / 5-2 / 5-4 / 6-7
Hamburger Polo Club: Caesar Crasemann 4 (3 goals), Heinrich Dumrath 4 (1 goal), Caspar Crasemann 4 (1 goal), Daniel Crasemann 0 (1 goal). Total HC: 12
Dos Lunas Polo Club: Emil Grabosch 1 (1 goal), Jorge Pepa 3 (1 goal), Patricio Cieza 6 (1 goal), Paul Grabosch 2 (4 goals). Total HC:12
Umpires: Rafael Silva & Alejandro Pascual
POLO CLUB DE CHANTILLY 8 – 7 EVVIVA POLO ST.MORITZ
Score progression: 1-1 / 3-3 / 6-6 / 6-6 / 8-7
Polo Club de Chantilly: Sam Sztarkman 1 (2 goals), Martin Joaquin 5, Jota Chavanne 5 (2 goals), Alex Sztarkman 1 (4 goals). Total HC:12
Evviva Polo St.Moritz: Piero Dillier 0, Lucas Labat 5 (4 goals), Martin Aguerre 7 (2 goals), Andreas Bihrer 0. Total HC:12
Umpires: Juan José Diaz Alberdi& Rafael Silva
MOSCOW POLO CLUB 5 – 8 AGUADA POLO CLUB
Score progression: 1-1 / 1-4 / 2-6 / 3-6 / 5-8
Moscow Polo Club: Gleb Fetisov 0 (1 goal), Simon Zavaleta 5 (4 goals), Edouard Pan 5, Misha Rodzianko 2. Total HC:12
La Aguada Polo Club: Sébastien Schneberger 0, Max Bosch 3 (2 goals), Valentin Novillo Astrada 6 (2 goals), Moritz Gaedeke 3 (4 goals). Total HC:12
Umpires: Juan José Araya & Alejandro Pascual
Fixture and Teams (click)
Also you can check results at http://chukkerapp.com/
The POLO RIDER CUP continues on Friday, June 18
12pm: Polo Park Zürich vs. Empire Club of Coachella Valley
4:30pm: Hong Kong Polo Ass. vs. Deauville Int. Polo Club