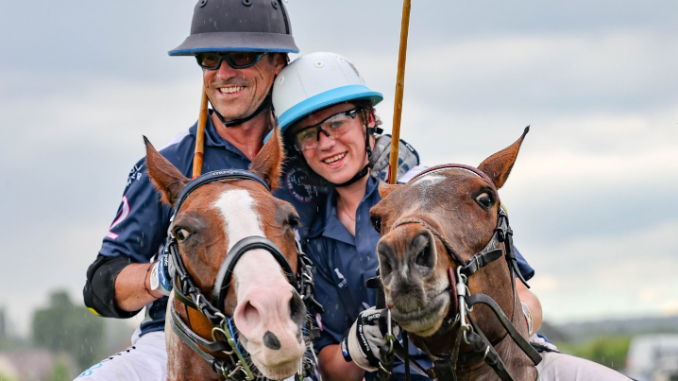 Polo Park Zürich and Deauville International Polo Club winners of the POLO RIDER CUP semifinals
At the opening game of the day, Polo Park Zürich beat Empire Polo Club of Coachella Valley in a thrilling match and won 6-5 goals. The Swiss team secured a place at the final of the 2021 POLO RIDER CUP that will take place on Sunday, June 20th.
The first chukker ended with a three-goal lead by Polo Park Zürich with one goal of Carlos Solari and two goals of Min Podesta, but at the opening of the second chukker, Tito Ruiz Guiñazu scored the first goal for his team and shortened the gap. Afterwards, coming from behind, Min Podesta, with an excellent combination with Carlos Solari, increased the gap with another goal. Tito Ruiz scored again to narrow the gap.
At the third chukker, Carlos Solari scored his second goal of the game, but in the last seconds of the chukker, another goal of Tito Ruiz put emotion to the game with 5-3 on the score.
Marcos Harriot that replaced Guillermo Li scored a goal at the fourth chukker to close the gap, but another goal from Min Podesta re-established the score.
Tito Ruiz scored his fourth goal at the game at the last chukker at the game, 6-5, but this was the game's final result.
After the match, the winner of the best playing pony was for 'Mia' from Tito Ruiz Guiñazu. The award was presented by Alexander Papantoniou (C.E.O. FormaHoof Ltd.)
The second spot for the final is for Deauville International Polo Club after defeating Hong Kong Polo Association by 7-5 goals.
Deauville International Polo Club started with a strong performance as at the end of the second chukker, the French team was leading 5-0. Hong Kong Polo Association made an impressive comeback at the third chukker with three goals by Brieuc Rigaux to shorter the gap, 5-3.
At the opening of the fourth chukker, Brieuc Rigaux opened the chukker again, but Pierre-Henri N'Goumou and Juan José Storni scored two crucial goals to get a 3-goal lead.
The last chukker was played under the rain, and Brieu Rigaux scored his fifth goal of the game again, but the match ended with two goals leading in favour of Deauville International Polo Club, 7-5.
'Galan' from Brieu Rigaux was awarded the winner of the best playing pony, and Alexander Papantoniou (C.E.O. FormaHoof Ltd.) presented the prize again.
POLO RIDER CUP – DAY 8:
POLO RIDER CUP – HIGHLIGHTS SEMIFINALS
POLO CLUB PARK ZÜRICH 6 – 5 EMPIRE POLO CLUB OF COACHELLA VALLEY
Score progression: 3-0 / 4-2 / 5-3 / 6-4 / 6-5
Polo Park Zürich: Richard Harris 0, Elena Venot 1, Min Podesta 7 (4 goals), Carlos Solari 4 (2 goals). Total HC:12
Empire Polo Club of Coachella Valley: Clément Smith 0, Marcos Harriot 4 (1 goal), Tito Ruiz Guiñazu 7 (4 goals), Derek Smith 1. Total HC: 12
Umpires: Juan José Diaz Alberdi & Rafael Silva
HONG KONG POLO ASS. 5 – 7 DEAUVILLE INT. POLO CLUB
Score progression: 0-2 / 0-5 / 3-5 / 4-7 / 5-7
Hong Kong Polo: Cyrille Costes 0, Thierry Vetois 3, Adrien Le Gallo 3, Brieuc Rigaux 4 (5 goals). Total HC: 12
Deauville Int. Polo Club: Ulysse Eisenchteter 0, Patrick Eisenchteter 1, Pierre-Henri N'Goumou 6 (3 goals), Juan José Storni 5 (4 goals). Total HC: 12
Umpires: Juan José Araya & Rafael Silva
Fixture and Teams (click)
Also you can check results at
The POLO RIDER CUP continues on Saturday, June 19
11am: Moscow Polo Club vs. Las Brisas Polo Club of Chicago
1pm: La Aguada Polo Club vs. Polo Club Düsseldorf
3pm: Hamburger Polo Club vs. Evviva Polo St. Moritz
5pm: Dos Lunas Polo Club vs. Polo Club de Chantilly