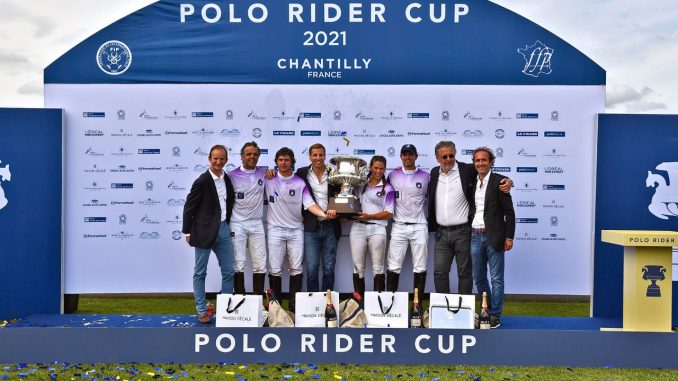 Polo Park Zürich raise the 2021 POLO RIDER CUP Trophy
The first edition of the POLO RIDER CUP concluded on Sunday, June 20th at the Polo Club du Domaine de Chantilly, with the final between the two unbeaten teams from the tournament, Polo Park Zürich and Deauville International Polo Club.
Polo Park Zürich won to Deauville International Polo Club by 10-4.
The first two chukkers were balanced between both teams, with only one goal lead in favour of the Swiss team at the end of the second chukker, but from the third chukker, Polo Park Zürich dominated the match.
Polo Park Zürich scored an additional three goals at the fourth chukker with impressive goals from Min Podesta and Carlos Solari that scored all the team's goals.
At the start of the final chukker, the result was 10-3 and the 15 year's old Ulysse Eisenchteter, scored his second goal of the match, but Polo Park Zürich remained unbeatable in the match.
Elena Venot was named the MVP for the tournament, and Min Podesta pony 'Pirómana' won the Best Playing Pony award.
Before the final, it was played the match between Hong Kong Polo Association and Empire Club of Coachella Valley for the 3rd & 4th place where the Hong Kong team beat the American team by 6-5 goal in a close match. The fourth chukker ended in a tie, 5-5, but Thierry Vetois scored the goal and gave the win to his team in the last chukker.
POLO RIDER CUP – DAY 10
HONG KONG ASSOCIATION 6 – 5 EMPIRE POLO CLUB OF COACHELLA VALLEY
Score progression: 1-2 / 3-2 / 4-4 / 5-5 / 6-5
Hong Kong Polo: Edouard Costes 0 (2 goals), Thierry Vetois 3 (1 goal), Adrien Le Gallo 3 (1 goal), Brieuc Rigaux 4 (2 goals). Total HC: 12
Empire Polo Club of Coachella Valley: Clément Smith 0, Marcos Harriot 4 (3 goals), Tito Ruiz Guiñazu 7 (2 goals), Derek Smith 1. Total HC: 12
Umpires: Juan José Araya & Alejandro Pascual
POLO PARK ZÜRICH 10 – 4 DEAUVILLE INT. POLO CLUB
Score progression: 2-1 / 3-2 / 7-3 / 10-3 / 10-4
Polo Park Zürich: Richard Harris 0, Elena Venot 1, Min Podesta 7 (6 goals), Carlos Solari 4 (4 goals). Total HC:12
Deauville Int. Polo Club: Ulysse Eisenchteter 0 (2 goals), Patrick Eisenchteter 1, Pierre-Henri N'Goumou 6 (2 goals), Juan José Storni 5 . Total HC: 12
Umpires: Juan José Diaz Alberdi & Rafael Silva
Fixture and Teams (click)
Also you can check results at http://chukkerapp.com/