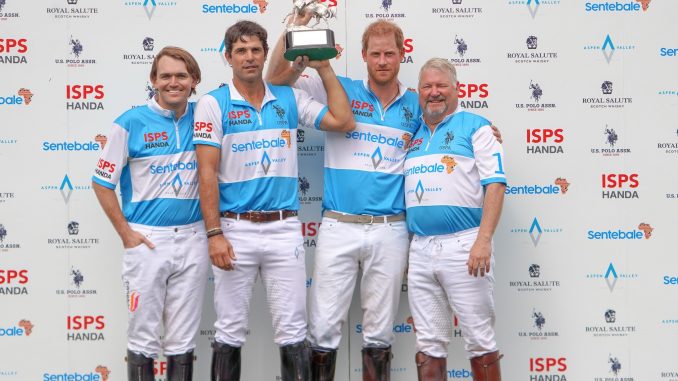 By Sharon Robb
Photo by Candace Ferreira
In another memorable moment in the club's nine-year history, Sentebale (Steve Cox, Prince Harry, Nacho Figueras, Grant Ganzi) won the special charity round robin tournament with a 3-1 win over Royal Salute (David Farache, Juan Bollini, Malcolm Borwick, Louis Devaleix) and 4-2 victory over U.S. Polo Assn (Ashley Van Metre, Saul Socca, Gonzalito Pieres, Collen Clark) on August 25th. In the opening match, Royal Salute defeated U.S. Polo Assn, 4-2.
Prince Harry scored four goals, including three against U.S. Polo Assn.
Prince Harry co-founded Sentebale in Lesotho in 2006 in memory of his late mother Princess Diana. The Duke of Sussex lives in California with his wife Meghan and their two children, Archie Harrison, 3, and Lilibet Diana, 1, after stepping back from royal duties.
Each year, the Polo Cup raises awareness and funds to support Sentebale's work with children and young people in Southern Africa whose lives have been affected by extreme poverty, inequality, HIV/AIDS and recently COVID-19.
The Sentebale ISPS Handa Polo Cup is the charity's annual flagship fundraising event, which over the last decade has raised around $10 million to support Sentebale's work in providing vulnerable children and young people in Lesotho and Botswana with access to vital health services, care and support, and skills to be self-sufficient and thrive.
"At Sentebale we strive to break generational cycles of trauma and stigma every day," said Prince Harry in a prepared statement. "By educating and empowering young people to know their status and to know they can live long, healthy lives while on medication, we aim to end HIV once and for all."
The polo game, which was kept under wraps and not publicized for security reasons, was played in front of 200 invited guests including All Blacks rugby player and ISPS Ambassador Dan Carter at McClure River Ranch Stadium.
It was Grant Ganzi's second consecutive Sentebale win. Last year he won with his younger sister Riley, Figueras and Prince Harry.
"It's good fun to play in these kind of events," Ganzi said. "It was a great game. It was really fun to have Steve out there and amazing we got to play with Nacho and the Duke of Sussex. It was a wonderful cause that brings awareness and raises a good amount of money which is the No. 1 priority."
Cox, who competed at AVPC's sister club Grand Champions in Wellington, Fla. this past winter with his first-year team Casimiro, was thrilled to rub elbows with royalty and play polo in Aspen for the first time.
"It was a day to remember," Cox said. "This was one for the bucket list, it's one of the best moments in polo for me. I loved playing there. I had a blast.
"I wasn't nervous. Prince Harry doesn't make you feel nervous. All three of my teammates were coaching me out there and were super teammates. I think the Prince would be fun to play with even if he wasn't the Prince. He is such a good guy. He is a normal person who was born with a big title."
Open Levita, played by Prince Harry and owned by Riley Ganzi, was the tournament's Best Playing Pony. Umpires for the game were Gaston Dorignac and Pablo Spinacci.
Figueras, 45, the Sentebale Ambassador and close friend of Prince Harry, 37, captained the Sentebale team. They first met at a charity match benefitting Sentebale in 2007.
"From day one, I saw how committed he was to his charity," the Argentine said. "Fast forward 15 years, I've been to Lesotho with him a few times, and I've seen what great work the charity does and how important it is for a lot of kids, how committed he is, how much he really cares about it."
Fans enjoyed witnessing club history for the second consecutive year.
Figueras also enjoys playing with Prince Harry. "He's very competitive. He plays very well, he rides very well. It's an honor to be his teammate."
Figueras wrote on his Instagram: "I love playing with you and even moreso if we are raising money for this great cause. Thank you to everyone supporting this event today at the Aspen Valley Polo Club."
Prince Harry thanked the sponsors (ISPS Handa, Aspen Valley Polo Club, Royal Salute, U.S. Polo Assn and St. Regis Aspen Resort.
"I especially want to thank Melissa and Marc Ganzi for being the most incredible hosts and friends of Sentebale," Prince Harry said.
Marc Ganzi played in the 2013 Sentebale event in Greenwich, Ct.; Marc and Melissa Ganzi played in the 2016 event in Wellington and Riley Ganzi played in the 2018 event in Windsor, England.
"Thank you to everyone who has played their part in making this year's event possible, those of you who have given up your time to play, and those of you from our charity team who have come all this way to ensure a smooth and successful event," Prince Harry said.
At the start of the tournament, Prince Harry observed a moment of silence for the late polo player, Chevy Beh, 37, who died unexpectedly and tragically earlier in the week. Prince Harry played with him at the 2019 Royal Charity Polo Cup.
"Chevy was taken far too young," Prince Harry said. "He was accomplished both on and off the pitch as the former captain of the England Under-21 team, as a brilliant leader in the healthcare industry, and as a renowned philanthropist, who played a vital role in getting Malaysians vaccinated during the pandemic.
"I found a quote that Chevy gave a number of years back that I wanted to share with you. He said, "Some people are simply just happy with what they're doing. But personally, I believe I'm here in this world to do something that's hopefully beneficial. I want to leave behind a legacy, a good and positive one. Let's make sure his words stay with us and guide us, not just for this week, but every day as part of our busy lives."
With the majestic 12,965-foot summit of Mount Sopris as a backdrop, Aspen Valley Polo Club is one of the busiest USPA-sanctioned clubs in the nation. The club has had a positive impact in the area hosting several charitable events that have benefitted local charities including the Aspen Valley Hospital Foundation and in the international spotlight with the prestigious Sentebale event.