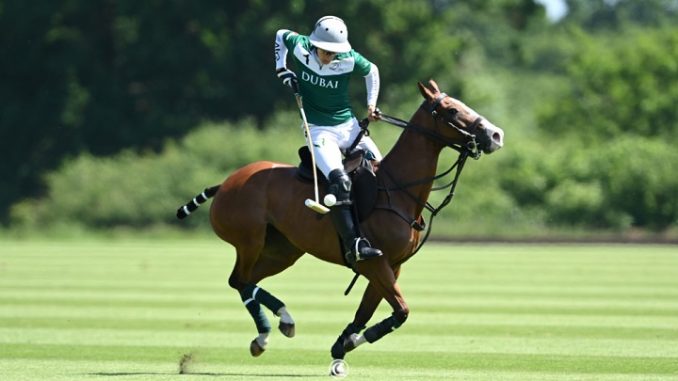 The tenth day of the Queen's Cup began with undefeated Dubai Polo Team and Park Place Vaara engaging in a high-scoring game that was ultimately won 15-13 by Dubai Polo Team on the Castle Ground at Flemish Farm. Capturing their first victory of the tournament, Thai Polo NP narrowly defeated Clinova 13-12 to conclude play at Guards Polo Club.
Evident from the first throw-in that it would be an offensive game, Park Place Vaara's Santos Merlos struck first but was quickly met by a response from Matt Perry. Stepping into the spotlight, two goals rom Juan Britos contributed to an impressive four-goal opening chukka, leaving Park Place Vaara ahead 4-2. Effectively using Joshua Hyde in the #1 position, Park Place Vaara accelerated forward and Hyde collected two assists, while his team remained a perfect 6 for 6 from the field through two chukkas. Trailing by four, Dubai Polo Team turned to tournament scoring leader Camilo Castagnola, as a field goal and penalty goal helped Dubai Polo Team inch closer, but remain down by three.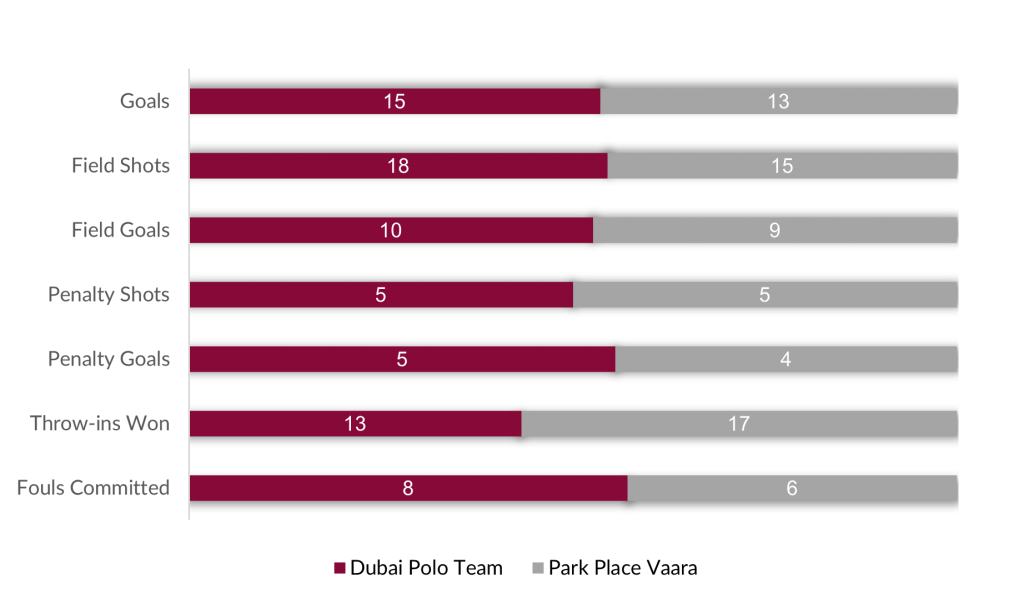 The first team to complete all four league games, Dubai Polo Team was left with a tough task in the second half against Park Place Vaara in slowing their high-powered attack. Foul trouble for Park Place Vaara provided an opening that resulted in three penalty conversions for Castagnola as Dubai Polo Team suddenly found themselves trailing by just one. Trying to hold on to their shrinking lead, Park Place Vaara relied on the play of 10-goaler Hilario Ulloa, who produced three consecutive goals for his team to maintain the slim lead. After Rashid Albwardy jumped on the loose ball to tie the score at 13-all, Camilo Castagnola fought through traffic and scored from distance to give Dubai Polo Team their first lead of the game at 14-13. Inside the final two minutes, Castagnola teed up a safety and sent the ball through the posts to secure the 15-13 win and enter the quarterfinals with a perfect 4-0 record.

A must-win game for both teams to have any chance at securing a place in the quarterfinals, Clinova and Thai Polo NP met on the famed Queen's Ground in a late afternoon match. Holding a one-goal advantage on handicap, Thai Polo NP produced one of the best chukkas of the tournament thus far, scoring five goals on perfect shooting from both the field and the penalty line. Ignacio Negri led the way with two goals, while all four Thai Polo NP players added their names to the scoresheet just minutes into the match. Stunned by the opening seven minutes, Clinova turned their focus to the defensive end, holding Thai Polo NP scoreless in the second chukka and allowing them to slowly fight their way back into the game. A lone goal from Alejandro Muzzio provided the only offense of chukka as two missed Penalty 4 attempts prevented Clinova from pulling any closer. Exchanging goals at the end of the half, Thai Polo NP rode their early success to remain ahead by three.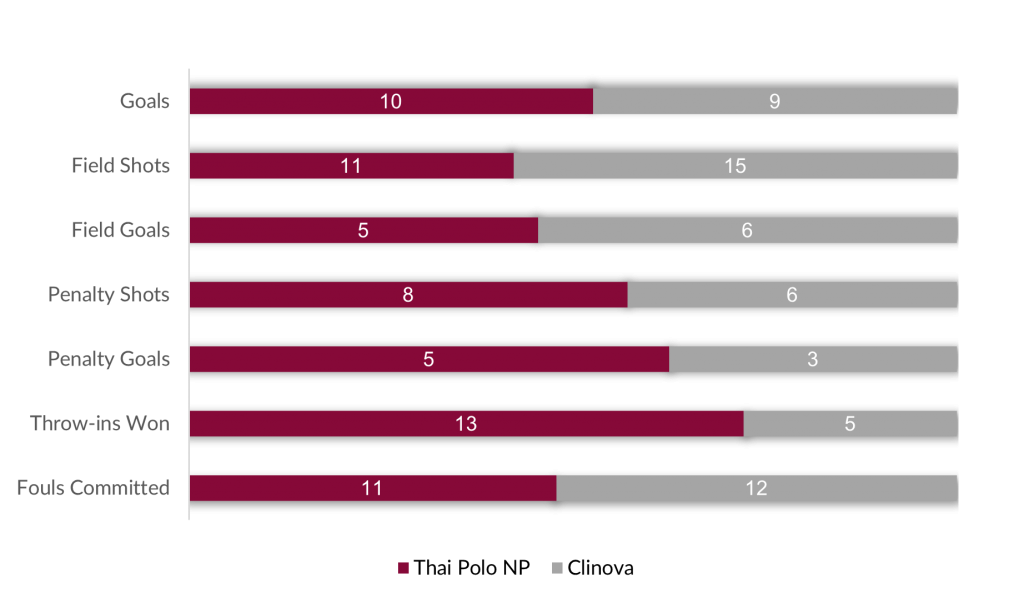 Clinova overcame a stagnant offense in a crucial fifth chukka thanks to the play of American Jared Zenni, who accounted for both Clinova goals. Still hanging on to their three-goal lead despite scoring more goals in the first chukka than the entire rest of the game, Thai Polo NP entered the sixth chukka on their heels with Clinova pressuring to tie the game. Back-to-back Penalty 3 conversions for Borwick brought Clinova within one, but it was Cesar Crespo's second goal of the game that held off the comeback attempt from Clinova and gave Thai Polo NP their first win of the tournament in the 10-9 victory.
Photo Credit: Images of Polo