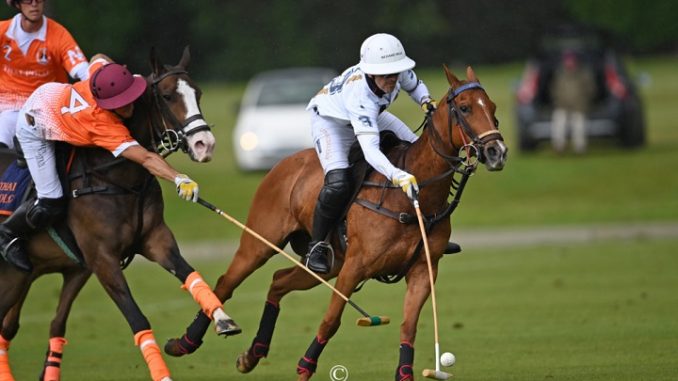 The final matches in League One ended in dramatic fashion with two one-goal contests, beginning with La Magdeleine facing Thai Polo NP at Coworth Park. After substituting in the King Power line-up, Pablo Mac Donough was back in the saddle for La Magdeleine, but it was Thai Polo NP who struck first after a long shot from the side boards by Ignacio Negri found its way through the posts. Starting with one goal on handicap, Thai Polo NP maintained the lead throughout most of the second chukka until La Magdeleine scored on consecutive plays, including Ollie Cudmore jumping out of the throw-in and taking it straight to goal to tie the match at 3-3. Two missed penalties for Thai Polo NP to end the half allowed La Magdeleine to take a slim one-goal lead into the half after Mac Donough's second goal.

Just 45 seconds into the second half, Ned Hine converted a Penalty 2, ending La Magdeleine's run and swinging the momentum in Thai Polo NP's favour. On a long shot from Cesar Crespo that was sailing wide, Negri stuck his mallet out, redirecting it for an incredible goal and restoring the one-goal lead for Thai Polo NP. That advantage remained into the sixth chukka until La Magdeleine's Mac Donough stepped into the spotlight. Scoring three unanswered goals, two from the penalty line and one from the field, Mac Donough pushed his team ahead by two with time running out. Pulling within one with just over two minutes left, Thai Polo NP were unable to score the equalizer as their tournament ended in the 9-8 defeat, while La Magdeleine finish with a 2-2 record in hopes of qualifying for the quarterfinals.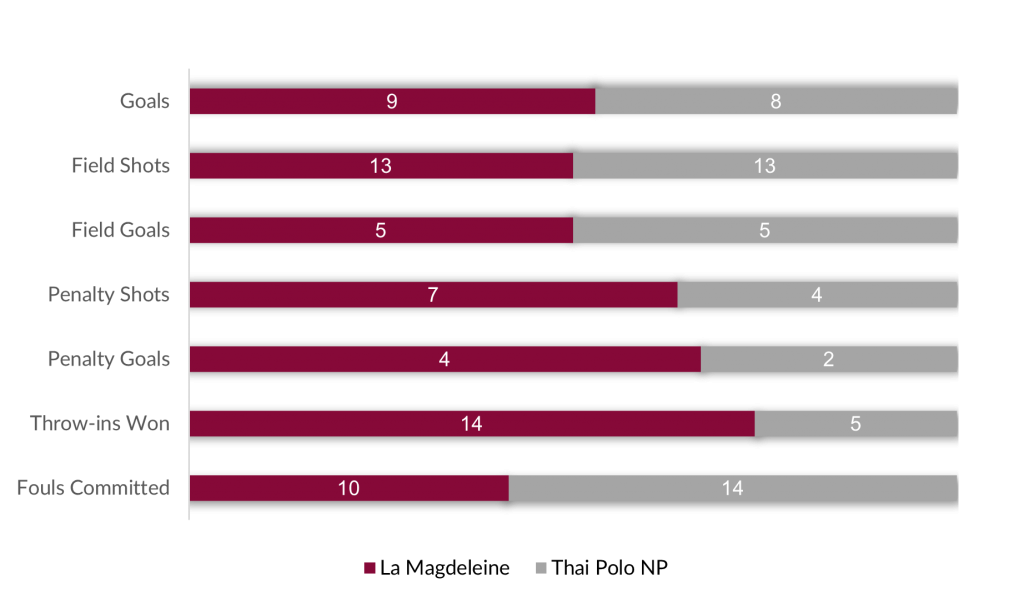 With a victory ensuring their place in the quarterfinals, 2-1 Park Place Vaara met 0-3 Clinova at Zacara in a game full of momentum swings. Showcasing their relentless passing attack in the first two chukkas, Park Place Vaara dominated possession to keep Clinova pinned in their own half and build a significant lead. Scoring the first six goals of the game, Park Place Vaara received three goals and an assist from Hilario Ulloa, while Santos Merlos and Juan Britos were also impacting the scoreboard with accurate passes and finishes around goal. During the stretch, Clinova managed just one shot attempt, leaving a difficult task in overcoming the six-goal deficit.

Needing a spark to finish the half, Clinova found one from Jared Zenni, who added a goal and an assist during a three-goal run to cut the lead to four, trailing 7-3. Exiting the break looking like a different team, Clinova exploded for four unanswered goals led by the phenomenal play of Alejandro Muzzio. The 7-goaler converted both his shot attempts, while assisting on goals to Luke Wiles and Malcolm Borwick to instantly change the dynamic of the match, bringing the game even at 7-all against a stunned Park Place Vaara team. No whistles were blown in a quick fifth chukka as Park Place Vaara tried to regain control of the game but were unable to find the mark on any of their six shot attempts, setting up a thrilling conclusion in the sixth chukka. Muzzio's third goal gave Clinova their first lead of the match at 8-7 as Park Place Vaara still had not scored in the second half with their usual high-powered offense going quiet. Borwick pushed the lead to two on a penalty conversion, but Park Place Vaara regrouped and quickly brought the game back to even after young Joshua Hyde sent a Penalty 2 through the goal. Returning to the lineup with 45 seconds left in the game, Clinova won possession and Malcolm Borwick took it all the way to goal for Clinova's first victory in the 10-9 triumph.