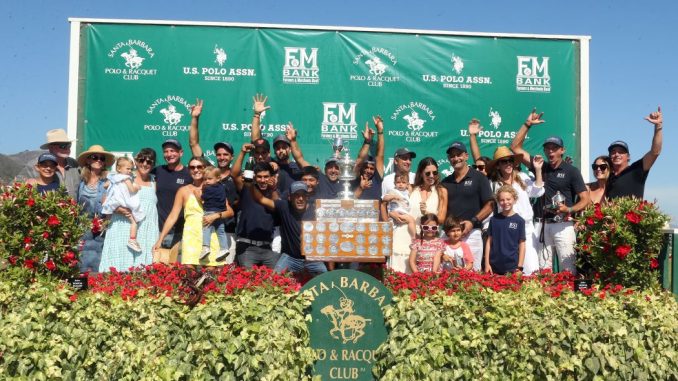 BENSOLEIMANI.COM ROLLS OUT DOMINANT PERFORMANCE FOR FIRST FARMERS & MERCHANTS BANK SILVER CUP TITLE
August 11, 2022
A captivating and action-packed high-goal season well underway at Santa Barbara Polo & Racquet Club (SBPRC) in Carpinteria, California, the illustrious Farmers & Merchants Bank Silver Cup came to its conclusion in a showdown between BenSoleimani.com (Ben Soleimani, Lucas "Luckitas" Criado Jr., Ignacio "Iñaki" Laprida, Jeff Hall) and L.E.N.Y. (Santino Magrini*, Paquito de Narvaez, Kristos "Keko" Magrini*, Matias Magrini). A previous meeting between L.E.N.Y. and BenSoleimani.com featured a late 11-10 comeback victory from BenSoleimani.com.
Tied for best record at 4-1, L.E.N.Y.'s Keko Magrini entered the final leading his team with twenty goals, as fellow young star Criado Jr. headed the competition as the top scorer of the Silver Cup with twenty-nine goals, including sixteen from the field. Claiming an early lead from the outset of play, a balanced offensive effort from BenSoleimani.com with stand-out plays from Criado Jr. and nine-time Silver Cup champion (1997, 1999, 2000, 2003, 2004, 2005, 2006, 2014, 2020) Hall pushed the team in black ahead the entire game, outlasting a fifth chukker push from L.E.N.Y. to claim the coveted Silver Cup 13-10.
In their previous matchup, BenSoleimani.com trailed 10-8 entering the final chukker of regulation, however three penalty conversions from Criado Jr. pushed BenSoleimani.com back on top for the win. "We had to fine-tune what we were doing wrong," elaborated Hall, "it wasn't much—but us handling the ball and being too nervous in the beginning, we fixed that."
Awarded one goal on handicap at the onset of the game, L.E.N.Y. quickly took advantage. A flash of neon yellow—a breakaway from Keko Magrini—established an early 2-0 L.E.N.Y. lead. Answering with goals from Laprida and Soleimani, Criado Jr.'s ability to capitalize on a Penalty 4 led to BenSoleimani.com's third straight goal and a 3-2 lead.
Assembling the 2022 roster for BenSoleimani.com featured a mix of Santa Barbara staples plus a shot of youthful energy. At just 19-years-old, Criado Jr. played with Hall throughout the 2022 GAUNTLET OF POLO in Wellington, Florida, for La Indiana. "I played with Jeff for the whole year,"said Criado Jr. "Iñaki has known me since I was a kid, and Ben the same, so we get along well and trust each other." Hall was quick to praise the abilities of Criado Jr. on both sides of the ball, "Luckitas is playing amazing and he's a super young talent." Used to facing-off against Hall on the field as an opposing player, the addition of Hall to BenSoleimani.com was a welcome change of pace for the team owner which has paid off.
After a quick field goal from L.E.N.Y.'s Matias Magrini to open the second, BenSoleimani.com kept the pressure on with three unanswered goals to double up their lead 6-3. Struggling to find an early offensive rhythm, Santino Magrini became the third Magrini to hit the goal in the half on a masterful cutshot after navigating through traffic. Quickly stifling L.E.N.Y.'s forward momentum, BenSoleimani.com went back on the attack with Laprida and Hall hitting the goal once more to end the first half with an 8-5 advantage.
Flipping the script from their previous match-up, Criado Jr. shared his enthusiasm for his team's three-goal lead at halftime, "L.E.N.Y. is one of the toughest teams, if not the best. We knew it was going to be hard and we had to keep the ball moving from the beginning and tried to hit the ball as much as we could to put it in front." "It was a good team start," added Hall, "we now have a rhythm. We can get a bit out-of-whack if we rush plays. But if we take our time and let the plays happen and settle into the game, we have a great team."
Focused on closing the gap, a field goal from de Narvaez cut L.E.N.Y.'s deficit to two, but three unanswered goals from Criado Jr. kept BenSoleimani.com firmly in control 11-6. Desperately needing a run of their own, L.E.N.Y. finally found success as de Narvaez built off his offense in the fourth to find the goal twice, followed by Matias Magrini carrying the ball across the goal mouth.
Entering the final chukker of play with a three-goal buffer, Laprida quickly extinguished L.E.N.Y.'s final comeback chances, scoring once more for BenSoleimani.com. "For a moment, they almost came back," noted Soleimani, "we got a little soft in the fifth chukker, but we went back to playing classic polo and playing four-on-four. This is a four-man team; everybody has to be with somebody and playing their part. Coming into the sixth we came with a lot of power and closed the door."
Scoring three goals for BenSoleimani.com and facilitating plays on both sides of the ball, Jeff Hall was named Most Valuable Player. "It's always great to be selected," said Hall, "honestly, anybody could have gotten it, it's always a team effort. You don't play well if you don't have a great team." Claiming a record tenth Silver Cup victory, Hall continued, "a couple of years ago [2020] I got the ninth and broke the record of most wins, so today I broke my own record for double-digits, and it feels great!" Highlighting the familial ties of polo and the distinguished history of the trophy, Hall celebrated the win with his father, John M. Hall, and brother, John W. Hall. All three captured the title together in 1999 with Old Pueblo, then Hall won later in 2004 with his stepmother Leigh Anne Hall.
Open Kilovatio (Ellerstina Picaro x Carense), a 13-year-old bay gelding owned by Ben Soleimani and played by Iñaki Laprida as a spare in the first half then again in the sixth chukker, received Best Playing Pony honors. "He's amazing [and] a really good horse," expressed Laprida, "He's big, but really handy for the size he has." Playing Open Kilovatio for the second season in a row at SBPRC, a winning relationship between Laprida and Open Kilovatio has only grown since winning Best Playing Pony in the 2021 America Cup. "Last year was the first year I played him," added Laprida, "I'm so comfortable on him." Hoisting the Silver Cup for the first time since winning with Farmers & Merchants Bank (FMB) in 2013,
Laprida shared gratitude for his teammates, "we knew it was going to be a war and we were able to maintain the six chukkers with the same intensity and attitude."
Serving also as the second match in the NetJets Pacific Coast Open, BenSoleimani.com is off to a solid start and will face the winners of the first game of bracket play and 2022 America Cup champions Klentner Ranch on Friday, August 12. "This season is really competitive," noted Laprida. "Anybody can beat anybody. We will continue with the same horses that have been playing a lot and we'll have to see. We will try to win whatever we can. It's going to be tough, but we will focus on Friday."
*Kristos "Keko" Magrini is an Active Team USPA Member. Jeff Hall and Santino Magrini are Team USPA alumni. Team USPA is a USPA program designed to enhance and grow the sport of polo in the United States by identifying young, talented American players and providing mentored training and playing opportunities leading to a pool of higher rated amateur and pro players and the resultant giveback to the sport of polo.