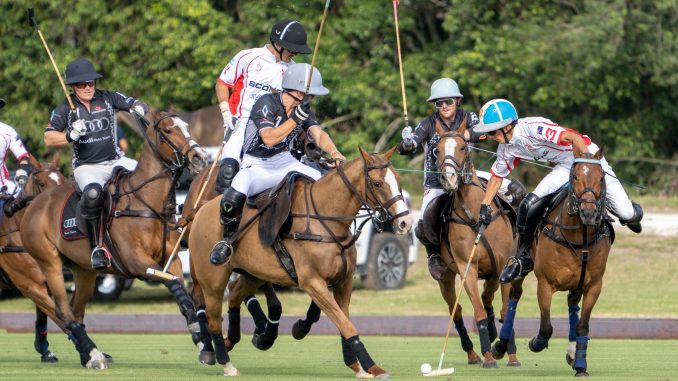 WELLINGTON, February 28, 2023
The stage is set for one of the most competitive finals in Sterling Cup history at Grand Champions Polo Club.
By Sharon Robb
Photo by Candace Ferreira
With a combination of experience and next generation players, Scone will take on Valiente in the championship on Wednesday at 3:30 p.m. on Field Two.
Valiente advanced with a thrilling 11-10 overtime victory over upset-minded Tamera at Valiente. Scone advanced with a 14-11 win over Audi at Grand Champions.
The victory marked the return of Valiente patron Robert Jornayvaz after nearly a two-year hiatus from polo after fighting and beating cancer.
On Sunday, Valiente (Bob Jornayvav, Peke Gonzalez, Lucitas Criado and Adolfo Cambiaso) won its fifth C.V. Whitney Cup on with a 10-9 victory over Pilot (Curtis Pilot, Lucas Escobar, Matias Torres Zavaleta, Facundo Pieres).
On a rare occasion, the Sterling Cup final will pit father against son with 17-year-old Poroto Cambiaso playing for Scone and Adolfo Cambiaso competing for Valiente.
The last time the two faced off was in January in the Trenque Lauquen tournament. They also played against each other in 2021 Argentine Open when Adolfo played on La Dolfina Saudi and Poroto played on La Dolfina's Brava Polo Team with Adolfo winning.
Valiente battled until the end and needed an overtime period before Lucas Criado Jr. took a pass from Cambiaso and scored on a straight run to goal on a back shot with 5:13 left in overtime.
With Cavanagh trying to eat up the clock in the final minute, Cambiaso came up with the ball and scored with four seconds left in regulation to send the game into overtime.
The game picked up in the third chukker with the teams tying three times before Tamera took a 5-4 halftime lead on Cavanagh's goal with a minute left. Tamera led for most of the second half by at least one goal. Tamera lost Ale Poma to a shoulder injury before the fifth chukker. He was replaced by Miki Astrada Novillo Jr.
Tamera led 9-7 after the fifth chukker and 10-8 with 3:44 left in the sixth chukker. Valiente rallied behind Criado's penalty conversion at the 2:49 mark and Cambiaso's goal with four seconds left.
Criado Jr. led Valiente with seven goals including four penalty conversions. Cambiaso had four. Cavanagh led Tamera with five goals and Saravi added three.
The final game stats were mostly even. Each team had 15 shots on goal. Valiente led knock-ins, 5-4 and Tamera led throw-ins, 11-8. There were 18 fouls with Tamera penalized 10 times.
In the opening semifinal on Wednesday, Scone (Cable Magness, 0, Cody Ellis, 4, Poroto Cambiaso, 9, Pelon Stirling 9) defeated Audi (Marc Ganzi, 1, Grant Ganzi, 3, Jeta Castagnola, 9, Barto Castagnola), 14-11.
In the opening two hard fought chukkers, Scone took an early 2-1 lead. Audi bounced right back with a 3-1 chukker behind Jeta Castagnola's three goals in two minutes to even the score, 4-4, going into the third chukker.
Scone regained its momentum in the third chukker scoring four unanswered goals for an 8-4 halftime advantage. In the first half, Scone outshot Audi, 10-8 and led in knock-ins, 3-2. Audi led in throw-ins, 9-5. Scone had six penalties and Audi had three.
While Scone kept at least a two-goal cushion throughout the second half, Audi tried clawing its way back getting within two goals, 10-8, in the fifth chukker and 13-11 with 1:15 left in the game but could get no closer. The game finished with 21 fouls.
Cambiaso led Scone with a team-high seven goals. Stirling had six goals and Ellis added one. Jeta Castagnola scored a game-high 10 goals and Ganzi had one.
The Sterling Cup was resurrected seven years ago after a 22-year absence. It was brought back by Grand Champions President Melissa Ganzi in hopes of recapturing polo's glory days.
Last year's winner was Seminole Casino Coconut Creek (Melissa Ganzi, 0, Gonzalito Pieres, 10, Juan Martin Zubia, 8, Alejandro Novillo Astrada, 7) with a 16-12 win over Casablanca (Pablo Spinacci, 6, Tomacho Pieres, 6, Nacho Novillo Astrada, 8, Juan Bollini, 4). Zubia was MVP and presented with a new Jeep Renegade.
The Cambiaso family has a storied history in the Sterling Cup. The father and son have won the title three times.
In the 2021 final, Scone held off La Indiana, 14-13, to capture the prestigious trophy. Adolfo and Poroto Cambiaso, Peke Gonzalez and Australian patron David Paradice came from behind to defeat La Indiana (Nico Escobar, Jeff Hall, Polito Pieres, Milo Dorignac) in a battle of unbeaten teams. For the second consecutive year, Adolfo Cambiaso was named Most Valuable Player.
In 2020, Valiente (Bob Jornayvaz 2, Gonzalo Ferrari 4, Poroto Cambiaso 4, Adolfo Cambiaso, 10) won its second Sterling Cup in three years with a 12-9 win over Santa Clara (Henry Porter 3, Matias Magrini 7, Nachi du Plessis 8, Luis Escobar 4). Adolfo Cambiaso was MVP. In 2019, Colorado knocked off Valiente, 9-8, in the final.
In the 2018 Sterling Cup tournament Adolfo, Mia and Poroto Cambiaso made history by winning their first-ever high goal tournament together. Along with teammate Magoo Laprida, Valiente knocked off pre-tournament favorite Audi, 10-4, in the final. Mia Cambiaso was MVP.
Grand Champions, the nation's largest polo club celebrating its 16th anniversary, and Santa Rita Polo Farm is the largest and most unique private 102-acre polo facility in Wellington with 212 stalls in nine self-contained barns, two tracks, five climate-controlled tack rooms, vet room, staff quarters, guest house and four polo fields with state-of-the-art underground irrigation and short work arena. The club has 13 well-manicured fields including nine world-class fields at GCPC and four at Santa Rita.