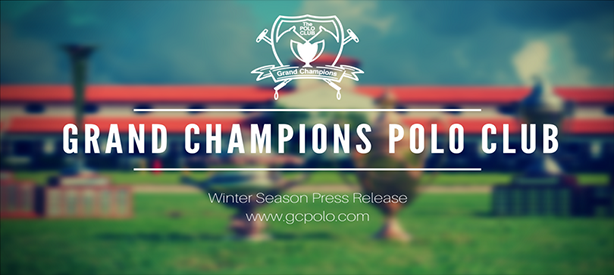 Sebucan Defeats Patagones In Sieber Memorial Grand Champions Saturday Feature Game; Robertito Zedda Named MVP
If Saturday's feature game at Grand Champions Polo Club is any indication, the Sieber 12-Goal Memorial Tournament title is up for grabs.

By Sharon Robb
Sebucan winning teammates Juanse Olivera, Pablo Pulido, Juan Lalor and Robertito Zedda.
On a perfect day for polo, Sebucan (Juanse Olivera, 1, Pablo Pulido, 2, Juan Lalor, 4, Robertito Zedda, 4) held off defending champion Patagones (Santi Wulff, 5, Benjamin Avendano, 3, Joaquin Avendano, 2, Santiago Avendano, 1) for a thrilling 8-7 victory.
It was Sebucan's first win of the 12-goal tournament after losing to Beverly Equestrian (Bill Ballhaus, 0, Geronimo Obregon, 4, Tolito Ocampo, 5, Hilario Figueras), 10-8, in its opener.
Juanse Olivera of Sebucan outraces Santiago Avendano of Patagones for the ball.
Robertito Zedda, playing above his 4-goal handicap, was named Most Valuable Player for the second time this season at Grand Champions. Zedda scored a game-high seven goals including five on penalty-four conversions.
Dolfina Nostalgia, an 8-year-old bay mare played by Zedda in the sixth chukker and owned by J5 Equestrian, earned Best Playing Pony and American Polo Horse Association best registered horse of the game.
Joaquin Avendano of Patagones and Robertito Zedda of Sebucan keep their eye on the ball.
"I am a blessed guy to be able to play the horses I play that belong to the J5 Equestrian Barn," Zedda said. "They are all machines. The most fun I have this season is being able to play these horses in the 20-goal and 12-goal, it's amazing."
The American Polo Horse Association was created in 2006 by the legendary Polo Hall of Famer Sunny Hale to recognize polo ponies in America and encourages events that showcase them and hard-working dedication of grooms.
Juanse Olivera of Sebucan avoids the hook of Santiago Avendano of Patagones.
Sebucan led from start-to-finish including 7-2 after the fourth chukker, but Patagones made it interesting in the fifth and sixth chukkers outscoring Sebucan, 5-1.
"Both teams are 11 goals and very even teams," Zedda said. "I think we got ahead at the beginning, we were lucky that we were able to score and put some penalties in and they missed a few penalities. I think that was the difference. Then it was the other way around, we missed a couple and they scored.
Pablo Pulido of Sebucan defends big-hitting Santi Wulff of Patagones.
"These games are always very even," Zedda said. "This level of polo is competitive. We lost by two to Beverly Equestrian and today we won by one. You are not going to have a huge difference in any result. Everyone is very even."
Juanse Olivera, 16, and Juan Lalor, 20, played key roles on defense including Olivera's goal stoppage of Wulff's attempt with 3:05 left in the sixth chukker.
Santi Wulff of Patagones attempts to hook Juanse Olivera of Sebucan.
"I think we were lucky in the beginning and then they clicked," Zedda said. "I think Santi Wulff was able to figure out what I was doing right and it took me time to change my strategy again which made the difference in the sixth chukker."
In addition to Zedda's seven goals, Cornell alum Pablo Pulido added one goal in fourth chukker.
Santi Wulff led Patagones with a team-high six goals. Benjamin Avendano added one goal.
Best Playing Pony and AHPA best registered horse Dolfina Nostalgia, 8-year-old bay mare owned by J5 Equestrian.
The tournament is named in honor of polo player Rob Sieber, who died in a polo-related accident 33 years ago at Oak Brook, Ill.
In last year's tournament, Patagones (Joaquin Avendano, 1, Robi Bilbao, 4, Benjamin Avendano, 2, Santi Wulff, 5) held off Beverly Equestrian (Bill Ballhaus, 0, Hilario Figueras, 2, Tolito Ocampo, 4, Carlucho Arellano, 5) for a thrilling 11-10 victory in a battle of unbeaten teams. Wulff scored a game-high seven goals and was named Most Valuable Player.
Most Valuable Player Robertito Zedda of Sebucan.
During the winter polo season, Grand Champions, the nation's largest and innovative polo club, is hosting 22 tournaments: 6, 8, 12, 20, and 0 to 40 goals, WCT Finals and women's weekly league play and 26-goal World Polo League tournaments at both Grand Champions and Valiente Polo Farm.
Grand Champions tournaments attract a large international field of players from all corners of the world including India, Mexico, New Zealand, Chile, Costa Rica, Argentina, Canada, Ecuador, Brazil, Switzerland, France, Germany, Uruguay, Azerbaijan, Australia, South Africa, Nigeria, Venezuela and England.
Juan Lalor of Sebucan gets the most out of his mallet with Santi Wulff of Patagones defending.
Season highlights for 2019 are the Sterling Cup, March 1-31 $50,000 National 12-Goal Tournament, March 1-16 John T. Oxley Memorial and March 3-24 $100,000 World Cup Tournament, a unique 0-40-goal, winner-take-all single-elimination tournament and inaugural World Polo League.
Grand Champions and Santa Rita Polo Farm is the largest and most unique polo facility in Wellington with 120 stalls in five self-contained barns, exercise track, five climate-controlled tack rooms, vet room, staff quarters, guest house and three polo fields with state-of-the-art underground irrigation including one field for stick-and-ball with plans to build more polo fields in the future.
Ten-goaler Pelon Stirling, one of the top players in the World Polo League, is interviewed by Chukker TV/Horseplay during halftime to set up Sunday's Colorado-Valiente WPL final at 4 p.m.
Photos by Gabrielle Stodd
Grand Champions Polo Club and Santa Rita Polo Farm caters to men, women and youth polo players at all levels and ages. Its' expert staff can customize a complete playing experience including horses, pros and certified umpires in addition to lessons and practice sessions as part of its' Polo On Demand program, created by Grand Champions President Melissa Ganzi when the club first opened.
The Polo School, a stand-alone USPA-sanctioned polo club, is dedicated to teaching polo to all ages, particularly grass roots youth. Its mission is to provide individuals opportunities in polo at every economic and ability level. Scholarships are available. The Polo School operates in Wellington January through June and September through November. Headed by Director of Operations Juan Bollini, The Polo School has nurtured several men and women polo players now playing in the pro and amateur ranks since its inception.