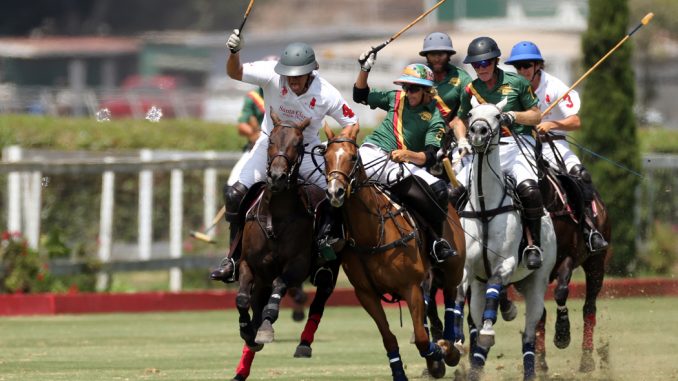 Silver Air Pacific Coast Open at Santa Barbara Polo & Racquet Club
After two full weeks of tournament play the final games went down to the wire to decide which four teams would prevail and continue on their way with a chance to win the 2019 Silver Air Pacific Coast Open trophy.
Sunday morning's match was between brothers and bankers, FMB and FMB Too. The stakes were high as the winner of the game would be guaranteed a spot in the semifinals. FMB's Lucas Escobar scored the first goal of the match from the field to gain a one goal lead that FMB Too would find hard to shake. FMB Too found it difficult to score from the field but Santi Wulff's penalty accuracy kept them in the game trailing by one. A goal from the field by FMB's Felipe Vercellino in the final chukker put their team up by two to win the game 6-4 and secure their spot in the semifinal.
The second game of the day was equally as important as both Santa Clara and Sol de Agosto were desperate for a win to keep them in the running for the trophy. Sol De Agosto showed strong shooting accuracy in the first half by scoring all their goals from the field racking up points against the opposing team. As Santa Clara was facing a 3-8 deficit at the end of the fifth chukker Nico Escobar came out firing in the sixth. He sunk two penalty fours and scored two from the field two bring the score within one with only a minute left. Unfortunately for Santa Clara, they could not score that final goal to bring it into overtime. Sol De Agosto will pass into the semifinals after their 8-7 win over Santa Clara. Sol De Agosto's Bauti Bello commented on the game, "The game was tight and there was a lot at stake. One team would be in, and one team would be out. I am glad we were able to pull it off and have an opportunity to play the semifinal."
The featured match was between Bensoleimani.com and Lucchese. Bensoleimani.com's Tomas Alberdi and Inaki Laprida came out strong in the first half scoring two goals each. Lucchese struggled to put points on the board with only two goals by Jeff Hall in the first chukker. The momentum changed in the second half as Lucchese began to take control of the field. Lucchese's Jorge Cernadas scored 4 goals in the last half to help Lucchese win the game in the final chukker 9-7.
Farmers and Merchants Bank finished bracket play as #1 to play Sol De Agosto in the semi final. Bensoleimani.com will play Lucchese. The winners will move on to play the Silver Air Pacific Coast Open Final on Sunday September 1st at 3PM.