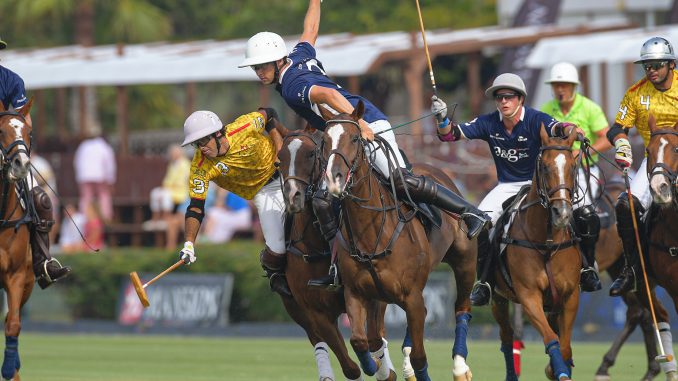 Brunei and MB Polo to Meet in Copa de Oro Final
The semi-finals of the 2019 Copa de Oro displayed the exceptional play of Brunei and MB Polo, with the two teams claiming victory to meet in their second consecutive final at Santa Maria Polo Club. The opening semi-final featured a strong second half from Brunei in the 13-9 victory over Dos Lunas, while MB Polo overwhelmed La Indiana in the second semi-final, capturing the 13-7 win.
A high-octane start to the match between Brunei and Dos Lunas set up a high scoring first three chukkas, but it was the dominance of possession by Brunei in the second half that led them to victory. Holding an 8-3 shot advantage in the second half, while also limiting Dos Lunas to just one field goal over the final four chukkas, Brunei was led by Juan Martin Nero and Camilo Castagnola, who combined for 11 goals and four assists. Despite committing just eight fouls, Dos Lunas conceded six penalty attempts to Nero, who finished an efficient 5 for 6 from the penalty line to keep Brunei undefeated on the season.
A fast-paced opening chukka began with a safety conversion from Joaquin Pittaluga but finished with a 3-3 score as both teams shot 2 for 3 from the field and converted their lone penalty attempt. Effective in the #1 position for Dos Lunas, Luis Domecq added his second and third goals of the game from the field, giving Dos Lunas the narrow one-goal lead, but before the half was over, Nero scored consecutive goals to restore the tie, ending the exciting first half in a 7-7 tie.
A dominant second half from Brunei came from an organized defensive effort that contained the strong Dos Lunas offense from the first half. Holding Dos Lunas to zero goals in the fourth and fifth chukka allowed Brunei to build a lead behind the efforts of Nero and Castagnola. Jeffrey Bahar's first goal of the game in the fifth chukka completed a five-goal run for Brunei that left Dos Lunas facing a large deficit with only one chukka remaining. Goals from Pittaluga and Domecq, who finished with four goals each, brought the deficit to three, but that was as close as Dos Lunas could get as Brunei completed the 13-9 victory.
With one spot remaining in the finals, MB Polo captured their second consecutive victory over La Indiana by winning the open play battle, outscoring La Indiana 9-2 from the field. Despite scoring five goals from the penalty line, La Indiana shot just 17% from the field, allowing MB Polo to gain a significant advantage with Polito Pieres finding Tomas Panelo on the pass resulting in six goals for Panelo. Unwilling to concede any easy goals, the MB Polo defence forced La Indiana into difficult chances around goal, committing fouls instead of allowing shot opportunities from the field. The large advantage from the field led to MB Polo running away with the 13-7 victory.
MB Polo opened an early lead after a goal each from Pieres and Panelo, while La Indiana missed four shots from the field to trail 2-0 after the opening chukka. Responding with their best chukka of the game, La Indiana scored three goals, led by Gonzalito Pieres who contributed on all La Indiana goals in the chukka with two goals and an assist. Despite the offensive showing, La Indiana was unable to slow MB Polo, who matched their scoring output with three goals of their own. Finishing the half, MB Polo extended their lead to four in a dynamic attack that included a Penalty 2 conversion from Beresford.
A foul ridden start to the second half resulted in 10 combined fouls in the fourth and fifth chukkas. La Indiana's only offense came from three penalty conversions during that span, but MB Polo added two goals from the field on eight shot attempts, keeping La Indiana pinned in their own half. Holding a five-goal advantage, MB Polo continued to produce an exceptional defensive effort, preventing a La Indiana field goal for the fifth time in sixth chukkas to capture the convincing 13-7 victory and meet Brunei in their second consecutive final.