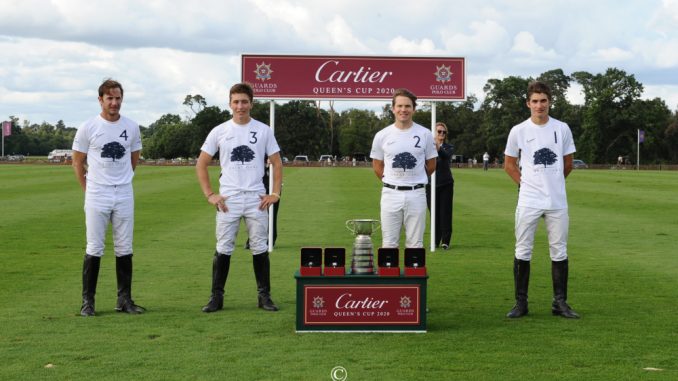 Les Lions/Great Oaks Raise Cartier Queen's Cup Trophy
The highly anticipated conclusion to the 2020 Cartier Queen's Cup featured the experience of Park Place, playing in the final for the third consecutive year, against the young, rising stars of Les Lions/Great Oaks. A memorable final required overtime to determine the champion, with Les Lions/Great Oaks emerging victorious over Park Place on Camilo Castagnola's game-winning goal, claiming the exciting 9-8 victory and beginning the Les Lions/Great Oaks celebration on the Queen's Ground at Guards Polo Club.
A game between the two top-ranked offensive teams turned into a tightly marked defensive battle as neither team was given an inch on the field. Les Lions/Great Oaks were able to build a lead behind a combination of field goals and accurate penalty shooting from Camilo Castagnola, who finished with five goals to tie Park Place's Facundo Pieres as the leading scorers in the match. Struggling with their shooting accuracy due to a high-pressure Les Lions/great Oaks defense, a late three-goal charge from Park Place on perfect shooting sent the game into overtime. The active defense from Les Lions/Great Oaks led them to victory in overtime when Bartolome Castagnola jumped on a missed opportunity from Park Place in front of their own goal, running it downfield and leaving the ball for brother Camilo, who converted the run to capture the 9-8 victory and the Cartier Queen's Cup title.
Conceding a goal on handicap, never an easy task when Facundo and Gonzalito Pieres are on the other side of the ball, Les Lions/Great Oaks quickly erased that deficit with a high-pressure defence that led to a penalty 3 conversion for Camilo Castagnola and field goals for Dillon Bacon and Santiago Laborde. Held off the scoresheet in the first chukka, Park Place's Facundo Pieres broke through in the second chukka in what turned out to be the only goal in the chukka. Organized defense's limited open runs to goal and producing a 3-2 score in favour of Les Lions/Great Oaks at the conclusion of the second chukka. After Facundo Pieres' second goal of the game tied the score, Les Lions/Great Oaks' Bartolome Castagnola quickly responded to restore their one-goal lead heading into halftime.
Continuing to make Park Place work for each opportunity at goal, Les Lions/Great Oaks relied on their defense to increase their lead to two, holding Park Place to just one penalty 2 conversion from Facundo Pieres, while receiving a field goal each from Laborde and Camilo Castagnola. Gonzalito Pieres' lone goal in the game looked to pull Park Place back within one, but a determined Les Lions/Great Oaks team, led by two more goals from Camilo Castagnola, took advantage of their opportunities around goal to enter the sixth chukka with a commanding three-goal lead. Utilizing his immense experience, Facundo Pieres scored consecutive goals to pull Park Place within one as time was running out. Pieres then found Will Harper on the receiving end of a pass and despite the bouncing ball, he was able to convert the run, sending the thrilling final into overtime. One minute in, Park Place dribbled towards goal, trying to get past a packed Les Lions/Great Oaks defense, but a missed opportunity allowed Bartolome Castagnola to pick up the loose ball and break away for an uncontested run. Hitting the ball forward, Bartolome Castagnola took Andrey Borodin away from the ball, allowing Camilo Castagnola to run onto the ball and under immense pressure, complete the run and secure the Cartier Queen's Cup trophy for Les Lions/Great Oaks.
| | | |
| --- | --- | --- |
| Rank | Player | Goals Scored |
| 1 | Nico Pieres | 44 |
| 2 | Facundo Pieres | 41 |
| 3 | Joaquin Pittaluga | 38 |
| 4 | Juan Martin Zubia | 36 |
| T-5 | Camilo Castagnola | 34 |
| T-5 | Ignacio Toccalino | 34 |
| 7 | Bartolome Castagnola | 31 |
| 8 | Tommy Beresford | 29 |
| 9 | Diego Cavanagh | 23 |
| 10 | James Beim | 18 |
Photo credit – Images of Polo