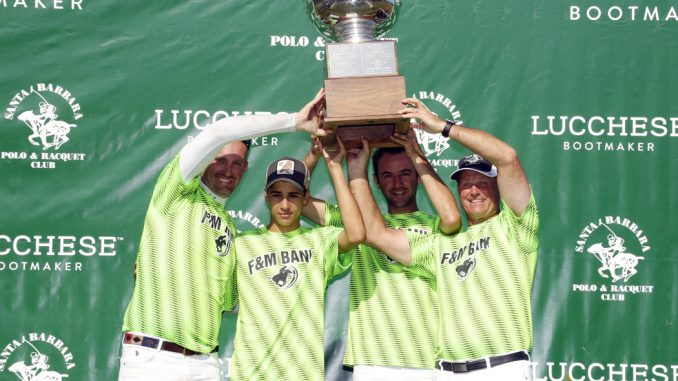 Santa Barbara Polo & Racquet Club
The 2019 USPA Intra Circuit 12 Goal
It was an exciting day at the Santa Barbara Polo and Racquet Club as teams competed for $50,000 in prize money in the Western Badge Subsidiary Final and USPA Lucchese Intra-Circuit Final.
Teams, Lucchese and Novis Insurance, both went 2-1 in bracket play to earn spots in the $10,000 Western Badge Subsidiary Final. Lucchese came from behind to win the game in the final 30 seconds of play. Jason Crowder was awarded MVP. Maco 5, owned by George Dill and played by Maco Llambias, was awarded Best Playing Pony.
The USPA Lucchese Intra-Circuit Final was a match up between BenSoleimani.com and Farmers and Merchants Bank. This final was played in skins format, meaning $5,000 was awarded to the winner of each chukker, with a $10,000 bonus awarded victors of the match.
Felipe Marquez replaced an injured Lucas Criado and scored the first goal of the game. However, two goals by Felipe Vercellino won the chukker for BenSoleimani.com to earn the first $5,000 skin. A strong second chukker by FMB team owner, Danny Walker, won the second skin and allowed FMB to take the lead of the game 5-3 at the end of the second chukker. Another strong chukker by FMB in the third widened the gap to start halftime 9-5.
A strong display of defense by both teams resulted in a tie at 1-1 in the fourth chukker. The money from that chukker carried over into the fifth chukker making it worth $10,000. With an extra $5,000 on the line, BenSoleimani.com began their comeback. Felipe Vercellino scored the only goal of the chukker to win the $10,000 skin. A very strong chukker for BenSoleimani.com allowed them to win the final skin and brought the score within one. However it was not enough to make up for the four goal deficit FMB obtained in the third chukker. FMB won the game 11-10.
Farmers and Merchants Bank was awarded a check for $20,000. $10,000 for winning the game and $10,000 for winning two skins chukkers. Despite losing in the final score, BenSoleimani.com was also awarded $20,000 for winning four skins chukkers.
Felipe Marquez was awarded MVP and Felipe Vercellino's "Barbarita" earned Best Playing Pony. FMB's Danny Walker commented on his second tournament win of the season, "In this life we have a chance to create a moment and make it a lifetime memory. For me, winning this 12-goal tournament with Farmers and Merchants Bank with my son Mathew is a great moment and now a lifetime memory."
2019 SBPRC 12 Goal Rosters
Novis Insurance 12
Ivan Wiess A
Santi Trotz 5
Hilario Figueras 3
Maco Llambias 4
bensoleimani.com 12
Ben Soleimani A
Jim Wright 3
Felipe Vercellino 6
Herndon Radcliff 3
Lucchese 12
John Muse A
Jake Klentner 1
Jason Crowder 6
Mariano Fassetta 5
Farmer & Merchants Bank 12
Lucitas Criado 1
Danny Walker 2
Lucas Criado 7
Matt Walker 2
FMB Too! 12
Omar Mangalji A
Juan Monteverde 5
Santiago Wulff 5
Henry Walker 2
Klentner Ranch 12
Luke Klentner 1
Patrick Uretz 4
Jesse Bray 6
Justin Klentner 1