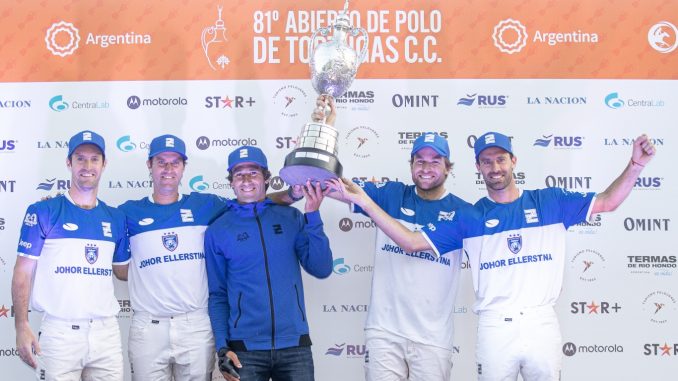 Ellerstina Johor Crowned Champion of Tortugas Open
Ellerstina Johor clashed with La Dolfina Saudi Polo Team in the final of the 81st Tortugas Open at Tortugas Country Club. The first leg of the Argentine Triple Crown came to its conclusion as Ellerstina Johor defended their title and claimed the club's thirteenth Tortugas Open championship 11-9. Within two goals in the early stages of the match both teams battled for an advantage, as Ellerstina Johor would break out in the fourth and fifth chukkas scoring a total of six goals including four successful penalty 2 attempts from Facundo Piers to shift the momentum in Ellerstina Johor's favor. It would be the efficiency of Ellerstina Johor's penalty conversions that would ultimately give them the edge over La Dolfina Saudi Polo Team, finding the goal in five of their six attempts.

The closely contested match-up between Ellerstina Johor and La Dolfina Saudi Polo Team was apparent from the opening chukka with each team trading penalty goals in the opening stages of the first, while Tortugas Open final newcomer and substitute for the injured Hilario Ulloa, Matías Torres Zavaleta gave Ellerstina Johor the early advantage with an additional goal from the field. Facundo Pieres posted his first field goal on the day for Ellerstina Johor while David Sterling and Francisco Elizalde each responded for La Dolfina Saudi Polo Team. Tied with three goals each in the third chukka, La Dolfina Saudi Polo Team would pull ahead by two, including one goal from Diego Cavanagh, making his Tortugas Open debut. Left off the scoreboard in the third, Ellerstina Johor managed to take control of the fourth chukka converting two penalty goals while Gonzalo Pieres added another from the field to take the lead at halftime 11-8.
Emerging from the break, Ellerstina Johor continued to take advantage of their offensive opportunities with Facundo Pieres knocking in another penalty goal to contribute to Ellerstina Johor's three goal fifth chukka. Held to just one goal in the second half, La Dolfina Saudi Polo Team's David Sterling struck first from the field in the sixth but was immediately answered by Ellerstina Johor's Torres Zavaleta. Carrying a three goal deficit into the final chukka of play, La Dolfina Saudi Polo Team's Elizalde was able to cut the difference to only one with two goals in the opening of the seventh but it would be too late for a final comeback as Gonzalo Pieres would knock-in one last goal from the field to seal Ellerstina Johor's championship victory.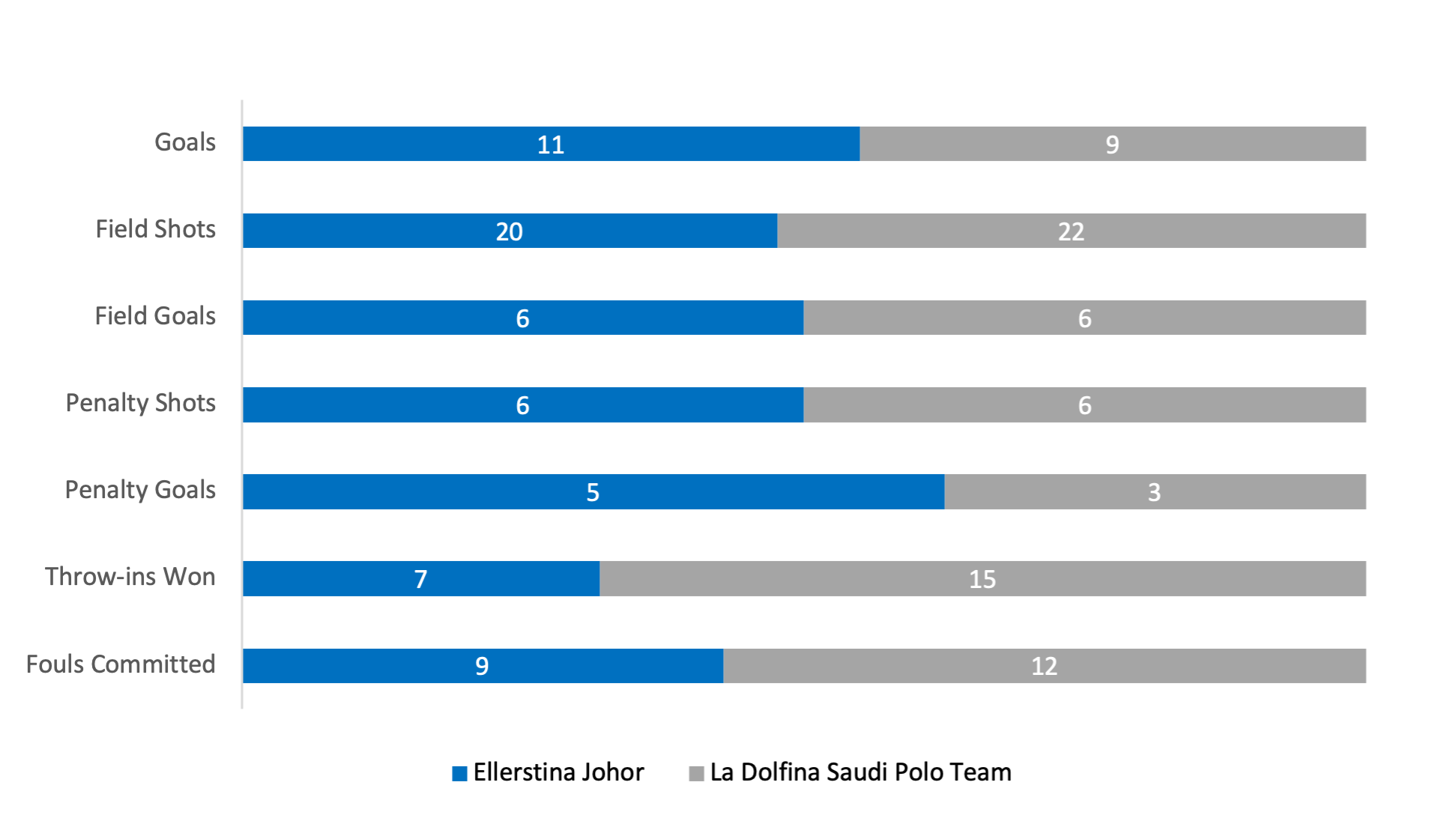 La Natividad and La Dolfina Brava Polo Team also met earlier in the subsidiary final, with La Natividad defeating La Dolfina Brava Polo Team 14-10. Conceding two goals on handicap, Pablo Pieres began the scoring in the first chukka with his first of six goals on the day for La Natividad. Adolfo Cambiaso and Guillermo Terrera each answered for La Dolfina Brava Polo Team but another first chukker field goal from Pieres and Camilo Castagnola allowed La Natividad to take a commanding opening lead. Bartolomé Castagnola and Pieres kept the pressure on in the second with each contributing two goals from the field as La Dolfina Brava Polo Team would be held to only one goal from Guillermo Terrera. La Natividad's ability to dominate in open play continued into the third and fourth as La Dolfina Brava Polo Team were only able to convert two goals from the field on ten shots. Despite a missed penalty attempt from Castagnola in the third, La Natividad were able to combine for four goals in the third and fourth chukkas to take a 11-8 lead at halftime. 

Emerging from the half Alejo Taranco struck first in an attempt to generate a momentum swing for La Dolfina Brava Polo Team. Ultimately defense would define the latter stages of play with La Natividad and La Dolfina Brava Polo Team exchanging just one goal each in the fifth and sixth chukkas. Castagnola's successful penalty shot in the seventh saw the only goal of the chukka for either team as La Natividad rode their early offensive lead to a 14-10 Sarmiento Cup victory.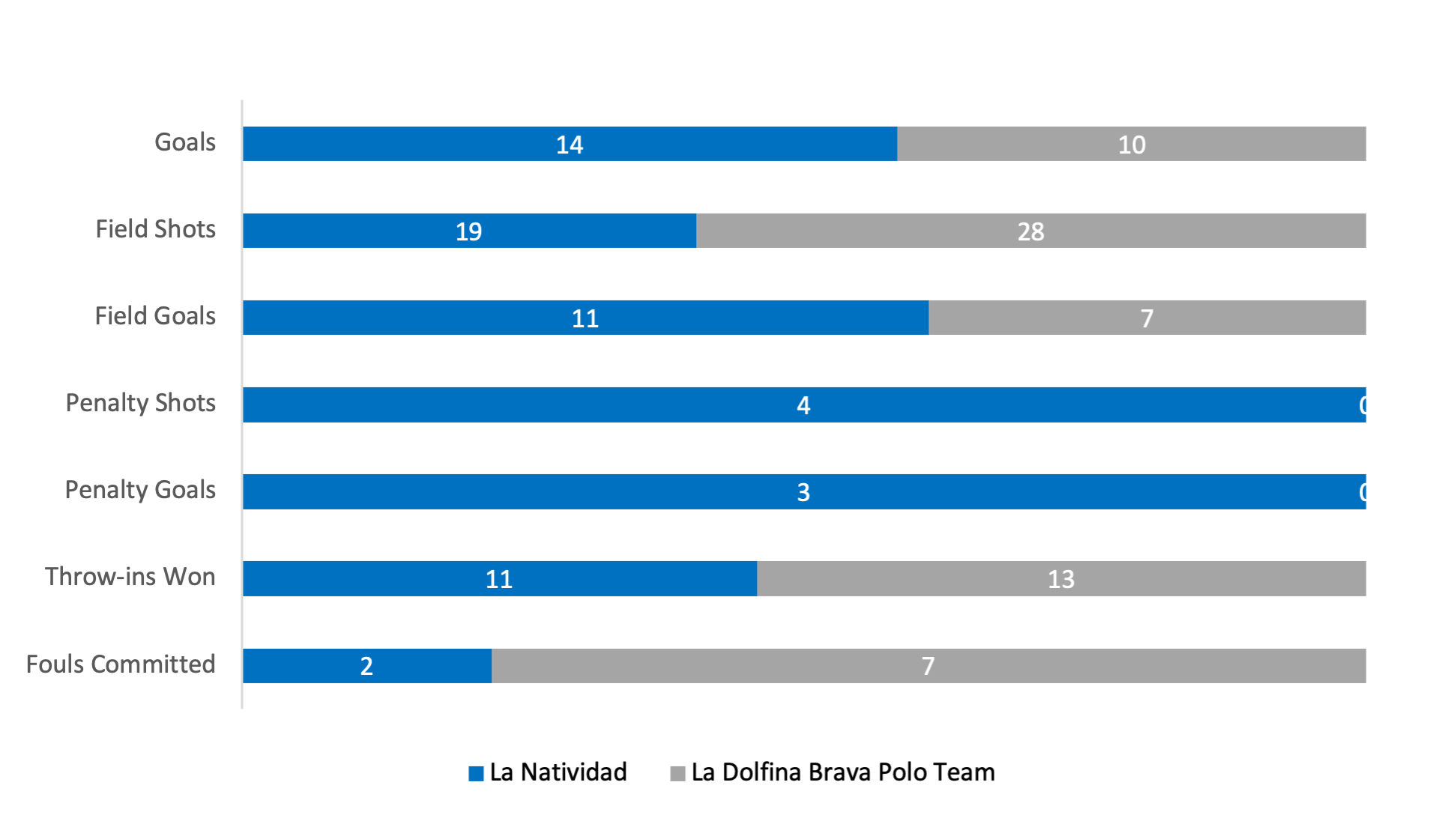 Photo Credit: ©Matias Callejo