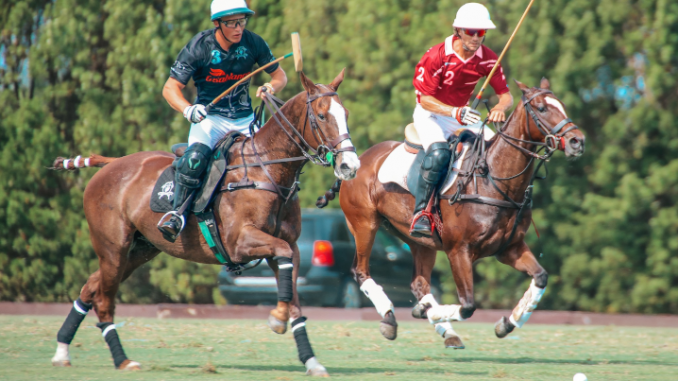 Casablanca Beats Orea Polo Team in Overtime on First Day of Bracket A Play in the Triple Crown of Polo
WELLINGTON, FL, April 1, 2021— Casablanca defeated Orea Polo Team by 13-12 today in overtime as Bracket A play began in the Triple Crown of Polo.
By Rebecca Baldridge
Photos by ChukkerTV
Casablanca (Grant Ganzi, Juancito Bollini, Barto Castagnola, and Juan Martin Nero) took on Orea Polo Team (Justin Daniels, Sugar Erskine, Torito Ruiz, and Nacho Novillo Astrada) in the first Bracket A match of the World Polo League's Triple Crown of Polo. Casablanca, with a team handicap of 26 goals, ceded three goals to Orea, a 23-goal team, on handicap.
Orea Polo Team started the game with three goals on the board but committed a pair of fouls off the bat that let Barto Castagnola convert two penalties in as many minutes of play. Castagnola followed up with a goal from the field, eroding Orea's advantage on handicap and tying the score at 3-3. Justin Daniels converted a Penalty 2 and just as the horn sounded, Juan Martin Nero took the ball through the posts to end the first period in a 4-4 tie.
Orea came out strong in the second chukker, managing to contain Casablanca as they struggled to replicate their performance in the first period. Justin Daniels scored Orea's first goal from the field, with Nacho Novilla Astrada taking the ball through the posts barely a minute later. Juan Martin Nero fought back with a goal at 2:22, cutting Orea's lead to one, but Toro Ruiz converted a Penalty 6 to put Orea back in the lead by two goals.
Barto Castagnola went to the penalty line after 30 seconds of play in the third chukker, startling both himself and his teammates as a Penalty 2 went wide. Toro Ruiz took control of the ball, making a spectacular angled neck shot from 90 yards and followed up with a second goal to take the score up to 9-5 in Orea's favor Castagnola took another Penalty 2 shot, this time putting the ball through to end the half at 9-6.
Casablanca got their mojo back in the fourth chukker, playing a determined defense and scoring three unanswered goals. Juancito Bollini picked up a pass from Grant Ganzi to take the ball through the uprights at 6:48, followed by another Penalty 2 from Castagnola. A goal from Nero ended the chukker with the score even at nine goals apiece. The fifth chukker was a battle of attrition, with both teams fighting to get on goal with relatively little success. Torito Ruiz converted a Penalty 4, while Castagnola scored an equalizer with 31 seconds left to play.
The final chukker began with a 10-10 tie on the board. Following a nice approach by Ruiz, Justin Daniels picked up the loose ball and knocked it in, putting Casablanca slightly on the back foot. With 4:54 on the clock, Sugar Erskine got a length-and-a-half lead on Juancito Bollini and made a brillian neck shot at speed, putting Orea ahead at 12-10. However, with a team like Casablanca there's no room for overconfidence. Erskine managed to hook Bollini on a play, but Nero was left open, which is always dangerous. He took the ball to goal, and with 2:08 left to play Barto Castagnola evened the score at 12-12.
Orea attempted to sustain the pressure but the buzzer sounded with the game still tied. Play went into overtime and it took Juan Martin Nero only 12 seconds to run the ball to goal and secure the win for Casablanca. Barto Castagnola was the high scoring player of the day with seven goals.