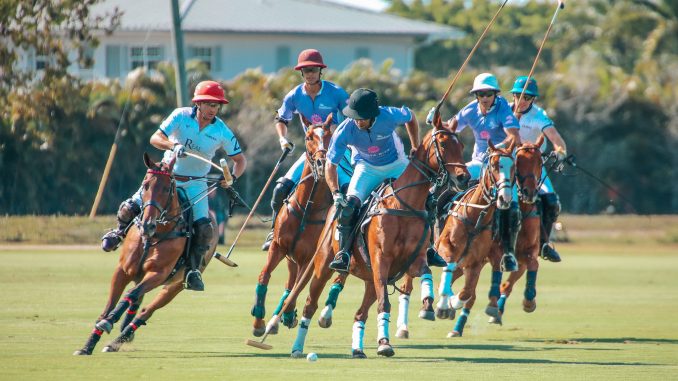 Richard Mille and Tamera Victorious as Play Begins in the Triple Crown of Polo
WELLINGTON, FL, April 1, 2021— Richard Mille defeated Seminole Casino Coconut Creek by 14-13 while Tamera beat Santa Rita 10-6.
By Rebecca Baldridge
Photos by ChukkerTV
Richard Mille (Marc Ganzi, Jeta Castagnola, Pablo MacDonough, and Paco de Narvaez) met Seminole Casino (Melissa Ganzi, Nic Roldan, Alejandro Novillo Astrada, and Juan Martin Zubia in the first match of the World Polo League's Triple Crown of Polo. Richard Mille, with a team handicap of 26 goals, ceded two goals to Santa Rita, a 24-goal team, on handicap.
Barely thirty seconds into play, Marc Ganzi got out in front to score the first goal of the day and narrow Seminole Casino's advantage to one goal. With rain bucketing down, there was some question as to whether play could continue. Unperturbed by the foul weather, Nic Roldan slammed a long shot through the posts and followed up by taking the ball downfield straight to the goal. Marc Ganzi converted a Penalty 2 and the chukker ended with Seminole Casino leading 4-2.
Fortunately, the rain came to a halt, allowing play to continue. Less fortunately, Seminole Casino's ability to score also came to a halt during the second period. Each member of Richard Mille contributed a goal, and by the end of the chukker Richard Mille had taken a 6-4 lead. At the start of the third chukker, Nic Roldan took the ball from the bowl-in to the goal within 12 seconds, giving Seminole Casino a shot in the arm, and in the next 40 seconds finished on a pass from Juan Martin Zubia to tie things up. Later in the period Roldan completed a hat trick, but a pair of penalty conversions ended the half with Richard Mille leading by 9-7.
In the fourth chukker, it was Pablo MacDonough who scored the hat trick, starting with an easy penalty conversion and adding two more goals. Seminole Casino once again failed to get past Richard Mille's defense and score. Early in the pentultimate chukker, Pablo MacDonough made an impressive coast-to-coast run and passed the ball to Marc Ganzi for the finish. Seminole Casino's Juan Martin Zubia roared to life in this chukker, scoring a hat trick of his own with a goal from Roldan as well. The final chukker saw Seminole Casino giving their all as they managed to keep Richard Mille away from the posts while Roldan and Zubia both scored. Had the team managed to capitalize on a few lost opportunities, the match might have gone to Seminole Casino. In the end though, Richard Mille won by a narrow 14-13. Marc Ganzi and Nic Roldan were the high scoring players, each with 7 goals to his credit.
In the second match of the day, Tamera (Ale Poma, Santi Torres, Diego Cavanaugh, and Jejo Taranco) took on Santa Rita (Robert Strom, Nacho Figueras, Clemente Zavaletta, and Horacio Llorente). Twenty-five goal Tamera ceded one goal to Santa Rita on handicap.
Tamera dominated play from the get-go, keeping Santa Rita away from the uprights while Ale Poma scored the first goal of the day and Santi Torres converted a Penalty 3. In the second period, Diego Cavanaugh left two Santa Rita defenders behind and made an impressively angled shot to score for Tamera. He followed up with another two minutes later to put his team in the lead at 4-0. With 40 seconds remaining to play, Clemente Zavaleta hit a neat neck shot and put Santa Rita's first goal from the field on the board, ending the chukker at 4-2. Although Santa Rita started to play a better game in the third chukker, they were still unable to make it on goal. Tamera couldn't score from the field either but added two goals from penalties to end the half 6-2.
The teams were back and forth for almost three minutes before Jejo Taranco gained three lengths on a pursuing Horacio Llorente and scored for Tamera. Santi Torres picked up a loose ball and put it through the uprights to take Tamera up 8-2. Clemente Zavaleta scored for Santa Rita with a successful Penalty 3 conversion, putting their third goal on the board. Tamera continued to play exceptionally well in the fifth chukker and put the score up to 10-3. Santa Rita's Nacho Figueras battled his way to the goal to end the chukker with Tamera leading 10-4. In the final period of play, Santa Rita finally found their rhythm, keeping Tamera away from the goal. Llorente and Figueras both scored but it was too little too late, and Tamera carried the day by 10-6. Santi Torres was the high scoring player with five goals for Tamera.