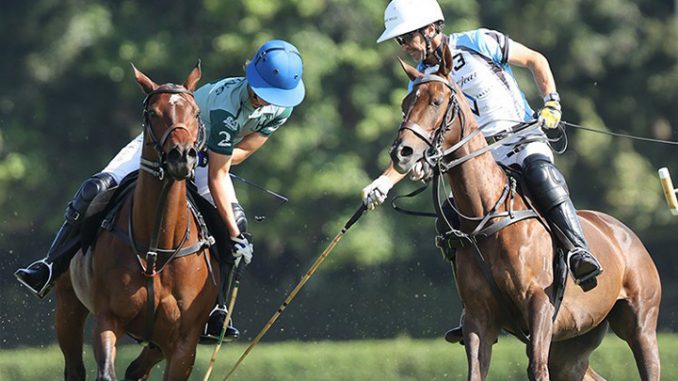 Aspen Valley Polo Club, Tamera, and Santa Rita Polo Farm Earn Victories in the U.S. Open Polo Championship®
 An action-packed day of high-stakes polo continued in the U.S. Open Polo Championship® at International Polo Club (IPC). Featuring the debut of three teams in the Gauntlet, the tripleheader kicked-off with Aspen Valley Polo Club taking their first victory of the GAUNLET against G-String Polo Ponies (formerly Coca-Cola) in an exhilarating 12-11 overtime victory. Assembling on Isla Carroll East, Tamera rebounded from their USPA Gold Cup® semifinal loss to open their bid for the U.S. Open with the 8-6 win over La Indiana. Shifting locations to Grand Champions Polo Club for the final matchup of the day, newcomer Santa Rita Polo Farm made a strong statement against Grand Champions Polo Club with a dominant 14-6 victory.
Initiating the action at IPC's Field 3, the familiar faces of Coca-Cola under their new moniker of G-String Polo Ponies faced-off in a tightly contested offensive battle against Aspen Valley Polo Club. Receiving a double yellow card in at the end of the quarterfinals against Scone in the USPA Gold Cup®, G-String Polo Ponies' Julian de Lusarreta started the match in the penalty box, leaving his team shorthanded for two minutes.
Using their extra man to their advantage, Aspen Valley Polo Club's 10-goaler Pablo Mac Donough quickly split the coverage for back-to-back goals, giving his team an early 2-0 lead. With five combined fouls committed in the second chukker, the two teams exchanged swings from the penalty line, including two conversions from Alejandro Novillo Astrada to maintain a slim one-goal advantage for Aspen Valley Polo Club. Despite scoring two goals in the third, G-String Polo Ponies spent the majority of the chukker on their heels, as the phenomenal play of Mac Donough from the field led to a string of three consecutive goals, carrying Aspen Valley Polo Club to a 7-5 lead entering the break.

Building on their momentum in the second half of play, Astrada and Mac Donough continued their accuracy from the line, combining for four successful conversions over the first four chukkers of play. Relying on their strengths as a second half team, Nico Pieres stepped up for G-String Polo Ponies, contributing four late game goals, offsetting the scoring power of Aspen Valley Polo Club to keep the match within two. Finding the scoreboard for the first time since the third chukker, de Lusarreta drove to the goal late in the sixth, while teammate Escobar tapped a crucial Penalty 2 to tie the match 11-all and force overtime. With both teams finding their stride simultaneously, the extra chukker provided each side multiple opportunities. Leading Aspen Valley Polo Club with seven goals in their impressive debut, Mac Donough found the goal once again as he tapped the ball through the air and across the line to score the 12-11 golden goal.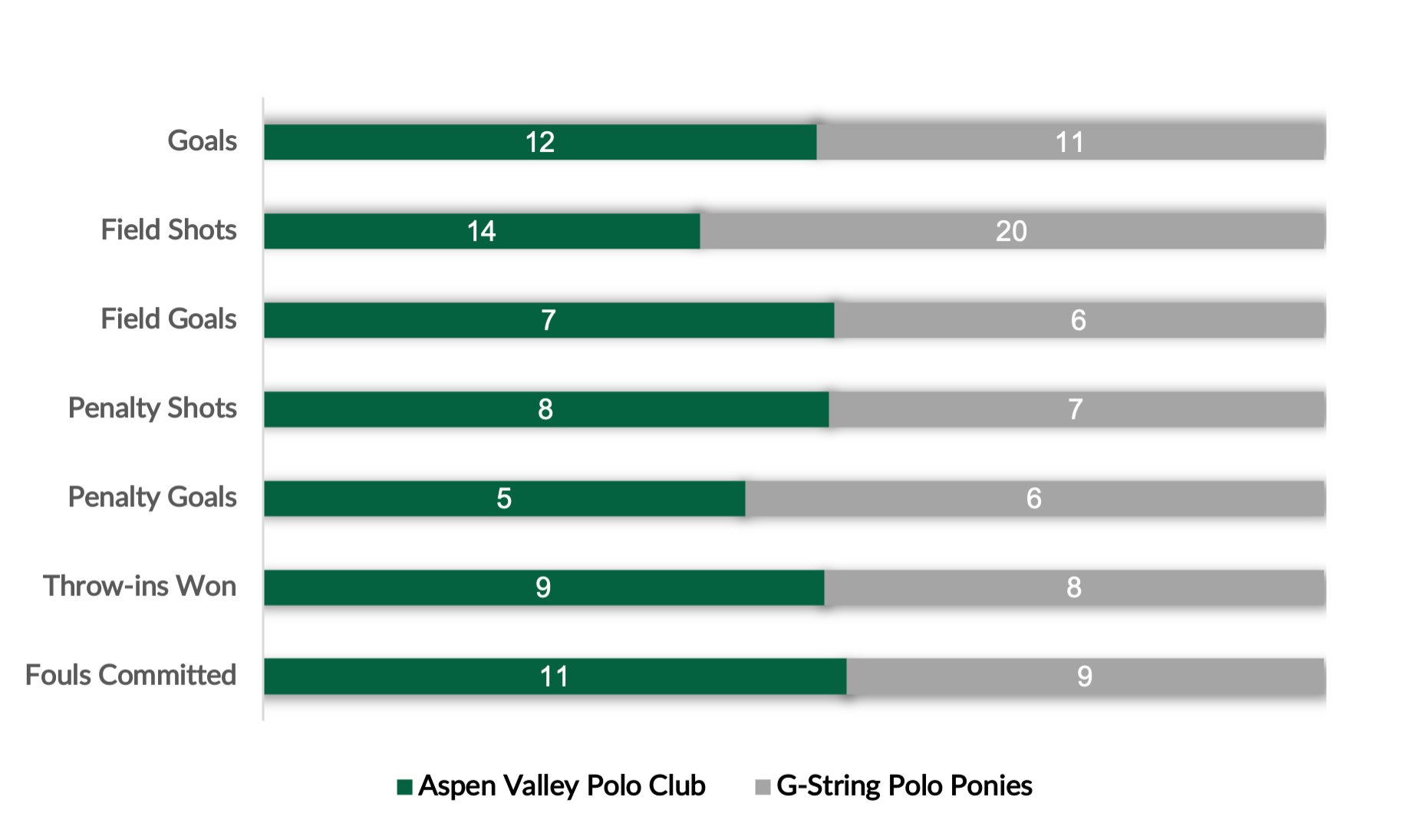 Facing each other for the second time in the GAUNTLET, Tamera entered Isla Carroll East prepared to avenge their previous loss to La Indiana. Striking first, Diego Cavanagh and Alejandro Poma wasted no time getting Tamera on the board. In a tightly played defensive battle, goals were hard to come by for both sides, and apart from a Penalty 1 drawn by Lucas "Luckitas" Criado Jr., each goal had to be fought for on the field. Following his opening goal, one more tap in from Cavanagh gave Tamera a narrow 5-3 halftime lead.

After battling in contested coverage for the majority of the first half, a goal from La Indiana's Jeff Hall finally opened play in the field. Combining for four goals in the final chukkers, Magoo Laprida and Cavanagh maintained Tamera's lead, with Cavanagh's team leading four goals pushing Tamera ahead 8-5. Following a valiant effort from Criado Jr.'s two-goal fifth chukker, one final push from La Indiana's young star left them just short of the comeback, as Tamera took the match 8-6.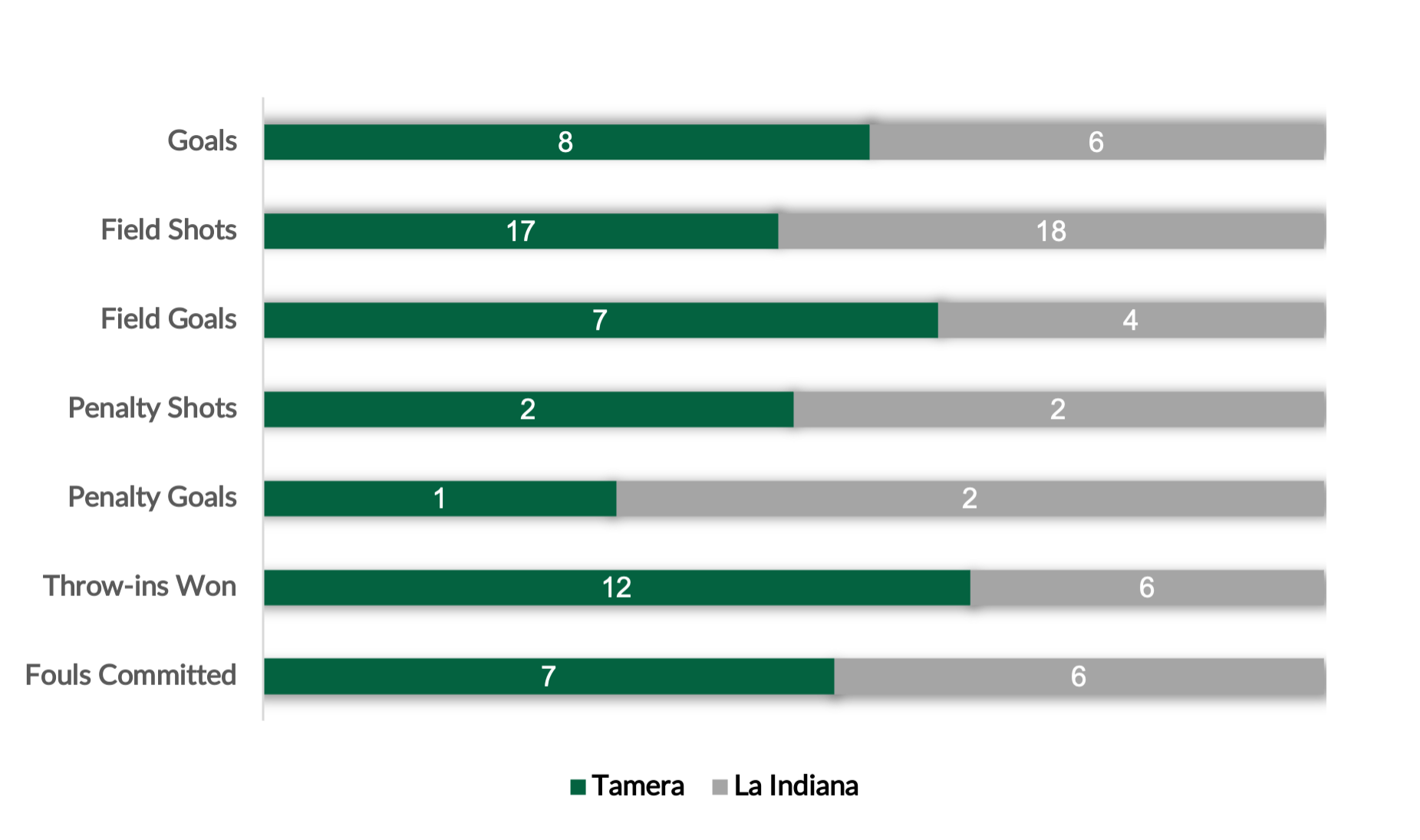 Switching venues to Grand Champions Polo Club, home club Grand Champions and Santa Rita Polo Farm each made their anticipated U.S. Open Polo Championship® debut. Fuelled by the drive and energy of 9-goaler Camilo Castagnola, Santa Rita Polo Farm wasted no time getting out to a three-goal lead, with each coming off the mallet of Castagnola.
Working in stride with Castagnola, Polito Pieres posted his first goal, but a triple yellow against Grand Champions Polo Club's Gonzalito Pieres following the play relegated him to the penalty box for four minutes. Suffering an immense loss, Grand Champions Polo Club struggled to defend against the powerful duo of Castagnola and Polito Pieres, as the two sharp shooters went on a dominant run of five goals for a 9-0 lead. Rejoining his team to begin the third, Gonzalito Pieres immediately went to work for Grand Champions, scoring twice from the line in an attempt to slowly chip away at their immense eight goal deficit.

Regrouping at the half, Gonzalito Pieres sent his third conversion through the posts to open the fourth, but Polito Pieres and Castagnola were quick to respond once again from the field. After adding two goals in the fourth, Santa Rita Polo Farm's exceptional defence left Grand Champions Polo Club off the scoreboard in the fifth, while adding another two, this time from Guerrero to re-gain a commanding ten goal lead. Both Juan Martin Zubia and Riley Ganzi found late goals for Grand Champions Polo Club, but the loss of Gonzalito Pieres in the second chukker was too monumental, as Santa Rita Polo Club finished their impressive U.S. Open Polo Championship® debut with a 14-6 victory.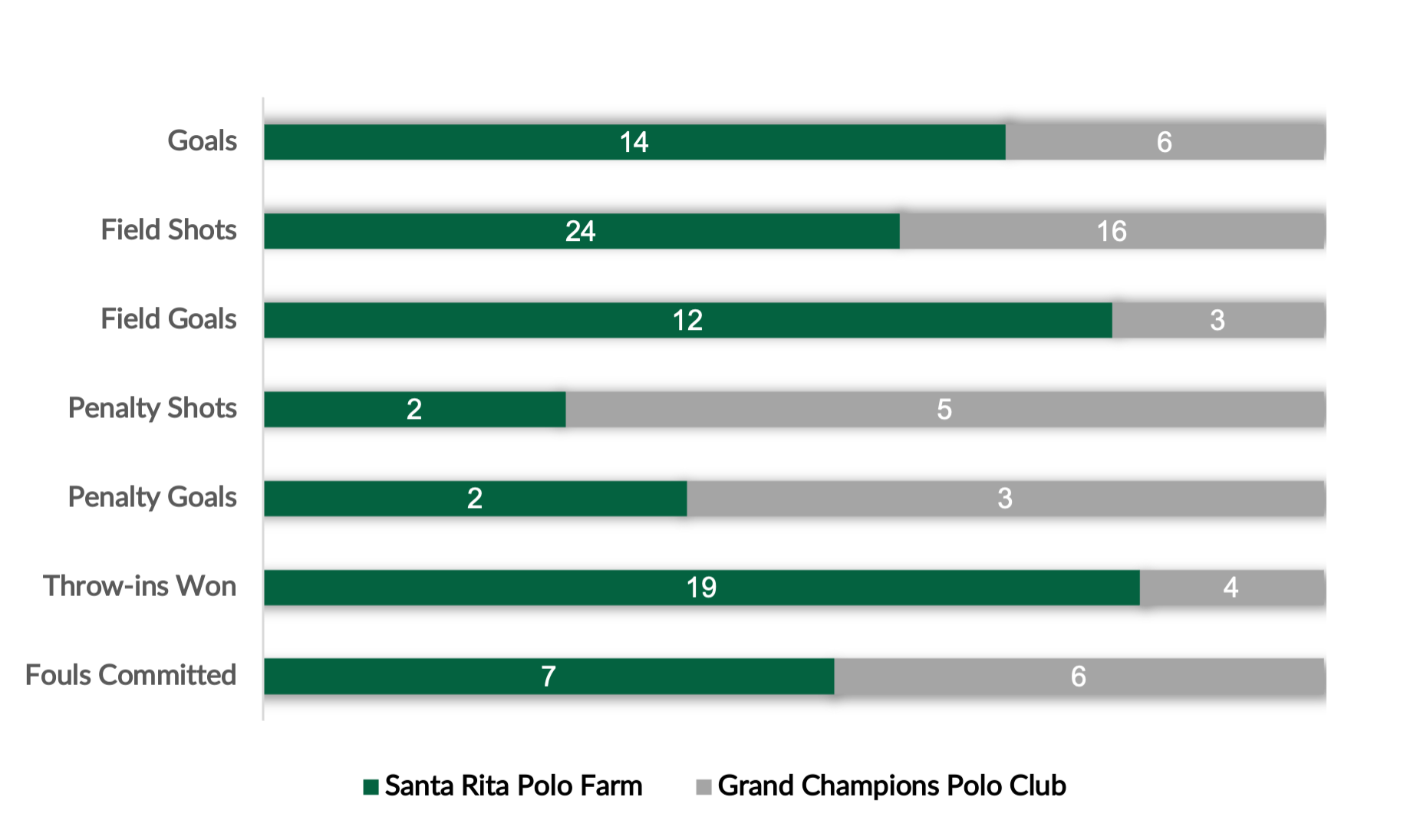 Play continues in the U.S. Open Polo Championship® on Thursday, March 31 with Polo Training Foundation and Sol de Agosto making their entrance into the competition at Grand Champions Polo while reconvening back at IPC Field 5, the second match of the day will feature new roster additions for both La Elina and Scone, following an injury to Scone's Adolfo Cambiaso.
Photo Credit ©Alex Pacheco