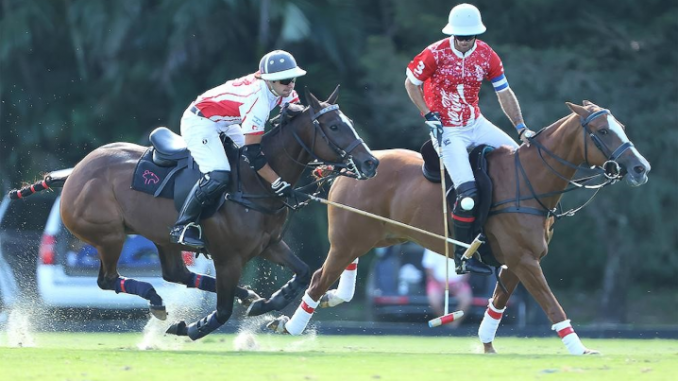 Scone Advances to Quarterfinals in CaptiveOne U.S. Open Polo Championship®
Wellington, FL – April 5, 2021 – The final game of bracket play in the CaptiveOne U.S. Open Polo Championship® resulted in Scone returning to the win column, defeating Coca-Cola 10-7 on Field 3 at the International Polo Club Palm Beach (IPC).
Pulling away in the second half, Scone held Coca-Cola to just one goal over a three-chukker stretch, controlling possession to build a significant lead. Producing twice as many shots at goal, Scone was led by the six-goal performance of Peke Gonzalez and the play of Sayyu Dantata Jr., who proved to be an effective substitute for David Paradice, scoring two goals in the victory. Coca-Cola stayed even in the early stages behind the play of Nico Pieres, but a strong Scone defense changed the momentum of the game, while the few fouls Coca-Cola did commit resulted in penalty conversions for Adolfo Cambiaso and Gonzalez, leading to the 10-7 outcome in favor of Scone.
Gillian Johnston opened the game with a goal for Coca-Cola, striking first against a Scone team looking for their first win of the tournament. After Gonzalez tied the score, a Penalty 4 conversion for Pieres pushed Coca-Cola back into the lead as they provided a determined attack in the opening chukker. Making an early impact, Dantata Jr. ended the first chukker with a goal, tying the game at 2-2. Trading goals throughout the second chukker, Scone generated their offense from the penalty line while Coca-Cola responded from the field, but the result was the score remaining tied with neither team able to pull ahead. A fast-paced end to the first half saw no whistles and nine shots between the two teams, but Scone was the only team to find the goal on a field goal from Gonzalez to take the narrow 5-4 lead into halftime.
Scone began the second half controlling possession and keeping Coca-Cola in their defensive end as they held them to zero shots over the fourth and fifth chukkers. Adolfo Cambiaso increased his presence in the game, receiving a Penalty 1, converting a safety and assisting on a Gonzalez field goal in a span of minutes to give Scone the commanding 8-4 lead. Coca-Cola's comeback hopes were dashed in the fifth chukker, extending their goalless streak from the field to over 20 minutes. Dantata Jr.'s second goal completed a run of six unanswered goals that left Coca-Cola facing a 10-4 deficit on the scoreboard. Pieres fought to try and bring Coca-Cola within reach, scoring the final three goals of the game, but ultimately Scone's performance led to the 10-7 victory.
Play resumes on Thursday when Aspen/Dutta Corp faces Santa Clara in a playoff game to determine the final spot in the quarterfinals, beginning on Saturday, April 10 at IPC.
Photos ©Alex Pacheco