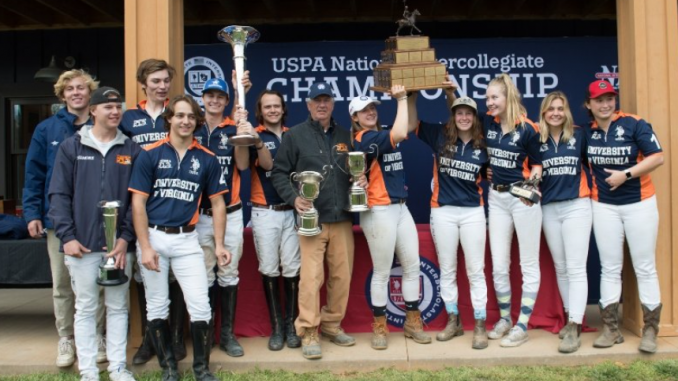 U.S. Polo Assn. Supports Collegiate Polo Teams for the 2023 Polo Season
Global, Sport-Inspired Lifestyle Brand Reaches Five Years of Collegiate Partnership Program
WEST PALM BEACH, Fla. (February 7, 2023) — U.S. Polo Assn., the official brand of the United States Polo Association (USPA), will outfit competitive collegiate polo players for the fifth consecutive year through its nationwide Collegiate Partnership Program (CPP) for the 2023 Collegiate Polo Season.
A total of 29 colleges have signed up to participate in U.S. Polo Assn.'s annual CPP, representing 47 collegiate teams with 28 women's and 19 men's teams. Enrollment for the sports enrichment program is open to all colleges and universities with a USPA sanctioned polo team and lasts for one academic year. Teams in the program range from east coast to west coast and include small private and large public institutions, as well as Ivy League and HBCU. New schools joining the program this year include Grossmont College and Middle Tennessee State University.
Through this program, U.S. Polo Assn. will provide student-athletes with complete game attire that includes customized performance team jerseys, white performance pants, polo shirts, caps and equipment gear bags. A monetary donation is also given to the teams, which can be used for travel or other expenses.
For the first time, a USPA Pro item will be donated to all student-athletes. The USPA Pro performance products are designed in collaboration with professional polo players. There will also be a "Collegiate Social Media Contest" where teams will have the opportunity to win additional prizes for their creative social media posts.
Sanctioned by the USPA, collegiate polo teams compete in the Fall and Spring with the official season beginning September 2022 and running through April 2023. This season will conclude with the National Intercollegiate Championship (NIC) hosted at the Virginia Polo Center in Charlottesville, VA, from April 10-15, 2023. The Men's and Women's NIC Finals will air on ESPNU on April 15, 2023. Check your local listings for game times.
"U.S. Polo Assn. is proud to continue our support of student-athletes across the country through our Collegiate Partnership Program because these athletes are the future of the game," said J. Michael Prince, President and CEO of USPA Global Licensing, which manages the global, multi-billion-dollar U.S. Polo Assn. brand. "As the official brand of the United States Polo Association (USPA), we want to continue growing and building our authentic connection to the sport of polo, and the Collegiate Partnership Program, now in its fifth year, is one of our most rewarding programs."
An exciting new addition for student-athletes this season was the implementation of the College Polo Tour. This exchange program between America and Argentina supported 21 collegiate polo players on a 7-day trip to Argentina for the opportunity to compete in both grass polo and arena polo, tour renowned Ellerstina Polo Club, attend one of the heart-stopping Argentine Polo Open Semi-Finals and more! Players from Yale University, Harvard University, Cornell University, and Georgetown University, alongside other Argentinean polo players, had the opportunity to experience this program in November 2022.
"We are excited to continue our partnership with U.S. Polo Assn. and all of the amazing opportunities available to our student-athletes," said Liz Brayboy, Chair of the USPA's Intercollegiate/ Interscholastic Committee. "We look forward to an exciting 2022/2023 Collegiate Polo Season and are grateful to have the support of the official brand of the United States Polo Association for these important polo programs across the United States."