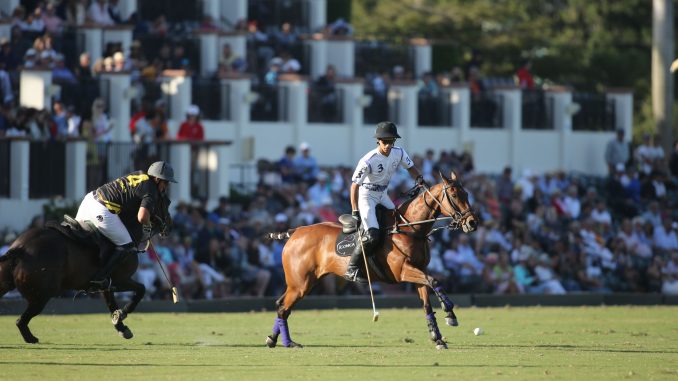 On Sunday, February 12, the Ylvisaker Cup rounded out the second leg of the Florida Circuit 16-Goal Super-Series with a final encounter between Joe Barry Memorial champions Iconica (Maureen Brennan, Mariano 'Peke' Gonzalez, Lucas 'Luckitas' Criado Jr., Santos Merlos) and undefeated Dundas (Sarah Siegel-Magness, Geronimo Obregon, Paco 'Paquito' de Narvaez Jr., Tomas Panelo). Iconica's familiarity and faith in one another helped create an early advantage which they maintained throughout the entire game. Dundas battled back into contention by halftime, but Iconica owned the second half of the final, capitalizing on their confidence in each other to ride away with the 13-7 victory. Marking their second win in the Florida Circuit 16-Goal Super-Series, Iconica's combined wins in the Joe Barry Memorial and the Ylvisaker Cup earned them a guaranteed place in the inaugural Super-Series Championship Final, which will take place in early April.
As the two teams entered the final, the Iconica four-some was fresh off of a win in the Joe Barry Memorial and held strong to an impressive 3-1 record. Dundas remained undefeated with a 4-0 record and delivered Iconica their only loss of the tournament with a 13-10 victory early in bracket play. Of the 16 talented teams that competed throughout the tournament, team owners Brennan and Siegel-Magness were two of the three women competing, emerging from the same bracket. Despite struggling in their first match-up with Dundas, Iconica remained confident in their strategy going into the final. Team owner Brennan shared, "When we didn't make mistakes, we controlled the game. We didn't make a lot of them, but when we did, I feel like that's how [Dundas] scored."
In the opening chukker, Iconica created early momentum with three unanswered goals, giving the team a 3-0 advantage over Dundas. Criado and Gonzalez added two more goals in the second, but were matched by a two-goal response from Panelo and another score from Obregon to close the gap. "We had me pushing forward to have the guys creating space behind, and then sending the long ball to me," said Gonzalez. Iconica leading 5-3, the third chukker offered a similar back-and-forth. The two teams traded goals, with all three of Dundas' scores off the mallet of Panelo. A field goal from Criado and a Penalty 1 in favor of Iconica kept the Joe Barry Memorial champions in the lead 7-6 at the break.
With the second half starting and the Iconica strategy stronger than ever, Criado quickly found the goal twice in the fourth to extend Iconica's lead. A single score from de Narvaez for Dundas ended the chukker 9-7 in favor of Iconica. A strong defensive presence from Iconica in the fifth and sixth chukkers resulted in a complete Dundas shutout, with Gonzalez scoring his fourth of the day while Criado ended the final chukker with two field goals and a successful penalty conversion to give Iconica a decisive 13-7 advantage as the final horn sounded.
Thrilled to have secured another victory in the Super-Series, Criado enthusiastically shared, "We feel very good because it's our second win and it puts us in the final of the Super-Series. It means a lot because it took a little bit of the pressure off, but of course we want to keep winning and doing our best."
For his seven-goal performance, Luckitas Criado was named Most Valuable Player. 10-year-old Argentine bay mare (Open Naipe x Incari Ciudadana), Incari Citadina (Guadalupe), played by Peke Gonzalez and owned by Iconica Polo, was awarded Best Playing Pony honors. "Maureen and my father bought her from Gabriel Crespo two years ago," Gonzalez explained. "She's a part of the Iconica polo organization. She started playing the season with Maureen, and then she gave her to me. She plays really well for me. I usually play her as a spare. I like to play her in the beginning, the first chukker or the second, [and] bring her back again. She gives you three really good minutes at the beginning, and she comes back really well. At the end of the game, I know I have a really good horse outside that's ready to play. She runs really low and is light to the touch all the time, she moves amazingly sideways. She has a lot of speed and she's really comfortable when you run with the ball."
Surprised by her organization's horse earning the recognition, Brennan shared, "I had no idea! Everyone kept saying, 'How do you spell her name?' I'm like, 'Why are we talking about her?' Then again, the other day in the semifinals, she was outrageous. [Peke] just goes end to end scoring and she's everywhere." Pleased with how Gonzalez has helped fine-tune Guadalupe, Brennan added, "I've had Peke play her and now she's tuned up like a machine. I'm probably going to be taking her over at some point, but not until after the Iglehart Cup."
As the Ylvisaker Cup ends, Iconica's Criado and Gonzalez begin the Gauntlet of Polo, both playing for Valiente alongside Adolfo Cambiaso. Looking forward to playing high-goal polo with his Iconica teammate, Gonzalez noted, "It's amazing to be playing the 22-goal with Luckitas. We've been playing together all season and to play with Bob and Adolfo, it's amazing. Tomorrow morning, we [will] be playing again!"
Meticulously planning their horse arrangements between the 16-Goal Super-Series and the Gauntlet, Criado commented, "Peke and I saved probably five to eight each for the 22-goal, which starts tomorrow. We thought it would be a good idea to play them a little bit today to get them in [the] rhythm. I think it worked out really well."
And while it may seem like the perfect time for a celebration given their triumphant victory this weekend, the duo is all preparation for the C.V. Whitney Cup. Opting for a team pizza party instead, Gonzalez remarked, "I'd love to celebrate, but it's too close to the next game. I will go to bed early and focus on the next game that we play tomorrow morning." As Gonzalez and Criado gear up for the Gauntlet, the pair will still continue to compete with Iconica in the remainder of the Super-Series, including the Iglehart Cup (which begins this week) and will be back to compete in the series finale in April.
All of the exhilarating action from the Ylvisaker Cup Final, including insightful player interviews, was recorded by USPA Polo Network and is now available to watch on-demand at uspolo.org and on the USPA YouTube channel.