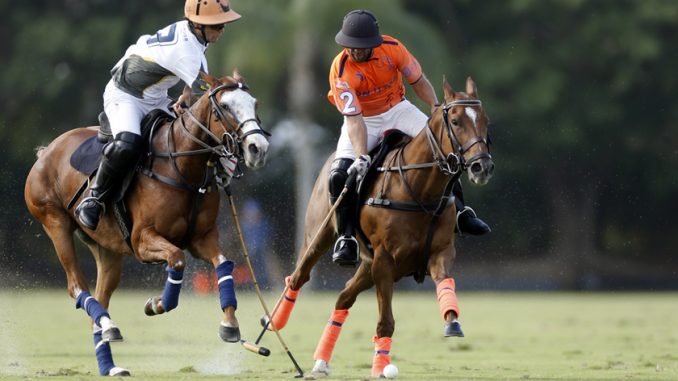 Las Monjitas and Iconica Top Brackets 2 and 3 in USPA Gold Cup
The seventh day of play in the 2019 USPA Gold Cup produced the first quarter-finalists with Las Monjitas defeating Stable Door Polo to win Bracket 2, while Iconica had already secured Bracket 3, falling to Cessna Polo Team 10-8 in the feature game of the week. In a physical game, Park Place edged La Indiana 9-7 to keep their hopes alive at the International Polo Club Palm Beach.
A clean, fast-paced game began play with Las Monjitas displaying a strong, disciplined game to claim victory. After an even first chukka, Las Monjitas exploded for five field goals in the second chukka, led by three goals from Hilario Ulloa to build a four-goal lead. An increased defensive effort from Las Monjitas kept Stable Door Polo out of reach, highlighted by Stable Door Polo converting just two of their eight shot attempts over the third, fourth and fifth chukkas. The result was Las Monjitas controlling play behind Ulloa and Francisco Elizalde and keeping Stable Door Polo off the penalty line. Facing a six-goal deficit, Stable Door Polo made a late comeback attempt in the sixth chukka, led by Victorino Ruiz Jorba and Santiago Toccalino, but could only get within three goals, falling 10-7 for their first loss of the tournament.
The second game of the day featured a physical affair with yellows on both sides due to collisions in the game. A low scoring first half saw neither team able to take control of the game, with possession constantly changing hands and only nine combined shots through three chukkas. Substituting for Tommy Collingwood, Lucas Diaz Alberdi's third goal of the game tied the score at 5-5 leading into the final chukka. The defensive battle instantly turned into an offensive final chukka, with Park Place exploding for four goals, led by a penalty 3 and 4 conversion for Juan Britos. Two more goals from Alberdi concluded a five-goal unanswered run for Park Place that included a two-minute period where Facundo Obregon was forced off the field after receiving a double yellow to help Park Place claim the 9-7 victory and keep their hopes for the quarter-finals alive.
The final game of the day between Iconica and Cessna Polo Team in front of the grandstand featured a controlled game, with both team's fate already determined for the quarter-finals. Cessna, led by Felipe Marquez and Ezequiel Martinez Ferrario grabbed the early lead and never looked back, effectively jumping on loose balls to begin their counter-attack. An organized Cessna defence contained Peke Gonzalez from getting open runs to goal, while Ignatius Du Plessis and Matias Magrini looked to build on the chemistry in the back of the game. Behind accurate 7 for 11 shooting, Cessna claimed the victory for their first win of the tournament, while Iconica remained first in Bracket 3 heading into the quarter-finals.