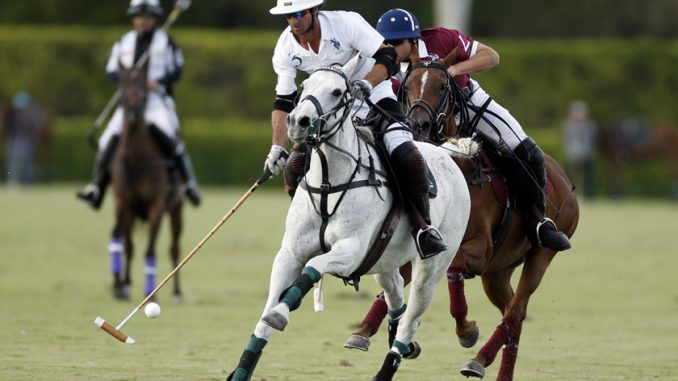 Three Teams Remain Undefeated on Day Six of USPA Gold Cup
The sixth day of play in the 2019 USPA Gold Cupat the International Pplo Club Palm Beach saw three teams remain undefeated in convincing victories. Daily Racing Form defeated SD Farms 13-7 in the opening game of the day, followed by an 8-3 victory for Aspen over Tonkawa, with the day highlighted by a dominant 18-9 win for Pilot against Old Hickory Bourbon.
In a balanced team performance, Daily Racing Form attacked the SD Farms defence in multiple ways, with all four plays scoring at least two goals and contributing on the attack. A dominant 4-0 second chukker gave Daily Racing Form the five-goal lead, thanks to two penalty conversions from Agustin Obregon. Facing a large deficit, SD Farms looked to fight back in the game, but struggled to convert their chances around goal, with only Peco Polledo having success in the fourth chukker on two goals, one each from the penalty line and the field. Ultimately, Daily Racing Form highlighted their victory with a strong final chukka that included a goal and an assist for each of Jared Zenni, Agustin Obregon and Geronimo Obregon to claim the 13-7 victory.
The second game of the day saw a game of missed opportunities with Aspen and Tonkawa combining for just 11 goals in the game. In a back and forth defensive battle, the fast style of play suited both teams, but the inability to convert around goal ultimately decided the game, with Tonkawa shooting just 21% from the field. Polito Pieres led the way offensively for Aspen with three goals in the opening half, while Tonkawa's only offense came off the mallet of Agustin Merlos who scored Tonkawa's only goal, resulting in a 4-1 halftime lead for Aspen. Tonkawa's frustration continued into the second half, as they failed to find the goal, while Aspen stretched their lead to five thanks to goals from Stewart Armstrong and Polito Pieres. Holding Tonkawa to shots from distance, Aspen completed the commanding 8-3 victory to improve to 2-0 in the tournament.
The final of three games, saw a dominant performance from Pilot, amassing 18 goals in an overwhelming offense attack that couldn't be slowed by Old Hickory Bourbon. The first chukker gave Pilot some cause for concern, with Jason Crowder running rampant to score four goals, giving Old Hickory Bourbon the 5-2 lead. The rest of the game was all Pilot, led by an impressive 8-goal first half performance from Facundo Pieres. Matias Gonzalez was also effective throughout the game, causing numerous steals and running to goal with accuracy. Continually using the pass and dominance in the throw-in line to create breakaways, Pilot remained undefeated with the 18-9 victory.