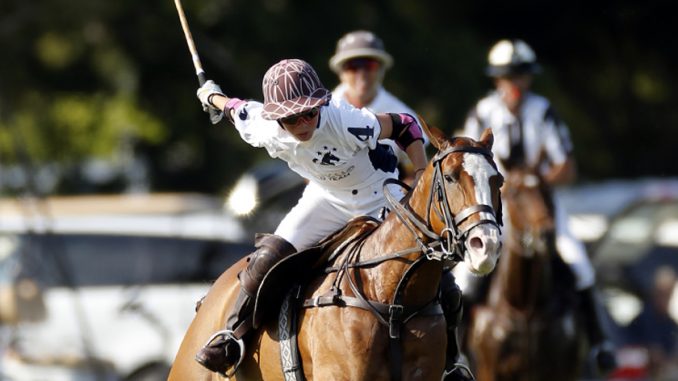 Equuleus Joins Iconica in Quarter-Finals for Bracket 3
The eighth day in the 2019 USPA Gold Cup featured a must-win game between Equuleus and Santa Clara with the 9-6 victory going to Equuleus at the International Polo Club Palm Beach. Earlier in the day, Postage Stamp Farm defeated Coca-Cola for their first victory of the tournament.
Holding the lead throughout the entire game, Equuleus produced an organized attack that saw the Laprida brothers, Ignacio and Magoo, effectively attack Santa Clara throughout the game. Both teams generated offensive opportunities at an equal rate, but Santa Clara converted just 19% of their shots against a tough Equuleus defence. Field goals from Ignacio Laprida and Mariano Gonzalez put Equuleus out in front, but foul trouble allowed Santa Clara to claw their way back, with Ignacio Toccalino finishing a perfect 3 for 3 from the penalty line. The inaccurate shooting for Santa Clara proved to be their downfall as Equuleus separated themselves in the second half, after goals from Milo Dorignac and Ignacio Laprida. A late charge led by Luis Escobar wasn't enough to bring Santa Clara back in the game, who were ultimately defeated by Equuleus 9-6. Equuleus secures their spot in the quarter-finals, finishing behind Iconica in Bracket 3.
The opening game of the day between Postage Stamp Farm and Coca-Cola came down to the final seconds with the two teams evenly matched and the game consisting of a series of runs. Postage Stamp Farm came out firing, led by Mariano Agurre, who contributed with a goal and two assists to give his team a 4-0 lead. The passing attack for Postage Stamp Farm disappeared the rest of the half, with numerous turnovers leading to Coca-Cola offense, as they scored six unanswered goals to finish the half and take the 6-4 lead. Ignacio Novillo Astrada finished with four first half goals after a scoreless first chukker that was part of an efficient Coca-Cola attack. Trading goals over the final three chukkers, consecutive goals from Julian de Lusarreta tied the game at 10-10 with the score remaining tied into the final minute. After the ball was taken off the goal line by Astrada, Aguerre picked up the ball and placed a neckshot just inside the post with 20 seconds left to claim the exciting 11-10 victory.