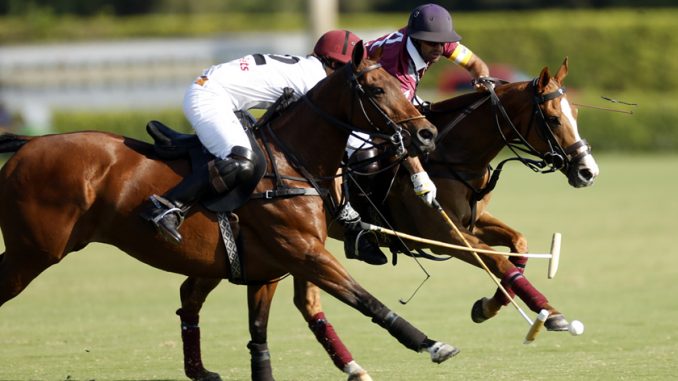 Pilot Continues Run Through Gauntlet of Polo
The ninth day of the 2019 USPA Gold Cup at the International Polo Club Palm Beach featured a close match between Pilot and The Daily Racing Form, with Pilot improving to 7-0 in the Gauntlet of Polo with the 10-9 victory. The second match of the day resulted in SD Farms claiming the narrow 9-8 win over Old Hickory Bourbon at Everglades Polo Club.
With the winner claiming the #1 seed in Bracket 4, Pilot received a stiff test from The Daily Racing Form, who produced a high-pressure defence in the attempt to slow Facundo and Gonzalito Pieres. Content to execute numerous lay-offs down the field, Daily Racing Form were forced into playing on-ball defense, which resulted in a high number of fouls throughout the game. Facundo Pieres converted 2 of his 4 penalty attempts to give Pilot the lead, but Daily Racing Form fought their way back within one by the end of the half, and into a tie by the fourth chukka. The elite 10-goaler Facundo Pieres scored back-to-back goals, placing Pilot ahead by two. A late comeback from Santiago Cernadas brought Daily Racing Form back within one, but with just 40 seconds remaining, time expired as Pilot held on for the exciting 10-9 victory.
The second match of the day featured a game between Old Hickory Bourbon and SD Farms that came down to the penalty line over the final three chukkas, with neither team able to convert with accuracy from the field. Old Hickory Bourbon's Jason Crowder and Miguel Novillo Astrada worked in sync throughout the first half, executing an efficient passing attack that overwhelmed the SD Farms defense. Sayyu Dantata brought his team back within one goal, after his third field goal of the half. The offense from the field disappeared over the final three chukkas, due to zero combined field goals from both teams. Indiscipline from Old Hickory Bourbon led to six penalty attempts for SD Farms, with Peco Polledo and Pelon Escapite converting to put SD Farms in the lead. A lone penalty conversion for Astrada was the only goal for Old Hickory Bourbon, who finished with 33% shooting from the field. SD Farms ultimately completed the 9-8 victory after a scoreless sixth chukka completed the victory.